Tropical Storm Colin's projected track.
August 3, 2010
The tropical cyclone season for the Atlantic runs from June through November and up to this point has been fairly quiet. Today, however, has brought about the formation of our third named storm of the season: Tropical Storm Colin. Colin is currently wandering around the Atlantic and poses no immanent threat to landfall, but as is always the case with these systems, a watchful eye watch must be kept.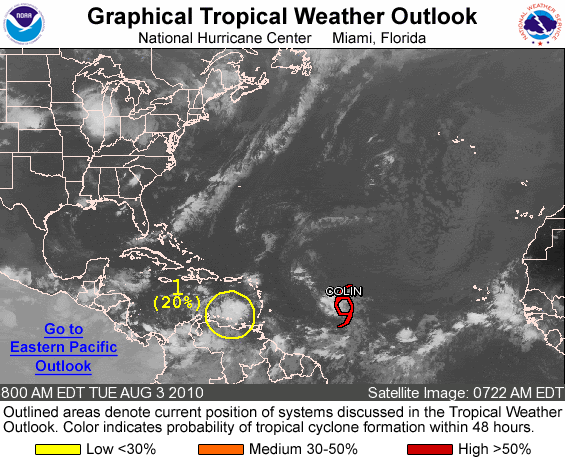 Take notice of Colin's placement on this recent satellite view of the Atlantic. The storm is pretty much by itself and doesn't really look to pose much of a threat. There is also another storm system that has a relatively low probability of becoming a tropical cyclone near the northern coast of South America. Perhaps the tropics are starting to come alive...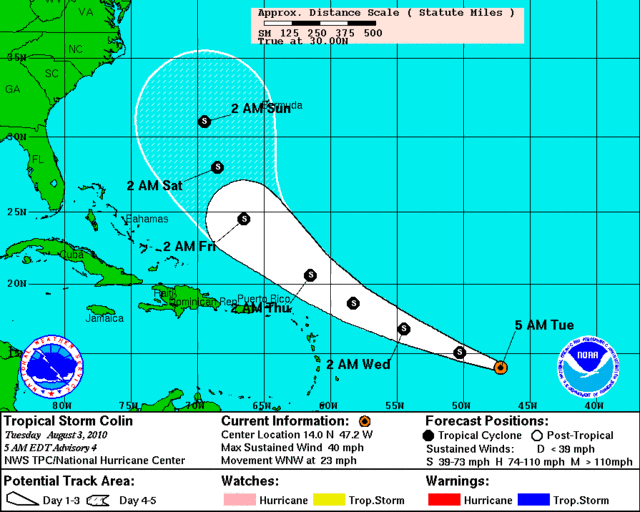 The above image depicts Colin's forecasted path over the next several days. It is not expected to strengthen to hurricane status and looks to stay away from all major land areas. However, beyond Sunday is unknown at this point and either Colin, or what's left of him, could strike the eastern seaboard and pelt certain areas with heavy rain and wind. Obviously, the hope would be for the storm to stay out at sea and go on its merry way up into the northern Atlantic. Right now, that seems to be the projected outcome. We will know more over the weekend. For the latest official bulletin on Tropical Storm Colin, visit the National Hurricane Center by clicking this link.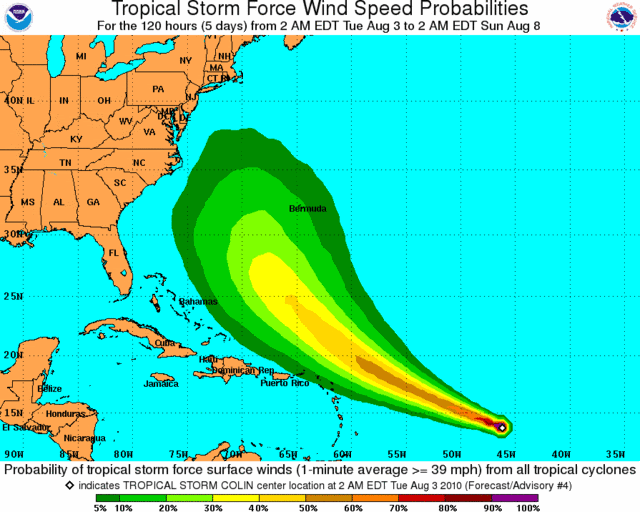 This chart shows the probability of tropical storm force winds as Colin moves across the Atlantic. After a few days at sea, the storm appears to weaken significantly so that by the time it may pose a threat to the east coast, there is only a 5-10% chance of sustaining tropical storm force winds. Good news to coastal residents for sure.
We will, of course, keep you posted on Colin's whereabouts over the coming days. Stay with abc27 and the abc27 Weather Channel for more information. There is still a lot of time left during tropical season for the Atlantic and it will be interesting to see if the Tropics turn really active over the coming months. Stay tuned!