August 9, 2010
Another work week begins and more heat and humidity have arrived. After a gorgeous weekend across the Midstate, Mother Nature has decided to slap us in the face with more oppressive weather. If temperatures reach 90 over the next three days (and I think they will), this could be our fourth official heat wave this summer. Truly remarkable. Let's take a look at the scenario setting up across the country...
The surface map on this Monday paints the picture nicely of why the sudden change in our weather. High pressure provided us with a stellar weekend, but as it slides off the coast, return flow will bring in more humidity. As our flow shifts to the south and west later today, we will also get some air moving in from Texas and the Gulf ahead of a stationary front that will turn into a cold front and move through our region later in the week.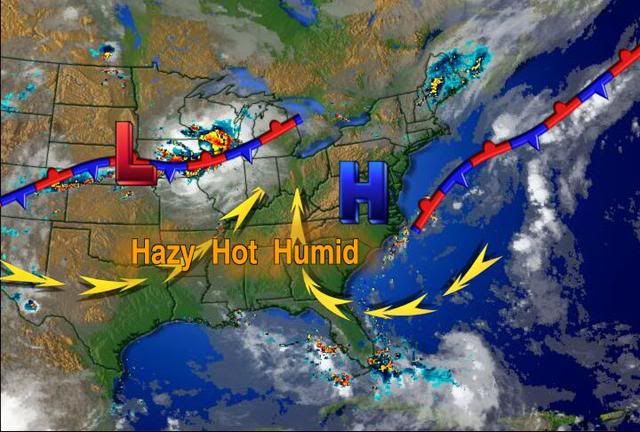 We have a kind of double barrel flow setting up that will ensure the heat and humidity are inescapable over the coming days. We just can't seem to catch a break this summer, can we? I know the weekend was nice, but I would kill for a nice stretch of sunny weather with temperatures in the 70s!
The other reason the three H's are back is because of the jetstream. As this current of air moves back to the north, hot air from the south and west is able to flow right up the east coast and into the Susquehanna Valley. The jetstream is really the key to everything because it determines how weather systems flow across the country. It has been well north of the region for most of the summer and hence the hot air has not been able to budge. The set-up looks something like this as we head into our second full week of August:
Keep in mind that you really can't go anywhere to escape this heat either. Most of the country has been locked in its grip since June. It's hot from Dallas to the Dakotas, from Miami to Minneapolis, and from Dubois to Des Moines. The only part of the country that has seen a relatively cool summer is the Pacific Northwest. Seattle, anyone? Maybe we could stop by and visit Seattle Grace Hospital or call in to Dr. Frasier Crane while we're there. Either way, Seattle may be one of the only places to escape the oppressive summer of 2010.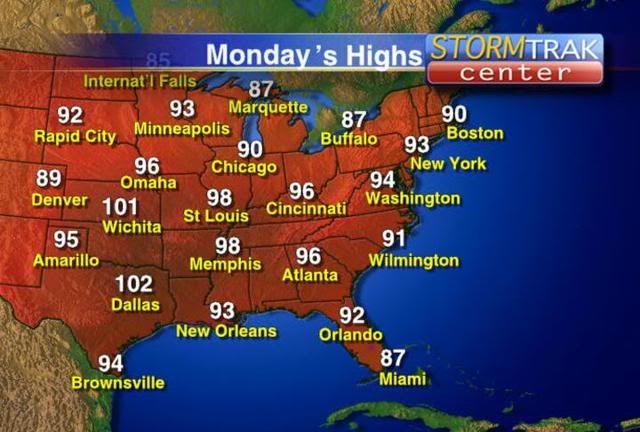 Projected high temperatures today show Dallas suffering with triple digits once again. Wichita will be over the century mark this afternoon too. Most of the eastern part of the U.S. will be insufferable yet again with Miami catching a break at only 87...yeah right.
The other issue to keep in mind lately is the lack of rainfall so far in August. This month is starting out just like July with a string of dry days. Since August 1, Harrisburg International Airport has only measured a trace of rain. Most days have been bone dry. The next three look to be no different. With just an outside chance for a pop-up thunderstorm until Thursday, the lawns may be turning brown yet again. Thursday offers the best shot at rain as a cold front passes through and could trigger some strong storms. PrecisionCast keeps our area dry with the exception of Tuesday afternoon. An isolated shower or storm is hinted at, but I'm not buying it. I think most backyards will indeed stay dry (unfortunately) through at least Thursday.
There is no way around it...it has been a truly hot summer. We have not had a chance to catch our breath for long as there has been no prolonged period of less humid and cooler weather. Perhaps things will get better by the fall, but I'm not holding my breath. The Climate Prediction Center says we should expect above normal temperatures in the Northeast through October. Have a wonderful Monday and don't pack up the swimming pool just yet!