August 16, 2010
It's no secret that August started out on the dry side. Just like July, the first part of this month saw little in the way of precipitation. Through August 12, which was just last Thursday, Harrisburg International Airport only recorded a trace of rainfall. We didn't even make it to 0.01". However, over the last three days, Mother Nature has tried to make up for this deficit. We have recorded well over an inch of rainfall in that time. Let's take a look at the official numbers from HIA...
We stand with only a 0.17" deficit heading into the second half of the month. Ground has certainly been made up, but we could still stand a little more rainfall. Just ask the farmers! Harrisburg International Airport has measured 1.33" since August 1. Many areas, like Gettysburg, have seen much more. As is usual this time of year, one town can get dumped on with a heavy thunderstorm, while the next town remains bone dry. This past Friday and Sunday, however, certainly helped a lot of areas make up for lost time in the rainfall department.
The Storm Prediction Center in Norman, Oklahoma highlights the yellow region with a slight risk for severe weather today. Strong winds and heavy rains are the main concern, but isolated regions could also see some hail. A strong cold front passing through the state later today could be the necessary trigger for these storms, and hence, more rain. Temperatures ahead of the front should climb well into the 80s, especially if the sun peeks out later this morning. Currently, New York state is being hit hardest with a nice line of heavy thunderstorms. We remain locked in with overcast skies, but any sun that pops out will not be our friend today.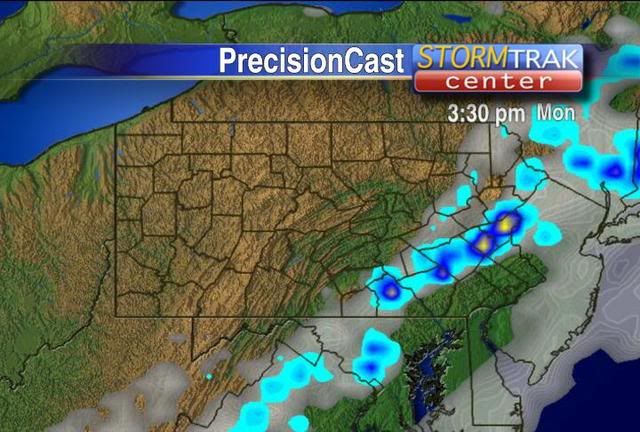 PrecisionCast highlights southeastern Pennsylvania as the region most likely to see some thunderstorms this afternoon. York and Lancaster counties should have their guard up along with southern Dauphin and Lebanon counties. This is so dependent on sunshine. If we stay cloudy, the atmosphere will probably remain too stable to get any convection firing around these parts. If you want action, you may need to drive northward this afternoon. We will basically have to take a wait and see approach, but I certainly think some strong storms are possible late this afternoon. PrecisionCast usually does typically well in these situations.
Pack the umbrella just in case. Humidity levels drop tomorrow and quickly return for the end of the week. Best day of the next seven looks like tomorrow! Stay tuned!