August 23, 2010
An upper level low over New York State is expected to push southward through the day ahead. This will spread clouds and perhaps a few showers our way. Northerly flow will keep temperatures down today (good news for air conditioners and electric bills), and easterly flow will keep the weather damp through the first half of Wednesday. The forecast is not as clear cut as it may seem, however. While I do think the skies will turn cloudy later today, there is still a chance that this will be a blown forecast. Here's why:
The surface map shows the battle going on within the atmosphere at the current moment. The east coast is plagued with that upper air low over New York, while the Great Lakes region and the central U.S. are under the control of a large area of high pressure. Today started with plenty of sunshine across south-central Pennsylvania, but the northern part of our viewing area is already seeing some cloud cover. Will the low make it far enough south today, or will the drier air around that large high win out? That's the big question going forward not just for today, but for Tuesday and Wednesday as well. At some point, easterly flow should ensure we get the clouds and a few showers (which would help many lawns across the Midstate), but will it be enough? Sometimes forecasting can bite you...I'm hoping that's not the case because I really believe we are going to be unsettled for the next few days.
The computer guidance is not picking up on a lot of rainfall over the next several days, but we'll take whatever we can get. PrecisionCast is going back and forth between over an inch and not so much. The latest run shows not so much, but Lancaster could also pick up a significant amount through Wednesday night.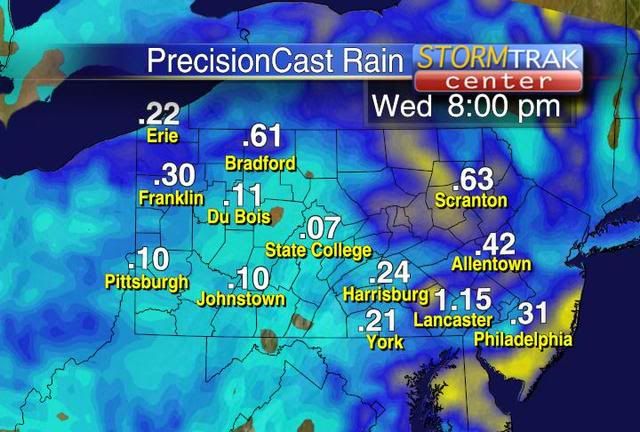 With surrounding areas not projected to get nearly as much, the Lancaster amount seems like an anomaly to me. If we get any rain between now and mid-week, it will probably be in the form of light showers and/or drizzle. Again, this is all dependent of that upper low over New York.
Another issue will be temperature forecasting for the next two days. For now, it looks like mid 70s is a good bet with easterly flow and plenty of clouds. However, if we get any afternoon sunshine today or tomorrow, that could pop temperatures close to 80 degrees. Tough call. Either way, expect it to be below normal at least until Thursday. I'm still banking on 70s until Wednesday when we should begin to clear out later in the day. If the sun wins out today rather than the clouds, don't say I didn't warn you...