September 3, 2010
After months of anticipation, college football is finally back! Several teams opened their season last night including Ohio State, USC, and South Carolina. Penn State opens tomorrow and I thought I would write a little every Friday about college football. I'll include the Penn State tailgate and kickoff forecast each week and give my opinion on what is happening in the greatest sport in the country. Nothing matches the passion and the tradition of college football. Those of you who know me, know how much I love this sport and hopefully everyone out there loves it too! For those of you that don't, I'll see you next week!
If you are heading to Happy Valley tomorrow to watch Penn State take on Youngstown State, you are in store for a very nice opening Saturday. I'll be up there tailgating nice and early so stop by and say hello if you see me! Here is my take on the early morning forecast in State College:
Temperatures could even dip into the 50s tonight once that cold front passes through. The other thing to note will be the breeze, so bring some paper weights for those cups and napkins! Kickoff will be perfectly pleasant and very fall-like...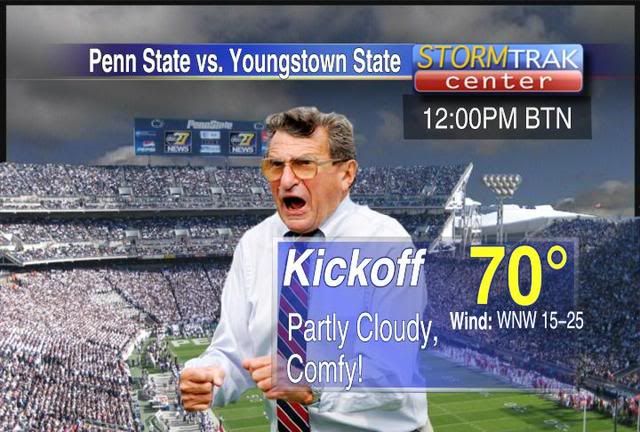 There could definitely be a few lingering clouds by noon tomorrow, but there will no doubt be some sunshine mixed in as well. 70 degrees is a great game-time temperature and I for one cannot wait to see opening day under these skies and perfect conditions. Any jackets left over from tailgate time can be shed before going into the stadium.
Finally, every week I will list my Top Ten. If I was a voter in the AP or Coach's Poll, this would be my ballot for the Top Ten preseason teams.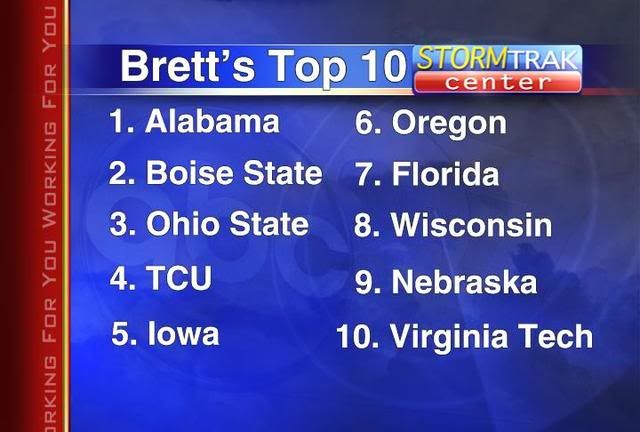 My preseason Top Ten has three teams from the Big Ten: Ohio State, Iowa, and Wisconsin. Future Big Ten member Nebraska also makes an appearance. I have Alabama at number one because they won the title last season. However, they lost A TON of players on defense and could be in trouble somewhere down the line this season. Could it be next week when PSU comes to town? To all you detractors out there, yes I have Boise State ranked at number 2 and TCU ranked at number four. They have done everything they have been asked to do the last few seasons and the big teams are afraid to play them. Too bad. You don't like Boise State or TCU playing for the championship? Put them on your schedule and beat them. Simple. Otherwise, they have a great shot at the BCS title this year and I gave them the respect they ultimately deserve and often fail to get nationally. Ah yes, college football is back! Let the debating begin...
Have a great Labor Day weekend and maybe I'll see you in Happy Valley!