September 13, 2010
A nice soaking rain fell across the Midstate yesterday and many backyards were thankful. Harrisburg International Airport measured 0.73 inches of rainfall and that helps the deficit this month, but does not erase it. We are still 0.75 inches below the average for September. Obviously, there is plenty of time to make that up, but the weather for the first part of this week looks pretty quiet and boring. Therefore, I want to check in with the tropics and see where things stand as we start another work week...
Clearly, the tropics are pretty active at this time with two named storms and an area we need to closely watch. Igor is a category four hurricane and continues to churn in the warm waters of the Atlantic. Julia is a weak tropical storm at this time, but is expected to strengthen this week. Expect more development this month and through October as well. For you curious souls out there, here is a list of all the tropical cyclone names for this season: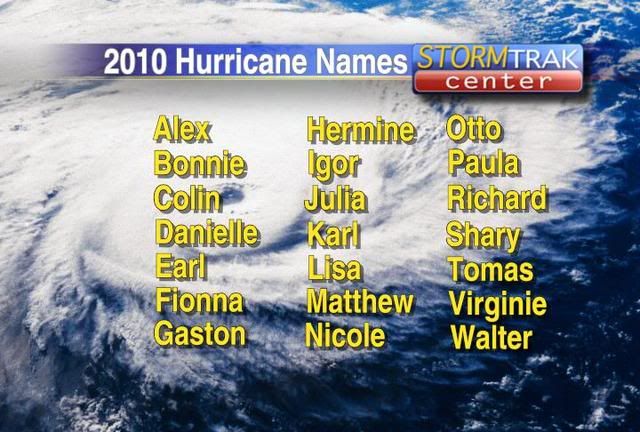 Karl and Lisa will be next, followed by Matthew and Nicole. In the meantime, we do have Igor to deal with and that storm is gaining strength. Let's check it out...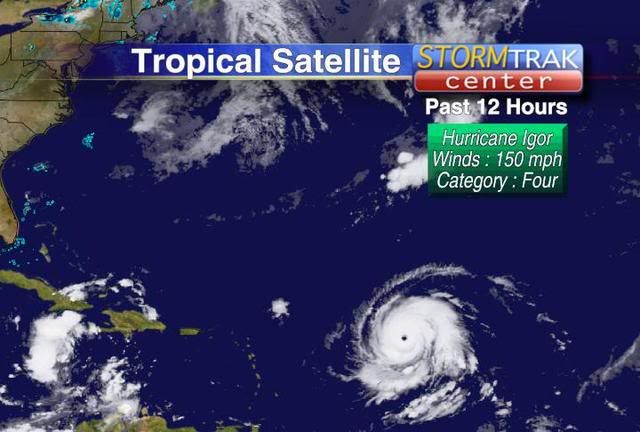 Igor's eyewall looks well-defined and the winds are already at 150 miles per hour. The good news here is that Igor does not look to impact land at this time. It is something that will have to be monitored heading into the weekend, however. It will come close to the east coast and the track could still shift as we head toward the end of the week. Stay tuned!