September 17, 2010
Once again it's Football Friday time here on the blog. For those of you football freaks like myself, you'll probably be heading out tonight or tomorrow to watch a game or two and maybe do some tailgating. Let's get right to the forecast...
High school football tonight looks pleasant. Skies will be mostly clear and temperatures should be comfortable in the lower 60s. Some of you who are thinned skinned may want to bring a light jacket to the games tonight, but I think the games will be over by the time things really chill down.
Penn State takes on Kent State tomorrow at Beaver Stadium (12:00PM on ESPN 2) and it should be another great day for football. Tailgaters and those just going to game...here's the forecast...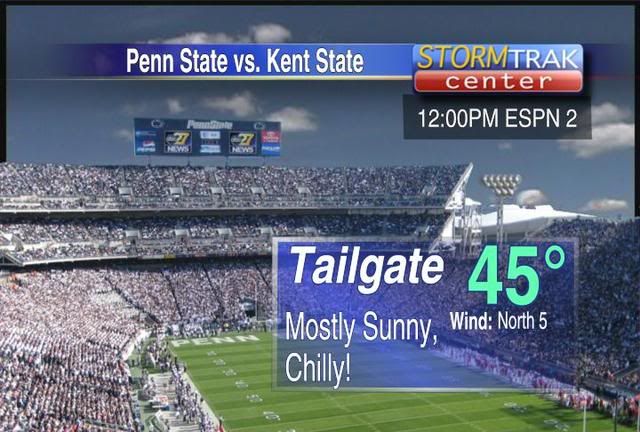 Take notice of that temperature! Early in the morning I expect things to be quite cool in Happy Valley so bundle up and bring the PSU hoodies! Huddling over the grill is also an option I suppose...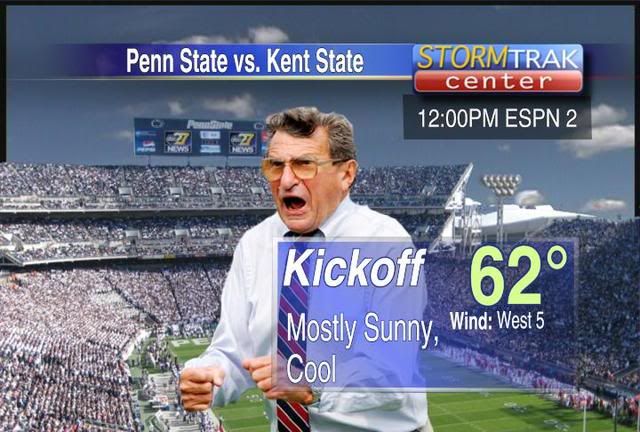 Joe Pa and the boys will kickoff under sunny skies and cool, but comfortable temperatures. The winds will not be as much of a factor as they were two weeks ago against Youngstown State.
Finally some thoughts on college football this week. I could not be more proud to be a Penn State fan at this moment in the sport. Joe Paterno has set a standard that is hard to top. Academics ahead of athletics is a great mantra, but too many schools put the wrong one first. Discipline is a thing of the past at many schools and it is truly incredible that Joe has kept the winning tradition alive along with such high standards off the field. He must be applauded for that. While programs like USC, North Carolina, Michigan, and Florida deal with students taking money from agents, NCAA rule violations, and more player arrests than I can count, Joe runs a clean program, molds boys into men and continues to create an atmosphere where I feel at home every fall Saturday. Kudos to the living legend and let's go State this Saturday! (That means you Evan Royster!)
I leave you with my Top Ten this week...have a great football weekend!