September 24, 2010
We have made it through another week and that means it's time for Football Friday! Tonight will be different for all the high school games, however. Rather than a crisp autumn evening, it will feel more like two-a-days out there with temperatures in the lower to mid 80s at kickoff. For those of you planning on attending one of the many games around the Midstate tonight, I would certainly wear a t-shirt and shorts and leave the jacket at home. The forecast is below:
Keep in mind that the breezy conditions tonight may play into the field goal kicking game. Also, don't forget that for those of you who can't make it to the games tonight, abc27 will present its weekly show Friday Night Football directly following Nightside tonight at 11:30PM!
Penn State takes on a tricky Temple team tomorrow at 3:30 at Beaver Stadium on the Big Ten Network. For those of you heading up to the land of Mount Nittany to tailgate (like myself), tomorrow morning should be much warmer than last week. Here's the tailgating forecast...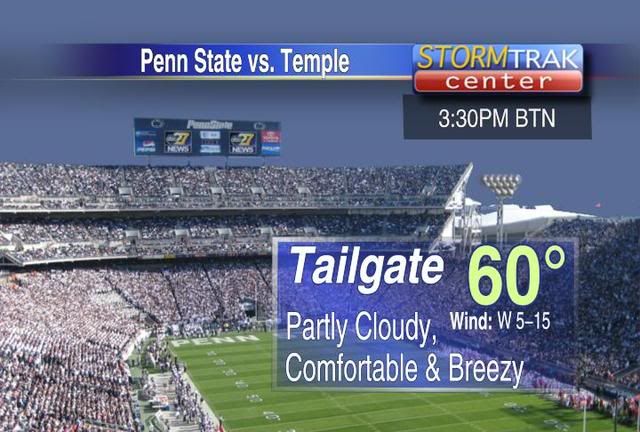 Make sure to take some paper weights because it will be a breezy morning in State College. By kickoff, it will be warmer, but not significantly so. Plan on the breeze to continue with plenty of sunshine.
Finally, as always, some thoughts on college football and my Top Ten for this week. Boise State takes on Oregon State this Saturday night right here on abc27 at 8:00PM. The national talking heads believe that Boise State must win by a large amount to give them a prayer for a spot in the national championship game. Really? When was simply winning not enough. Football is a physical sport whether you play in the almighty SEC or the "lowly" WAC. Therefore, going undefeated is still so impressive no matter what conference you find yourself in. Boise may not play as many ranked teams as Alabama, but they destroy all of their competition. Besides, what are style points anyway? When Alabama blows out Georgia State later this season (yes, they play Georgia State, a first year football program...but Boise State plays too many cupcakes...excuse me while I roll my eyes folks), the media will look at the score and realize just how great Alabama is and the voters love to see those "style points". When is piling on points against an inferior foe, a team you are supposed to beat anyway, considered style? To me, that is exactly what Alabama should be doing...their job. Meanwhile Boise State had a fantastic final two minute drive to comeback and win against Virginia Tech in what was essentially a home game for Tech. Taking your team down the field in the face of adversity, just like Kellen Moore (QB Boise State) did against the Hokies, now that's style. Boise State needs to worry about beating Oregon State and not by how much. Everything else will take care of itself...and if it doesn't...the system will once again prove itself broken!
Have a great weekend everyone and enjoy all the games out there!
Brett's Top Ten:
1. Alabama 2. Boise State 3. Oregon 4. Ohio State 5. TCU 6. Nebraska 7. Wisconsin 8. Arkansas 9. Arizona 10. Texas