September 29, 2010
Normally on Wednesdays, I have been doing a series about global warming entitled Global Warming: The Other Side and posting clips from a KUSI San Diego special hosted by John Coleman. That series will be on hiatus this week as we have an interesting weather situation to discuss heading into the day on Thursday.
While most of September was dry, a lot of the rain we got this month fell between this past Monday and Tuesday morning. Tomorrow will bring the threat for more heavy rain and that could cause trouble for some of the small streams and creeks around the area. A stationary front is draped across the east coast and that will join forces with an area of tropical moisture that could become Tropical Storm Nicole later today. Check out the map...
The path of this system is crucial in determining how much rainfall we receive during the day tomorrow. As of Wednesday morning, the projected path looks like this:
No matter the exact path, this system will bring a lot of rainfall to the region tomorrow and high winds could also cause some problems. Plan for Thursday to be a complete wash-out and a generally nasty day. In terms of rainfall, our PrecisionCast predicts the following: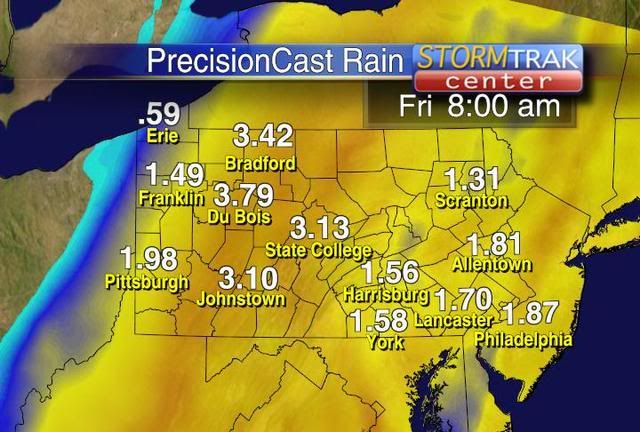 The heaviest band of rainfall is projected to be in a segment from Johnstown through State College and up through DuBois. If that pocket of extreme moisture moves slightly east, we could be looking at some serious accumulations of water. My best guess is for between 2 and 4 inches to fall starting late tonight and winding down sometime early Friday morning. While the ground should still soak most of the water up...there is the slight possibility for minor flooding issues.
The National Weather Service in State College has therefore issued a Flood Watch for Thursday for the counties highlighted in green. On top of the excess rainfall will be high wind gusts of over 30 miles per hour. Stay indoors tomorrow and watch the storm from a nice window. This rainfall is still necessary and will go a long way toward ending our drought conditions. We will keep everyone informed throughout the day tomorrow of flooding problems (if there are any) and we encourage you to log onto abc27.com and tune into the abc27 Weather Channel for frequent updates. Stay tuned and stay dry...