October 13, 2010
Once again, my apologies for the extended absence from the blog, but the 2011 abc27 Weather Almanac is almost finished and I am starting to get some extra time back to devote to posting weather articles here. Today I thought I would stop by and talk about tomorrow's impending rainfall.
The set-up looks like so: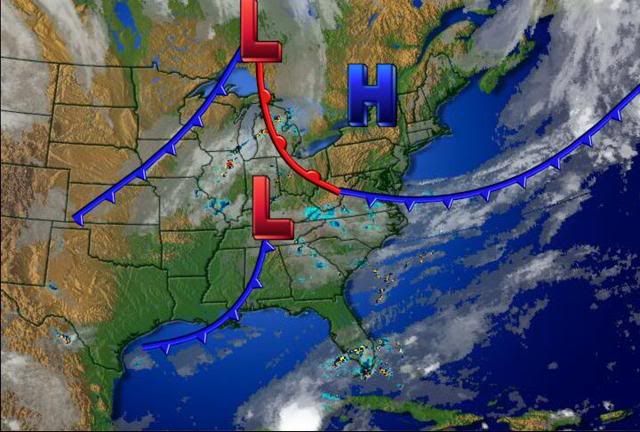 High pressure over New England is providing Pennsylvania with a sunny and seasonable day. Today will no doubt be the best day of the week with highs in the mid 60s and dry conditions. Crystal clear skies this morning led to some frosty spots up north and even one report of frost from Perry County. Take notice of the looming front across the Midwest, however. This front will usher in more clouds and rainfall for tomorrow. You just knew this gorgeous weather would not last!
PrecisionCast shows a nice blob of rainfall moving in across the Midstate tomorrow afternoon. Expect Thursday to be a cloudy, damp, and raw day with showers and steady rain from time to time. Highs will only be in the 50s tomorrow afternoon and it will simply be an ugly day. How much rain will fall tomorrow through Friday morning?
This model seems to think that around a half inch is a good bet for total rainfall amounts from this system. Keep in mind that not only will the front trigger a few showers, but a coastal low will develop later Thursday and that could drag some moisture from the Atlantic westward early in the day Friday. .50 inches isn't all that much, so I'm not anticipating any problems. However, we have had our fair share of rain lately and tomorrow will be an all around miserable day. At least Friday and the weekend look pleasant enough.
It's good to be back on the blog and the 2011 abc27 Weather Almanac will out just in time for the Christmas season. Check back here for excerpts and previews from time to time. Enjoy this beautiful Wednesday and pack the umbrella for tomorrow!