November 15, 2010
After a gorgeous second week of November and a beautiful and mild weekend, Mother Nature turns the tables on us and delivers a soaking blow over the next two days. While today should remain dry, expect clouds to persist as a cold front crosses the Commonwealth. While there could be some breaks of sun this afternoon, more clouds will roll in tonight ahead of a stationary front lifting northward as a warm front from the Deep South. The surface map below depicts all these mentioned features:
Notice the heavy rainfall across the Gulf Coast. This is headed our way and will arrive sometime after sunrise tomorrow. While the rain will probably last into Wednesday, we should see clearing skies late in the day. Wednesday will also turn windy behind the departing storm system and colder temperatures will arrive by later in the week.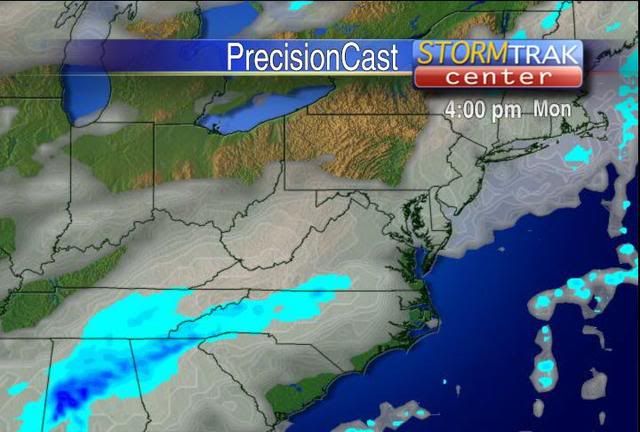 PrecisionCast allows for some breaks in the cloud cover this afternoon, but I'm not so sure it takes into account the easterly breeze this afternoon. That breeze could be enough to keep us locked in all day. However, if the sun does come out, it won't last long as more clouds are on the march front the south.
By tomorrow afternoon the region should be enveloped in a steady, sometimes heavy, rainfall. Expect the rain to continue for tomorrow and through tomorrow night. Wednesday should also be a soggy day, but by late Wednesday afternoon we could see some clearing and the winds will start kicking up too. Any outside plans or work should be done today, or else it will have to wait until at least Thursday.
Rainfall amounts will be fairly impressive from this system and I could certainly see several backyards across the area picking up over an inch of rain. This will be a healthy rainfall too, especially since we are in the hole a little bit this month with the nice stretch of weather we had last week.
That's all for now. I really haven't had too much to say on the blog lately with all the quiet weather we've had, but I'm sure things will be picking up soon with winter on the way...