November 29, 2010
With Thanksgiving now behind us, the rush to Christmas is on and that has many people pondering whether or not Santa will see snow around these parts this season. Several backyards had a few flurries this past Saturday, but snow has been hard to come by so far this year. Not that too many of you are complaining...
The seven day forecast is pretty quiet except for some rainfall Tuesday and Wednesday. The rest of the week looks sunny and cool with no major storms expected. The blog is a place where I like to give you loyal readers a bit of a preview, if you will, of the long-term forecast ...especially in the winter when folks like to talk snow. There is something brewing that may be worth keeping an eye on for next week. Let's have a look...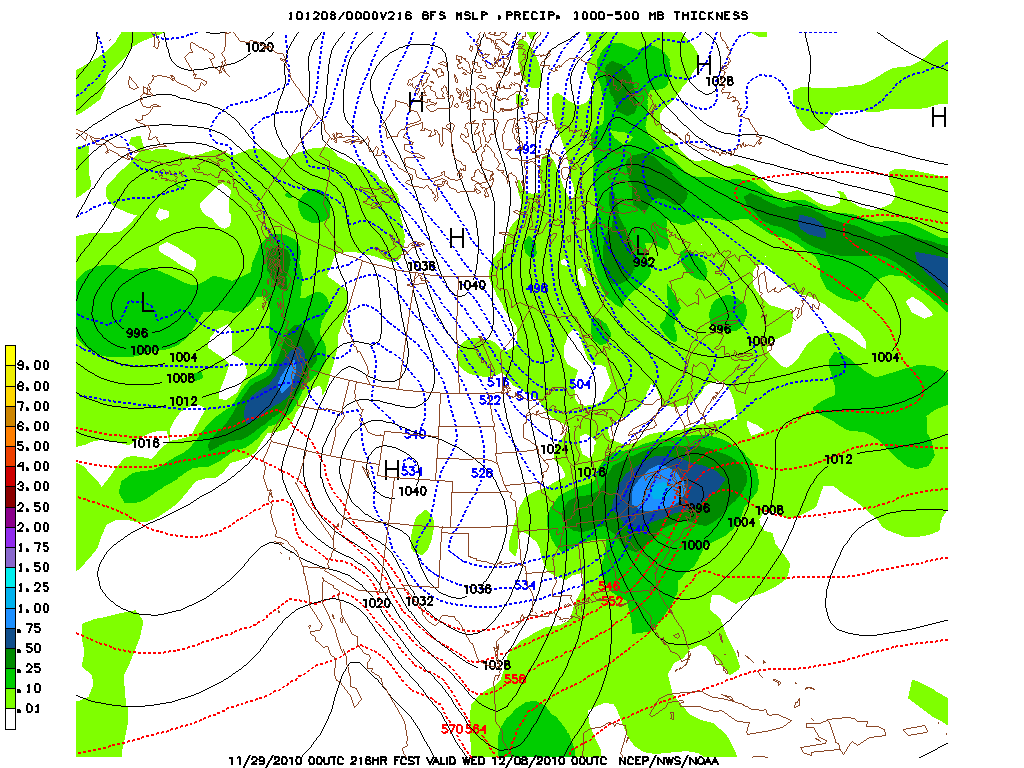 This image shows the GFS model output for Tuesday evening, December 7. Take notice of the east coast and a nice area of low pressure that has formed there. Not only does this appear to have a lot of moisture associated with it, but it also appears to be drawing plenty of cold air into the Commonwealth. This looks like something to keep an eye on this week as it could be a snowmaker for us. Now, as is always the case with these events, it is much too early to tell if this will pan out. I always feel the need for a disclaimer in these cases for all of the alarmists out there. I just wanted to point out the potential for next week. Tomorrow could be a different story. These types of model outputs get meteorologists excited, but the good ones also know not to get too pumped up this early.
Another good sign for next week's system is the 850 millibar temperature chart. Upper atmosphere temperatures are important, especially in the winter, in helping to determine surface temperatures. 850 temperatures are important because they can often determine what type of precipitation will make it to the surface during the winter months. The above image shows next Wednesday morning where the 850 temperatures are floating around -14C...this would certainly indicate snowy conditions should this system pan out. I have a feeling though that this may become just talk at this point. Too often, I have seen systems projected this early only to fall apart and either completely disappear in a couple days or draw in too much warm air for wintry precipitation. Nonetheless, it's a good idea to keep watching this develop.
This image is something I have shown on the blog before. The NAO, or North Atlantic Oscillation, is a good predictor to look at when it comes to temperatures (and therefore wintry precipitation). A positive NAO usually indicated warmer temperatures, while a negative NAO is indicative of colder temperatures. Notice the NAO is quite negative from late November (hence the cold air this morning) through early December before it starts to rise again during the middle of next month. This could mean that enough cold air will be in place if a coastal system does develop to give us some snowfall.
The early signs are in place for a storm next week. However, it is simply WAY too early to determine if snow will be a real possibility just yet. If anybody mentions snow before late this weekend, tell them they are an idiot. We'll see with more model runs how likely this will become. Either way...stay tuned!