November 30, 2010
Forget about the snow I was talking about yesterday...now we have to talk about a major rain storm affecting the eastern seaboard. This is a massive system that is not only going to bring a soaking rainfall, but it will also bring colder temperatures by the end of the week. Fall is Mother Nature's transitional season from summer to winter and as such, there are often big time fronts with major temperature swings that produce extremely active weather this time of year. This is one of those fronts. Check it out on the surface map and you can clearly see its impressive nature.
The actual low pressure center associated with this rainfall is well west of our area. It is currently positioned over the upper Great Lakes and with the wrap-around cold air behind the system, the northern part of the country is dealing with some snow. Very mild air ahead of the cold front is helping to produce a nice line of showers and severe thunderstorms across the Gulf states. Snow on one side of the front and severe thunderstorms on the other indicate this front means business. Winter is coming folks...whether we like it or not. This front will go a long way in making sure it gets here on time. Temperatures by the end of the week will be in the lower 40s for highs with lows in the 20s.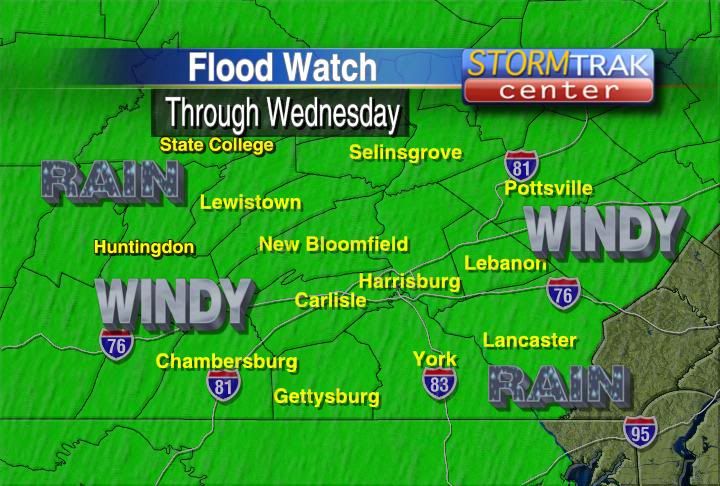 Due to the heavy rain expected from this system through the day tomorrow, the National Weather Service has issued a flood watch for small streams and creeks across the viewing area. It will also turn windy and some wind gusts will be high enough to do damage. Again, this front means business. Temperatures could climb overnight as high as the 60s and then quickly fall into the 30s during the day on Wednesday. That type of temperature (and pressure) swing will mean high winds. Driving rain and high winds will lead to low visibility so be careful if you are traveling around and doing some early Christmas shopping.
PrecisionCast indicates the potential for between 2 and 3 inches of rainfall through late tomorrow. This is certainly impressive and while the rivers should be okay, small streams and backyard creeks will have a hard time handling so much water in a short period of time. Please take the proper precautions now! The rain should wind down tomorrow afternoon and some higher elevation locations could see this storm end as a few snow flurries. I doubt they will make it to the Susquehanna Valley, but Harrisburg has the outside chance for some flurries late tomorrow too.
The brunt of this storm will be tonight and early tomorrow morning. PrecisionCast depicts a nice line of showers and possible thunderstorms moving in before daybreak tomorrow. Don't be surprised if you wake up in the middle of the night with a few rumbles of thunder. It will be a windy overnight too with gusts as high as 40 miles per hour. The next two days will be more than simply rainy and dreary...we are talking about being in the midst of a major east coast storm.
Once we get through today and tomorrow, the weather returns to cool and calm for the end of the week and the upcoming weekend. As for that potential snowfall I mentioned here yesterday...as I thought, the models seem to have the storm out to sea and backing more into New England. This would spare us any real precipitation next week. I'll have more updates soon...