December 6, 2010
With several areas across western Pennsylvania and the Great Lakes region getting pounded with lake effect snow early this week (some spots could see well over one foot of snow), some folks are asking when our turn will come. We have already seen how fickle the chances for snow can be with last week's blog entry. What looked promising several days out, quickly disappeared into a model aberration the very next day. Late this week could give us a couple chances to see some snow with two very different systems projected to march through the Midstate. Let's have a look...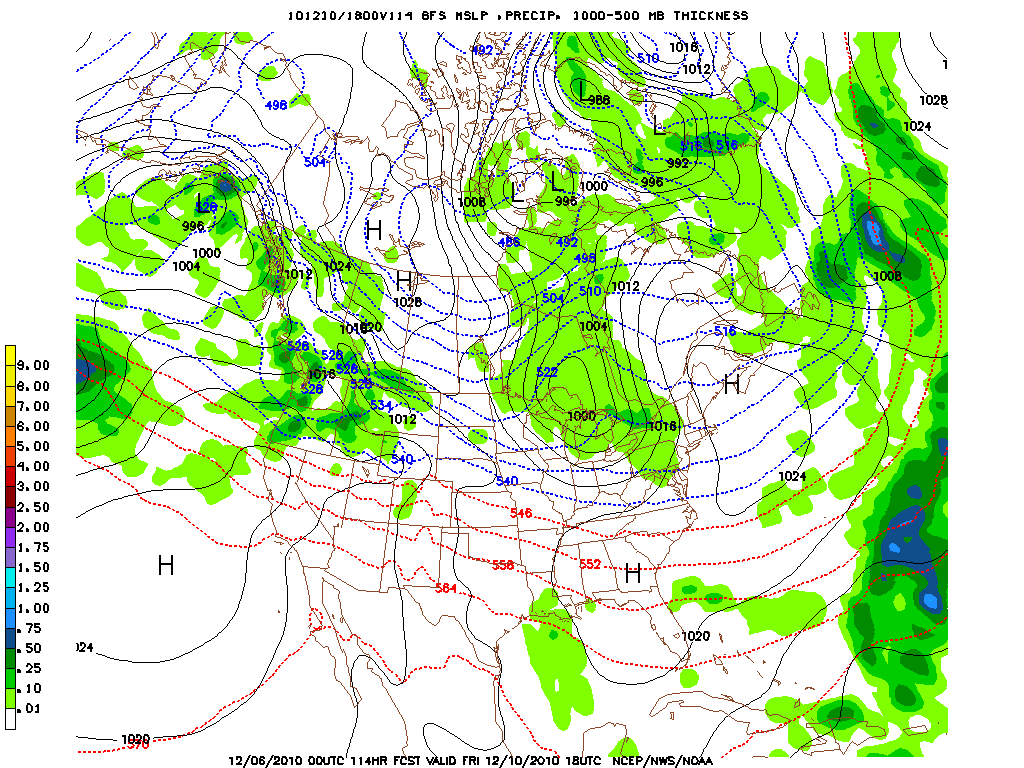 The above image is this morning's GFS model output for Friday afternoon. A weak clipper-type system is scheduled to push just north of Pennsylvania. Some snow from this system could make it far enough south to give the Susquehanna Valley a snow shower or two. Perhaps as much as a coating could fall if the conditions are just right. We do know this...it will certainly be cold enough. With the jetstream dipping southward for the foreseeable future, the pattern has locked in the cold air over a good part of the country. This means that precipitation will likely fall in the form of snow when and if we get any.
The bigger system could come on Sunday. The GFS projects a storm to develop over the central United States on Saturday and work its way down to the Gulf and then up the coast on Sunday. If this sounds like a classic example of a winter storm, that's because it certainly looks like one. (Disclaimer for the winter weenies out there -- IT'S MONDAY! Let's wait and see here. If I'm still blogging about this on Wednesday, then there would be good reason to be on alert.) The GFS shows the system close to Pennsylvania during the Sunday afternoon and Sunday evening time frames...see below.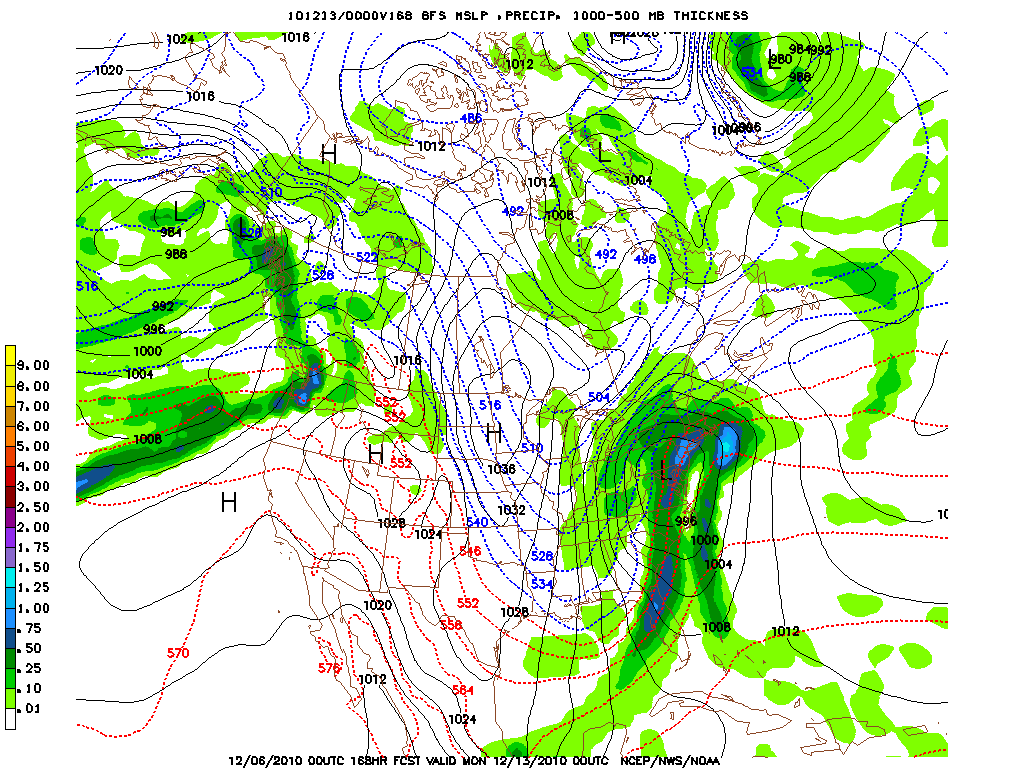 While this image certainly raises some eyebrows (and if you're AccuWx it raises the all-out alert flags...puh-leese)...there are some problems with this system. First and foremost, this is a projection for six days out at this time. As I said above, if I'm still talking about this on Wednesday and Thursday, then it's time to be a little concerned. The second issue I have with this projection is the placement of the low. It looks pretty favorable for snow here, but I would love to see it move maybe 50 miles to the east before I get really excited. The warm air on the right side of the low is too close for comfort. As soon as some of this warm air leaks in, snow totals go way down and we start to see sleet, freezing rain, and rain. One other problem is that high temperatures are forecasted to be slightly warmer here by the weekend. Low 40s isn't exactly eye-popping for good snow-making. The verdict is still out on this one...but it's certainly worth watching very closely in the coming days.
Positive signs for this system actually making some good snow for us: the cold air. Even though projections have temperatures in the lower 40s this weekend, I'm not quite sold just yet. The jetstream will still be well south and cold air will have been entrenched for a whole week. It's hard to scour out cold air from this region without a major change in the weather pattern. I'm banking on cold air still being in place Saturday and Sunday. Secondly, while the placement of the low is slightly off from where I would like to see it, it isn't THAT far off. Frankly, it looks like a decent snowfall if this picture pans out. Having cold air already in place and being on the backside of the low make for very good storms. Finally, I learned at Penn State that classic Nor'Easters love to see the "Boise Ridge" in place out west in order to take the perfect track up the coast. Look over Idaho and what do you see? I see a big "H" indication a ridge of high pressure! This looks good to me! Let's see if this holds later in the week though. Being cautious is never a bad thing...especially when it comes to Mother Nature.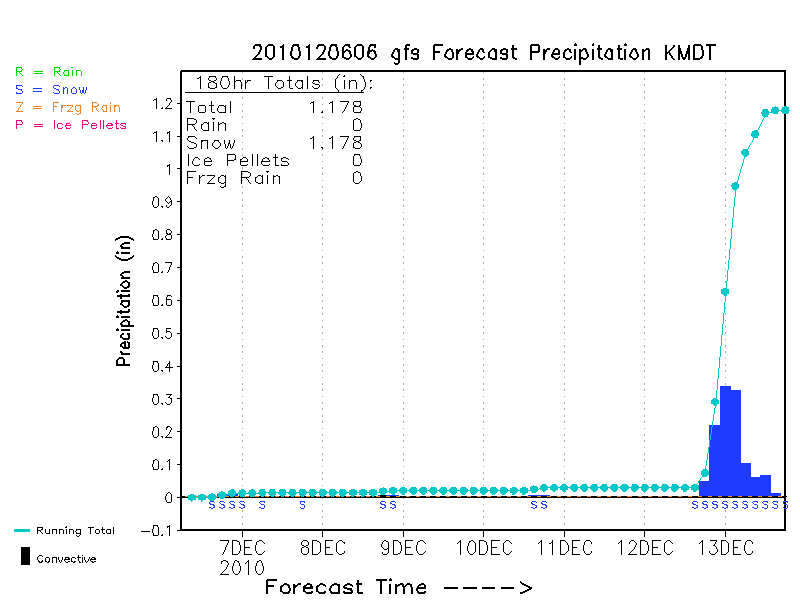 The bar graphs are back! These graphs are numerical data that is output from the same model you see above. This helps us to analyze the data a bit better and certainly when it comes to snowfall and precipitation in general, numbers are very important. Looking at the end of the week, it is clear that the GFS is projecting a decent snow for the Harrisburg area. (This data is for Harrisburg International Airport by the way.) Looking at the liquid equivalent totals above, over one inch of liquid could fall from this storm. The GFS is predicting about 10 or 11 inches of snow assuming a 10 to 1 ratio, which is normal. Now keep in mind that if any warm air sneaks in, these totals will GREATLY decrease. Also, the track of this system if vital too. Tomorrow, this whole blog could be obsolete. It is fun, for those of you who like the weather, to be able to go in depth here on the blog and give you a sense of what we are thinking before we talk about it on television. It is WAY too early to mention snow this weekend on television because of the changes this system will go through in the next few days. If by Thursday this still looks promising, then we will start to really go in depth with it.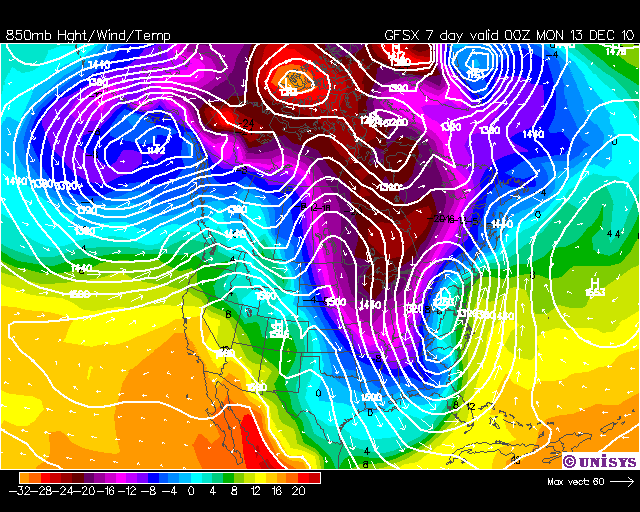 This is the 850 millibar temperature map for Sunday. As the low works up the coast, it pulls plenty of cold air in behind it. This should be a reinforcing shot of cold air in addition to what will have already been in place from this week. Again, should the track pan out, the cold air should be here. Does this mean a white Christmas is on the way? I'm not sold on this system as it is too early and too far away in meteorological terms. Despite the hype machine by AccuWx and other sources, I caution you to read too much into any wild predictions this far in advance. I will be watching it closely for you, however. I hope you can all understand what we go through here when forecasting winter weather. It is quite challenging and difficult, but we take passion in what we do and we hope to get the forecast as accurate as possible. This one looks tricky, but we'll stay on top of it. Stay tuned!