December 9, 2010
Earlier this week, I blogged about the potential for a winter storm that could affect the Midstate on Sunday. At the time, it looked like it could be a big snow event, but I cautioned everyone not to get worked up just yet. Today is Thursday and things still aren't clear about what is going to happen Sunday. One thing I can be almost certain about, however, is that this will not be a major snow event for the Midstate.
Models are very fickle, especially when it comes to winter weather. While the GFS was projecting favorable conditions for a solid snow here on Monday, Tuesday and Wednesday it was telling a different story. The low tracked farther to the west and that allowed warmer air to surge in and provide us with a wintry mix changing to rain. Both Tuesday and Wednesday had GFS model runs that were fairly consistent. When low pressure centers track westward, mild air flows in and we get more of a mix to rain situation than a snow storm. This was seemingly the case over the last few days and that is why I always caution folks about getting excited over big snows. Also, for those of you that think what we do is easy, let's dive deeper into this forecast so you can see what we are dealing with...Sunday's storm is one tricky little devil.

This is the latest GFS model run depicting Sunday morning. You'll notice the center of low pressure tracking over the Erie region. This seems like a clear-cut forecast: when the low is to the west, mild air moves in and we get a mix to rain. However, meteorologists use "thickness" values to determine precipitation type and without getting too specific, just understand that the 540 decameter line is called the rain/snow line. If thickness values are below 540, the odds are that the precipitation will fall as snow. If thickness values are higher than 540, rain is more likely. There are a ton of other factors that go into determining precipitation type, but this is used as a good "first guess" if you will. The Harrisburg area is between the 534 and 540 dm thickness lines. This could mean snow for us at the onset of this system. Timing is another issue because if the precipitation moves in Saturday night, it will almost certainly be cold enough for some light snow. The question then becomes will it warm up enough on Sunday for a change-over?
This image shows Sunday afternoon from the same GFS model run. Later in the day, one thing stands out to me about this image: the development of a secondary coastal low. Will this help to draw colder air into the region on its backside and keep precipitation as snow for most of Sunday? This is the real tricky part. The other thing to keep in mind is that the precipitation doesn't look too intense. The GFS backed off its earlier amounts and totals. It seems like the moisture pool is a little dried up. Therefore, the way it looks now, if we do get mostly snow...it won't be much. The numerical data supports this theory at this time.
The GFS numerical data not only indicates mainly a snow event, but really lowers the totals. On Monday, it projected around 11 inches for the Harrisburg area. Tuesday and Wednesday it barely projected any snow and went with more of a sleet, freezing rain, and rain solution. That made sense given the westward track of the low. Today, however, things go back to being complex as the low has stayed west but the model keeps cold air in place. Also, take note that while this is projecting some snow with just a little rain, the snow totals are quite low. Without a lot of moisture, this could be only a 1-3 inch event for the area. We'll see. With the models being this fickle, let's see if later runs stay consistent. The only thing I am certain of at this moment is the uncertainty with this storm.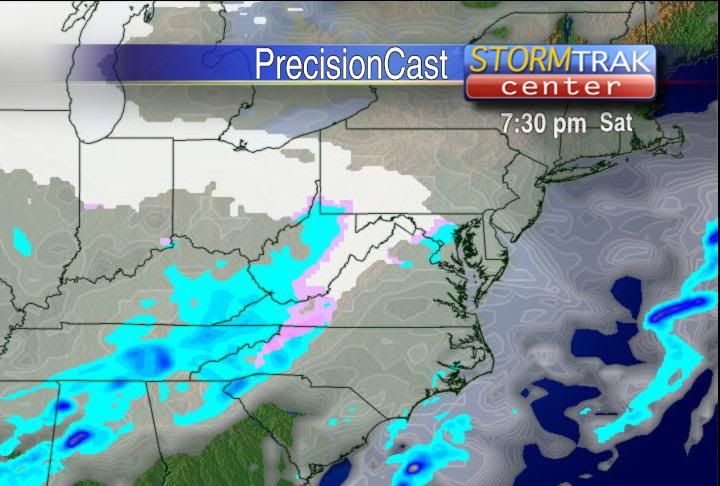 The image above is from our in-house PrecisionCast model. This model usually does quite well for us during winter storms. Not only does this project an early start time (Saturday night), but it projects some light snow here as well. Perhaps the GFS is on to something by keeping the cold air around long enough for this system to at least start as snow Saturday and continue into the morning hours on Sunday. My best guess right now is that we could see a little snow to start Saturday night into early Sunday with a change-over possible to sleet and rain later in the day. We still don't have enough consistency in the model runs right now to make a call. This will bear watching. Just know that Sunday will be a mess and it most likely won't be because of a major snowstorm.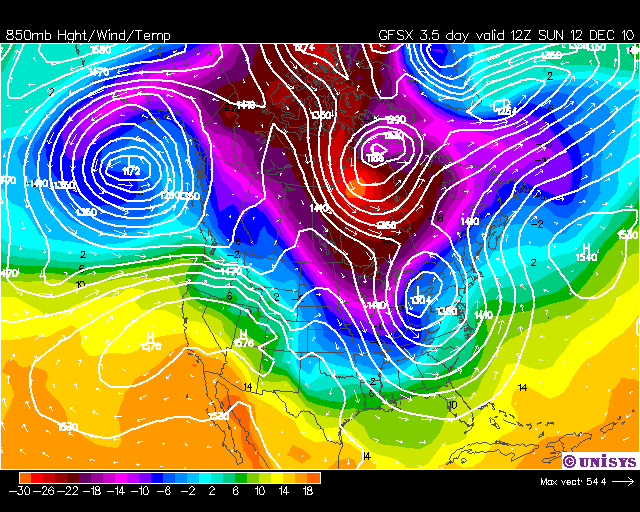 The 850 temperature map for Sunday shows the upper-air low also tracking west with warmer air on the eastern side of it. This is such a tough call. Will the cold air hold or will the warmer air on the eastern edge push the precipitation to ice or rain? Either way, it doesn't look like we will see a ton of precipitation as the moisture doesn't seem to be there anymore. Stay with us on this one folks. Make plans accordingly though...I wouldn't do anything outside on Sunday. Rob is in tomorrow for me and Eric will be here as well keeping everyone updated. Have a great weekend and we'll break everything down next week when I return!