January 25, 2011
This winter has offered us little tastes of snow without providing a major thriller just yet. Remember, though, that it wasn't until February last year when those back-to-back blizzards crippled the Midstate. This winter has certainly been cold, even colder than last winter, but with little in the way of storminess to add some excitement. Christmas weekend provided some edge of our seat thrills with a coastal storm that stayed too far east to have any great impact other than in the Philadelphia region. This storm seemingly has the same feel to it and could take a very similar track.
The public is getting better at understanding how tricky these types of storms are to forecast. As a meteorologist, it pains me every time I hear a weather source say "East Coast Blizzard" or "Two-Foot Snowstorm Next Week"...these are early readings of model data that has been poorly initialized. Only very rarely do people get those forecasts right by making such outlandish predictions a week ahead of time. Don't be fooled...that isn't skill...it's simply their lucky day. This particular storm has been all over the place. Last week, the timing was difficult to nail down. The models kept jumping around from a Tuesday-Wednesday event to a Wednesday-Thursday event. When the timing is still in question, it's near impossible to nail down snow amounts or precipitation type.
Everybody wants to know snow amounts right away. The problem is that there are so many variables that go into the snow equation. What will the track of the low pressure center be? Will the precipitation be all snow or will it be a mix at some points? How long will it snow? What is the liquid water to snow ratio? These are just some of the tough questions we have to nail down before attempting to come up with snow amounts.
Coastal storms can be extremely frustrating to predict because all of these variables come into play. We have really been pulling our hair out over this storm. These events are almost "now-casting" events where we kind of have to wait and see how the storm shapes up once it is almost upon us. The good thing, as I have said, is that the public seems to be more understanding with these types of storms. Forecasting has come a long way in the last decade and we do a fairly good job on most events with timing and snow amounts. The coastal storms are fun to forecast, but also give us the most headaches. Bare with us...but here is what I am thinking as of Tuesday afternoon: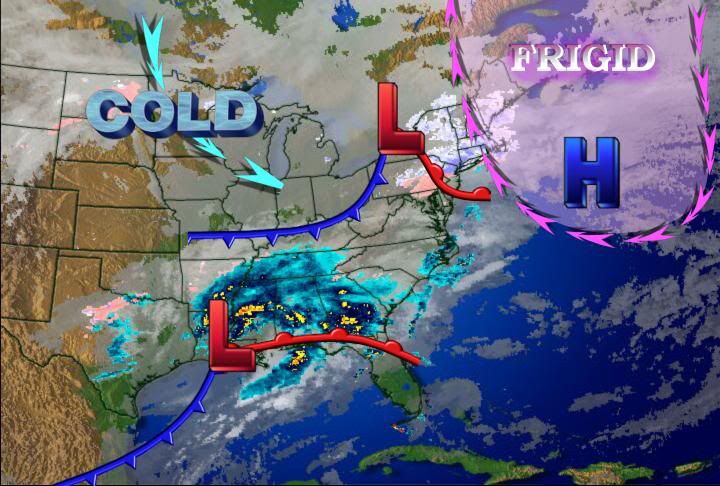 The storm is currently setting up shop in the Gulf of Mexico and picking up a ton of moisture. As it gains momentum up the coast, it will likely start to push moisture into the Midstate overnight in the form of clouds. Precipitation should hold off until early tomorrow morning, toward daybreak. Sometimes these things tend to sneak in here a little quicker, so if it is sleeting or snowing before sunrise, don't say I didn't warn you.
PrecisionCast has done fairly well with snow amounts this winter. The image below shows the latest model run and snow totals through tomorrow night. Take notice we don't get that much...
My general feeling here is that Harrisburg proper will probably see between 2-4 inches of snow with areas to the north and west seeing 1-3" and areas to the south and east getting between 4-6". Should the low track farther inland, bump up those amounts. If the low tracks farther east, take them down a notch. Seems simple right?
I leave you with my timetable of events for tomorrow. Be patient with us. Fink will be in tonight guiding you through the storm and he will have the latest information. I'll be back tomorrow morning and let you know how things are shaping up. Stay tuned and be flexible. We'll always pass along anything we know to you so you can plan your day as best you can...stay safe out there!