January 31, 2010
Yet another winter storm is on the attack, and while this storm is drastically different from the one last week, it is proving equally difficult to forecast. The problem is forecasting precipitation type, which all comes down to temperatures. Temperatures this time of year can be extremely fickle and it is very tough to scour out cold air once it settles in to the lower Susquehanna Valley. The cold air is in place thanks to an arctic high pressure ridge over southern Canada. It should stick around long enough to give us a period of snow late this evening through tomorrow morning. The track of this low is pretty straightforward. It should start in the Rockies, which is where it is now, and track up the Ohio Valley into southern Canada. This westward track will eventually allow warm air to seep in to the Midstate and change precipitation type. The surface map is below:
Notice the arctic high locking the cold air in place today. This is a key ingredient, especially to start the storm. The first part of the storm will move in later this evening as a period of light snow and continue through tomorrow morning. The main brunt of the storm will not arrive until Tuesday night. That part of this system is still sitting over the Rockies at this time. Obviously, this system is complex, expansive, and will need to be monitored by the hour over the next two days.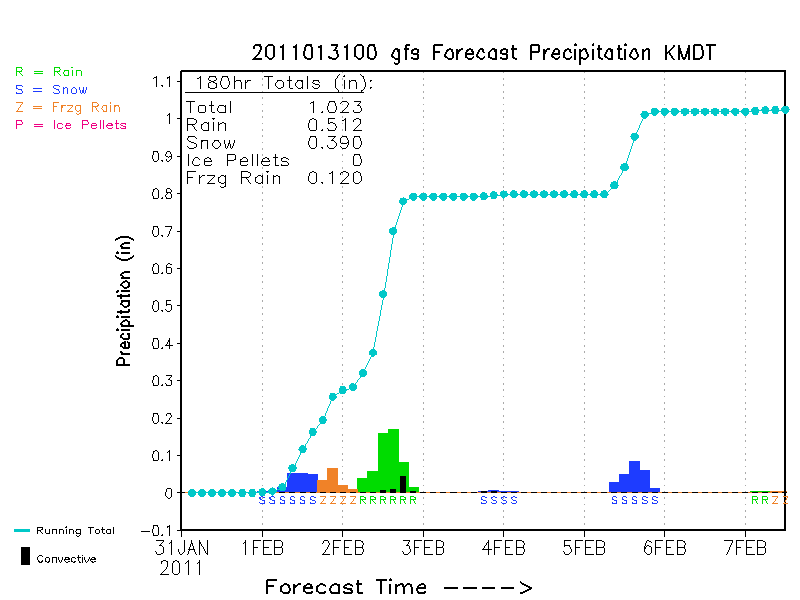 The latest run of the GFS seems to be in line with my thinking about precipitation types. A period of snow, which looks to yield between 1 and 4 inches across the area, will kick things off tonight. That will be followed by periods of intermittent freezing rain and drizzle tomorrow with a steadier period of freezing rain tomorrow night. Eventually, this should all change to rain by Wednesday morning. Of course, this is assuming temperatures actually warm-up. This is a good assumption, but just remember what I said above about cold air being hard to get rid of...should it linger, this could turn into a major ice event.
For now, a quick breakdown would look like this: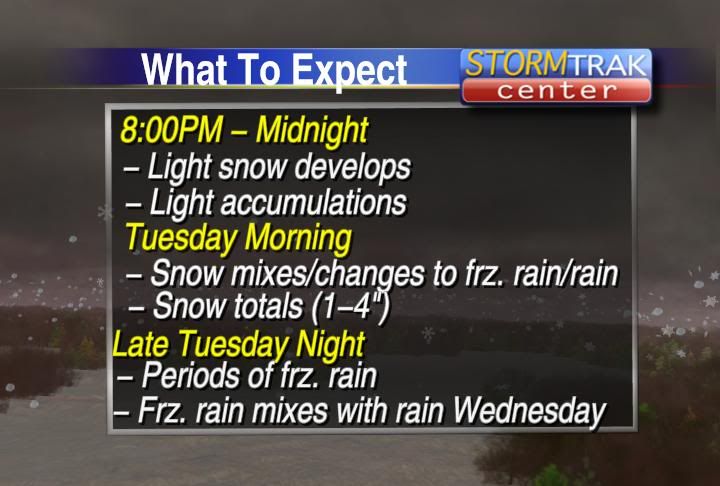 I'm interested to see exactly how tomorrow turns out. There are signs pointing to lulls in the precipitation. This would be a welcome considering that most precipitation tomorrow would yield ice. No matter what happens, this will be an extended event that will most likely give us many types of precipitation. Before I get to the specific uncertainties, let's look at totals.
Here is a breakdown of precipitation totals the way I see things now:
Snow: 1-4"
Ice (Mainly freezing rain, some sleet mixed in): 0.10-0.25"
Rain: 0.25-0.50"
If it stays cold enough tomorrow morning, this system could bring more snowfall. If it stays cold enough Wednesday morning, this system could yield high amounts of ice. This would bring about power outages and falling tree limbs...this is what we don't want. A quarter inch of ice could be devastating. This will need to be monitored. The uncertainties are many and are as follows: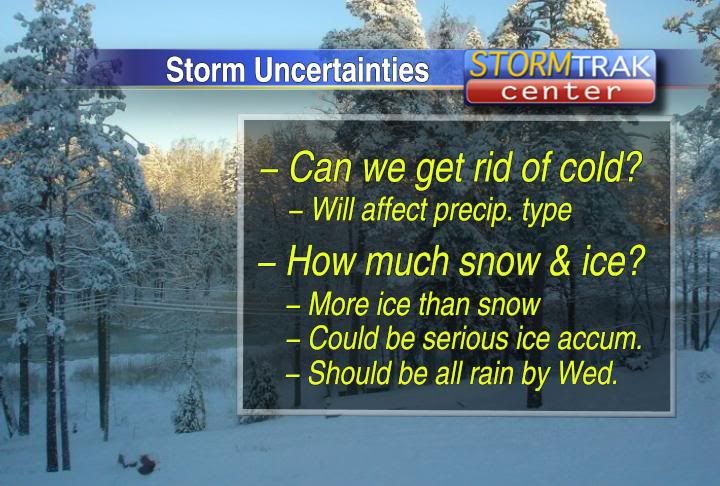 The cold air from this morning really has me concerned. There is no question that this will start as snow tonight. My main concern will be how long that snow lasts. There is some possibility that the snow could linger for a while tomorrow morning yielding higher numbers. My hope is that some of the warmer air will move into higher levels of the atmosphere, advecting in overtop the cold surface layer. If this is the case, then we will see that change-over to freezing rain as I am projecting. This should be more of an ice event than a snow event. That being said, how much will form? Another tough question! If it warms up quickly Wednesday, we get rain and there shouldn't be any more than perhaps 0.10" of ice...that's not too bad. If the freezing rain lingers because the cold air won't budge, then things turn really dicey and we could be talking about 0.25" of ice and a complete mess.
Stay with us and know we are working hard to bring you the most accurate forecast around. Tough one to call, but things are starting to come together. No matter what, I wouldn't travel too much on Tuesday or Wednesday unless I absolutely had to. Stay with abc27, abc27.com and the abc27 Weather Channel for the very latest forecasts. Good luck surviving another one! We'll get through it!