February 21, 2011
Despite the fact that last week was calm and quiet with highs near 70 degrees on two days, Mother Nature is reminding us that winter isn't over yet. This is a new week with new storms and colder temperatures. Last night saw the first of two waves push through the region delivering a dusting of snow and some pockets of freezing drizzle. While the rest of the morning should see warming temperatures and a change-over to plain rainfall, a second and more potent wave of low pressure is still on the way.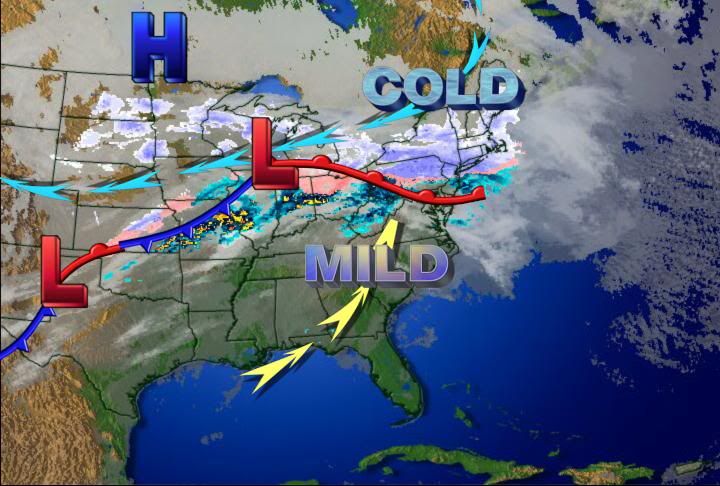 This is yet another complex storm that stretches for hundreds of miles across the country. Mild air will flow into the Midstate behind a warm front that passed through overnight. It won't last long, however, as the warm air will quickly be replaced by colder air from the north later today. After breaks in the precipitation this afternoon, it will develop again this evening in the form of sleet and then all snow. The second wave of low pressure, now working its way across north Texas and Oklahoma, will track south of the region delivering bursts of snow to the Midstate overnight.
The snow should begin to fall at some point after 7:00PM and could start as some sleet in certain areas. During the night, the snow will fall steady and heavy at times. It will wrap up before sunrise tomorrow, but the commute Tuesday morning could still be a tricky one. PrecisionCast seems to have a good handle on tonight's event and spits out the following totals:
My best estimate is for a range of 2 - 6" across the viewing area. Expect the lower end of that range across northern areas and the higher end of that range for areas near the Maryland border. Certainly 4 - 5" in the greater Harrisburg area is possible. This will mainly be an evening and overnight event, but back roads will be a bit messy early tomorrow morning. For your viewing pleasure, I have included the "What To Expect" graphic below:
We may have gotten a taste of spring last week, but now it's back to reality. Winter isn't over yet, and we could be experiencing more storminess by the end of the week. An unsettled pattern is beginning again and we still have one month to go before spring truly arrives. Go to abc27.com/weather for more updates throughout the day! Enjoy the snow!