March 4, 2011
March entered like a lamb this year and it turned out to be one of the nicest weeks we have seen all winter. Of course we knew it couldn't last, but I think many folks at least hoped the weekend would continue our stretch of sunny, warm days. Unfortunately, Mother Nature has other plans. It will be mild this weekend, but we will have to also put up with plenty of clouds and a soaking rainfall here by Sunday. Let's break everything down...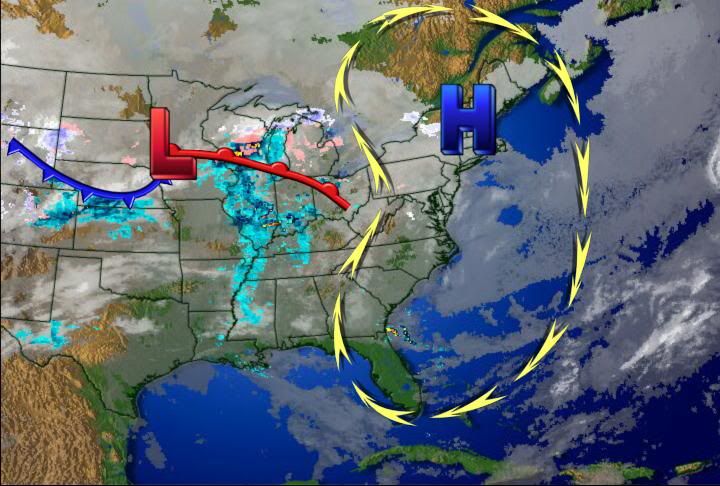 The surface map seems rather simple: an area of high pressure pushing east will make way for the storm over the middle of the country to move in and give us a rain event before the weekend it out. However, that storm will take its time getting here. With dry air overhead now, the storm will only push eastward very slowly. Any rain that does make it into the area probably won't reach the ground and the main event will not arrive until late in the day tomorrow. If you have any plans this weekend, especially outdoors, I would advise you to squeeze them in later today or tomorrow morning. Mostly cloudy skies will be the rule through early afternoon tomorrow before the rain truly arrives.
The main brunt of this storm will not arrive until tomorrow evening as some light rainfall. However, the heaviest rain will fall throughout most of Sunday. PrecisionCast suggests Sunday will be a good day to spend indoors...
Colder air will move in on the backside of this storm changing the rain to some light snow over the mountains. The lower Susquehanna Valley will see all rain from this storm and a good deal of it. Here are some projections...
Most backyards stand a good chance to see between 1.5 and 2.5 inches of rainfall through late Sunday! It's a good thing all our snow has melted already or we could be talking about serious flooding concerns. Lebanon, for example, is projected to get at least 2 inches of rainfall. Small streams and creeks will of course need to be monitored late Sunday depending on how much rain actually does fall. Either way, with or without flood issues, Sunday will be a soaker! Speaking of flood concerns, the National Weather Service has put some of our counties under a flood watch from Saturday evening through Sunday evening. The areas highlighted in green are under that flood watch.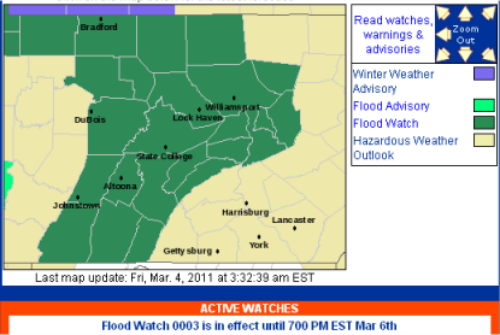 One side note here: the previous two flood watches our area has been put under have been canceled early. Sometimes the NWS likes to issue these to "cover their butts" so to speak. I don't take too much stock in these types of watches this early. Obviously, we are expecting a good deal of rainfall here on Sunday, but let's see how everything pans out before we start to worry about flooding. We will know more heading into Sunday afternoon about whether flooding will be an actual problem.
Stay dry this weekend and of course we will keep you posted with any issues that arise from our next weather event. See you next week!