April 4, 2011
Temperatures this week take a turn for the better as we start to see near to above normal numbers. For many that have been waiting for spring to arrive, this is certainly welcome news. However, as luck would have it, we have potentially nasty weather accompanying those warmer temperatures. A strong cold front is making its way across the country this morning and it could bring strong, gusty thunderstorms to our region later this evening and overnight.
High temperatures should soar into the mid 70s or better today ahead of the approaching cold front. Not only will southwest flow ahead of the front help usher in these warmer temperatures, but return flow around high pressure moving into the Atlantic will also team up and help bring us our warmest day so far this spring! Most of the day will be dry as moisture from the warm front will mainly stay north of our area. Later this evening and overnight, the main action moves in with the cold front. While there is some concern for strong, gusty thunderstorms, the timing of the frontal passage works in our favor. Because the front is coming through overnight, it will not have the best dynamics ahead of it to form truly strong and severe thunderstorms. If the front were passing through during the prime heating of the day (as often happens during the summer months), then it would be a little more concerning. The timing is perhaps why the Storm Prediction Center keeps us out of the slight risk for today...as least as of this morning...see below.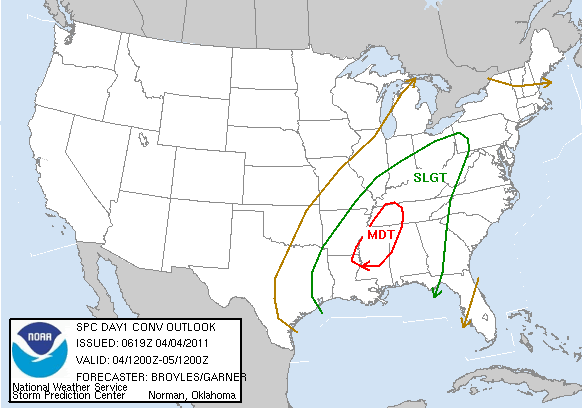 The front will be passing through the Pittsburgh area earlier in the day, hence parts of western Pennsylvania are included in the slight risk threat area. The SPC doesn't issue moderate risks too often, so when they do you can be sure that atmosphere conditions are ripe to produce severe thunderstorms and tornadoes. Parts of the deep south are in a moderate risk for later today as this front is very strong. Temperatures ahead of it are in the 70s, while behind it, many cities are only in the 20s!
PrecisionCast shows a nice line of showers and thunderstorms pushing through the area late this evening and perhaps continuing overnight. The main threats overnight appear to be strong wind gusts, heavy downpours, and hail. Because the timing works in our favor, the tornado threat appears non-existent at this time and extremely strong wind gusts seem unlikely. Nonetheless, keep your guard up heading into tonight.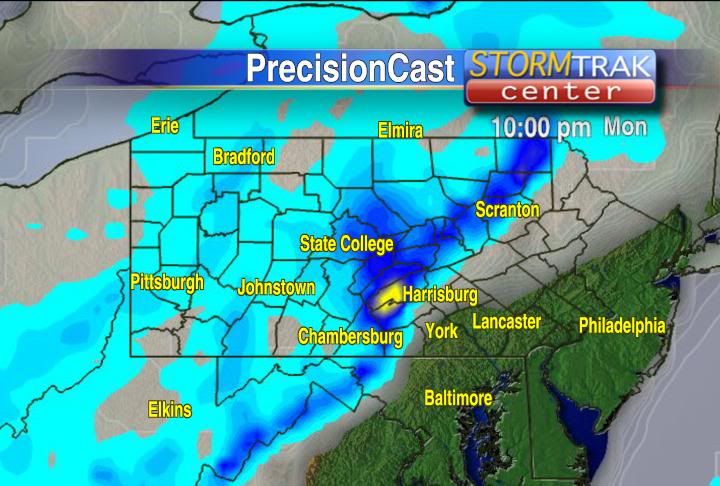 Don't be alarmed if there is a lot of lightning and thunder with these storms tonight even if they are not "severe". Wind speeds will pick up later today before the front arrives and they will continue to be gusty behind the front for most of tomorrow. Here are the projections...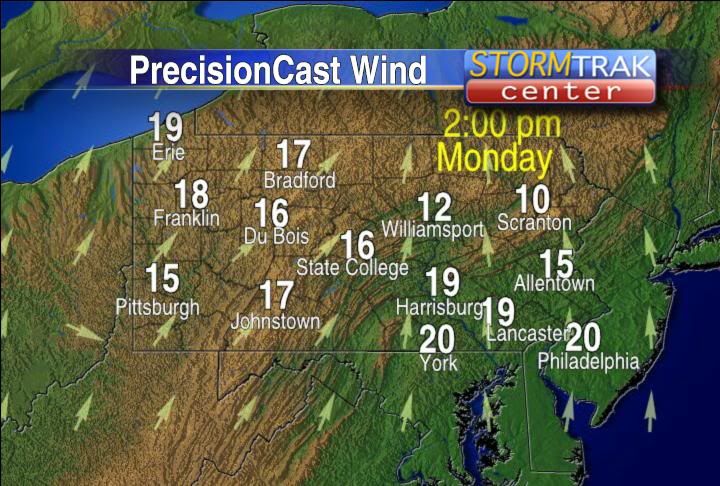 These are sustained values for later today. Gusts could be much higher and probably will be when those storms push through later tonight. Just be ready and don't be alarmed if things do turn a bit nasty going into tomorrow morning...
In summary, warmer temperatures are bringing showers and thunderstorms with them to kick off the first full week in April. While this event will not be the worst outbreak of thunderstorms we see all season, it could turn ugly later especially if we really break into the warm sector, which is quite possible. We will keep an eye on things for you and should anything break later, stay tuned to abc27 and abc27.com! Have a safe Monday and at least enjoy the 70s!