May 10, 2011
After an extremely wet April and early May, the weather pattern may finally be shifting. It's all thanks to the jetstream, an area of faster winds in the upper atmosphere. This culprit ushered in storm after storm and rain-maker after rain-maker last month and now has finally shifted to allow for some nicer conditions across Central Pennsylvania.
The lower Susquehanna Valley is currently being affected by a blocking pattern referred to as an "Omega Block." The pattern is named this because heights in the upper atmosphere, along with the jetstream, resemble the Greek letter "Omega" when looking at the features on a map. Here is a textbook example of what I am referring to:
Normally when this pattern sets up across the nation, the central part of the country is left warm, dry, and generally quiet. The Northeast and Northwest usually have wet, cool, and unsettled conditions. Notice the "Omega" shape located within the above 500 millibar height chart...hence the nickname of the current pattern. This is not a current map, however. The blocking pattern we are now under is set up slightly east of where the above feature is planted. In other words, the "Omega" is shifted far enough east to keep our weather sunny, rather than unsettled, but far enough west to keep us out of the hot and toasty stuff. It's a perfect set-up for our region!
This graphic illustrates the current jetstream location. Notice how the jetstream, and hence the "Omega Block" are not directly over the center of the country, but rather slightly to the east. Parts of the plains, Tennessee Valley, and Ohio Valley will be smoking hot this week. The Pacific Northwest will remain cool and unsettled, while eastern Pennsylvania will remain seasonable and sunny. The showers affecting the Northern Plains and Great Lakes will follow the jetstream to our south and stay away for most of this work week. The radar may show some showers close to the region (across western PA), but they will not be a threat here! The temperature map below also shows nicely the pattern shaping up with today's projected highs: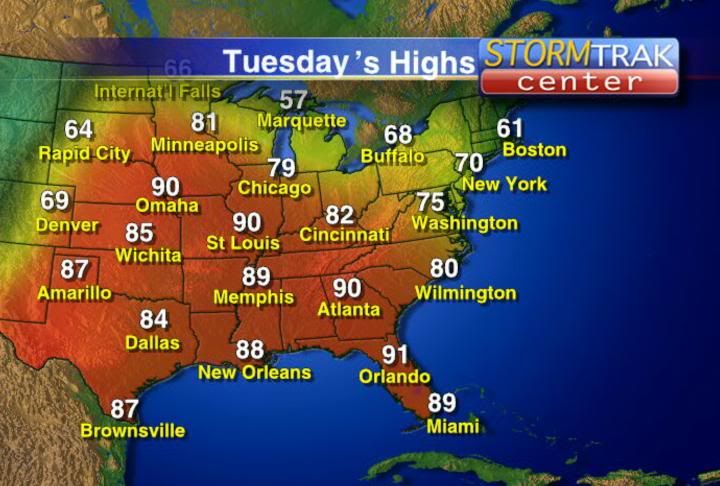 You can still see the Omega pattern taking hold with cooler air out west and across the Northeast. The middle part of the country along with the Southeast will be baking later today with many cities getting near 90 degrees. This blocking pattern should hold at least until the weekend (of course) but it could be longer too. Either way, enjoy the nice weather while it lasts and even the weekend doesn't look like a wash-out...until next time!