May 16, 2011
It's easy to forget how wet this spring has been with weather like we had last week. Hopefully the farmers got to plant some crops with the dry weather and the rest of you had the long awaited opportunity to spend some time outdoors in the sunshine. Having said that, this week brings a return to the unsettled nature of Spring 2011. An upper level low pressure system will plant itself over the Mid-Atlantic through the end of the week and that spells more rain and some of it could be heavy.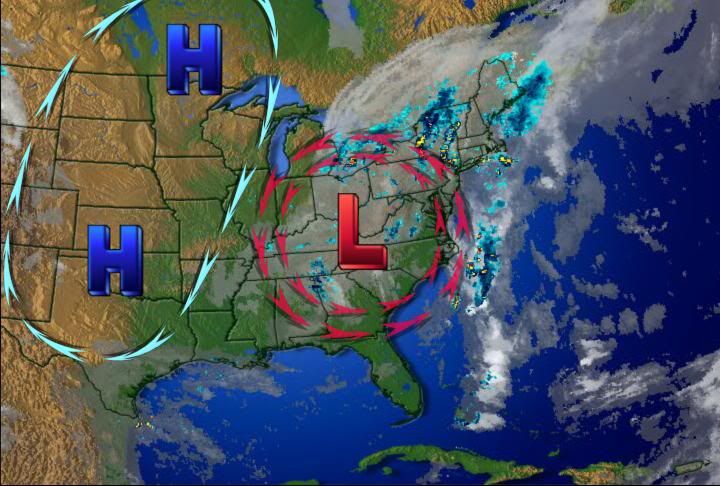 The surface map above shows two main features: the upper low starting to situate itself across the eastern seaboard and a nice ridge of high pressure over the Rockies and Plains. Unfortunately, the high will not make it east thanks to another blocking pattern shaping up across the nation. In the meantime, through at least Thursday or Friday (and maybe longer), we are stuck under the influence of that pesky low. This means heavy rain at times along with some chances for thunder. Easterly flow will set-up too for tomorrow and Wednesday keeping us below normal and mostly gray and gloomy.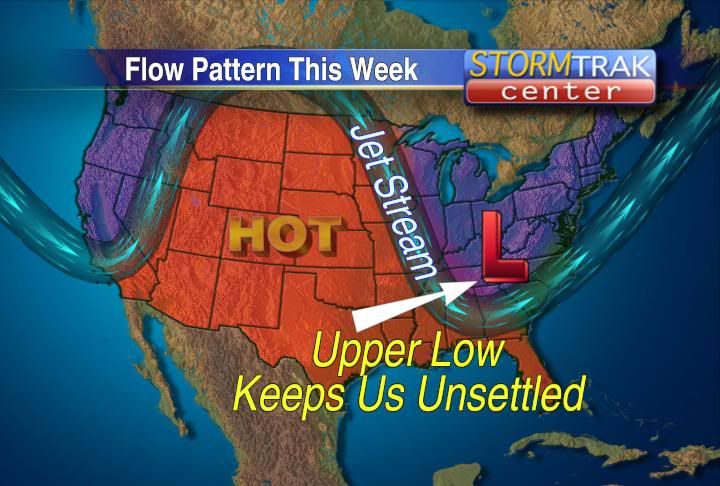 Another omega block has formed across the U.S. and this time it doesn't favor our region like it did last week. This time, the Rockies and Plains will be sunny and warm, while we are stuck in a trough in the east. Sitting within that trough is the upper low and until the blocking pattern shifts, hopefully by Friday or Saturday, that low ain't goin' nowhere. Sorry for the bad grammar, but I wanted to make my point. Get used to sogginess again folks. How much rain will we get? I'm thinking between one and two inches through Wednesday night...and maybe more on the way Thursday and Friday.
PrecisionCast gives the region some healthy amounts, and I wouldn't be surprised if we do get closer to two inches through Wednesday. There is no doubt that this spring has been wetter than most. Keep in mind that other parts of the country, like the Mississippi River basin are dealing with far bigger concerns. We want to see the sogginess end, but if could always be worse. Here's hoping things break by the weekend. At least temperatures will be near 80 on Saturday and Sunday. Until next time (when this blocking pattern ends)...make it a great week!