May 18, 2011
Yesterday morning and at noon I mentioned on-air that there was the possibility for some rotation to develop within thunderstorms later in the day. The reason for this was simple: an upper air low pressure system has been parked over the Mid-Atlantic for the last several days and its large scale cyclonic circulation (counterclockwise) often yields rotation within thunderstorms even when the atmosphere appears stable. Lo and behold, an isolated cell over Franklin County last evening did produce some rotation along with a possible tornado. Unfortunately for some folks, this came at the expense of Dancing With The Stars.
This blog entry is only for those small fractions out there that actually threw a hissy fit about our interruption last evening. Most of you realize how important information can be during life-threatning storms. However, the old saying about not pleasing everybody certainly rang true last night.
Being a HUGE television fan myself, I am well aware of what airs on what night and nobody understands your pain more than me when a program is interrupted for whatever reason. I am also human and get upset when something I planned on watching isn't on when it is supposed to air. My program was also interrupted by tornado coverage on another station last night. I will simply go online and catch up later today with what I missed...seems simple enough, no?
However, some people took to their keyboards last night to spew vitriol and hatred at my colleague Eric Finkenbinder and those helping him behind the scenes. Here is an example of some of the emails that came in last night:
"Please understand that showing us a 4 second loop of weather, while talking away from the mike, for 20 minutes does nothing. The people that will be effected are busy running crazy into the basement and the rest of us were busy watching dancing with the stars. My father is staying with us tonight for a business meeting and the only thing he has looked forward to after a long day of meetings was watching cheryl burke do a dance in a skimpy outfit and you have taken that joy from him. Please get this nerd off of the tv, we don't want to hear him until 8:45. thanks." -- Lesley Saves from Harrisburg
I hope you feel better Lesley. Calling a colleague and friend of mine a nerd for trying to help save lives and get people out of harm's way seems a bit short-sighted to me. We have a policy that will break into programming (no matter the program) when a tornado warning occurs within our coverage area (doesn't matter what country either). I'm also sorry we took the joy out of your father's evening last night while other people were trying to stay informed about how to keep safe. I realize this next statement is somewhat shocking, but there are more important things than TV. Tornados are unpredictable storms and most folks don't see them coming until its too late. Maybe Harrisburg was high and dry last night, but maybe someone in Harrisburg had family near Mercersburg and was able to call and warn them because of our coverage. That is not only the hope, but with better technology every year, it is becoming a reality. We are providing greater warning times and the faster we can get the information out to the public, the better.
At the end of the day, most people realize that Mother Nature doesn't care when Dancing With The Stars airs. Ultimately, this is just another reminder that we can't and don't and will never be able to control everything no matter how hard we try. This (the following photograph vindicates our coverage last night as this particular cell was the one the drifted over the PA border into Franklin County) --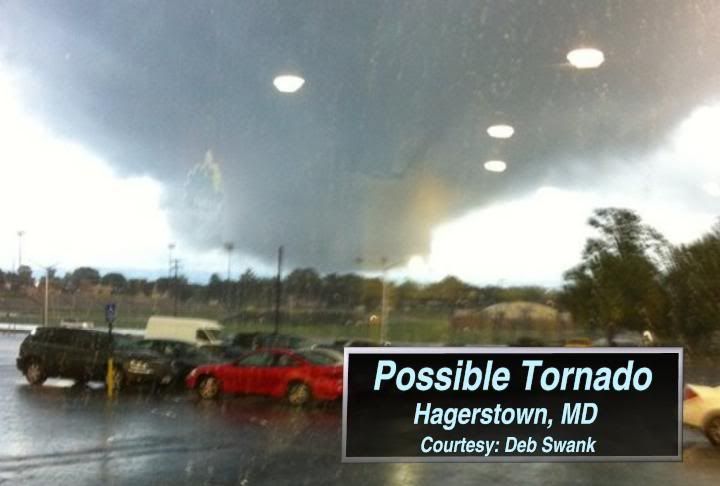 will always be more important and urgent than this --
We will always try and get back to programming as soon as the warning is over or as soon as we feel it is safe to do so. Last night, the warning actually lasted until 9:30PM, but because the cell drifted into Fulton County (which is out of our area) by 9:00PM, Eric chose to return to the Dancing With The Stars results show...which by the way aired uninterrupted. We work hard for you and do our best to not interrupt your favorite ABC programming, but sometimes it simply must be done. Fair warning: we are in a similar situation tonight and there is still the possibility for rotating thunderstorms. Remember, the atmosphere doesn't understand or care that new episodes of your favorite comedies are on tonight like The Middle, Modern Family, and Cougar Town. I hope we don't need to save lives tonight when Phil Dunphy is up to his old antics again. Then again, if we do, come to abc27.com and download our video player. You can easily catch up with all your favorite programs because we live in a wonderful time where it is easy to do so. Before firing off those nasty, hate-filled emails, stop by abc27.com and download the show you may have missed. Here's hoping for smooth sailing tonight and good luck to all those folks in Franklin County who may be dealing with clean-up today.