June 7, 2011
We have already had one heat wave this summer over Memorial Day weekend and this week could offer a second blast. Another large ridge of high pressure will park itself over the Atlantic and the clockwise flow around it will bring the heat and humidity from the south right into Pennsylvania. Combine that with a few passing frontal zones, and you once again have a recipe for a hot, uncomfortable, and unsettled week ahead.
The heat to the south of that warm front will not only advance to the east today, but it will remain locked in place through Friday. Not until the weekend do we see temperatures return to near normal levels -- but the weekend also looks unsettled as a frontal system will stall overtop the region. Most of the country has been dealing with 90 degree heat for the last few days and now it's our turn. While the official high may stay just shy of 90 today, I expect certain southern areas like Franklin, Adams, and York counties to have some towns reach just that mark this afternoon. The heat continues across central and southern parts of the U.S. too:
The warm front, combined with a weak upper air disturbance over the Midstate, may provide just enough lift later today for more convection to form. The Storm Prediction Center keeps the slight risk out of our area, but it is close enough for me to still introduce the possibility for strong thunderstorms in the forecast this afternoon and evening.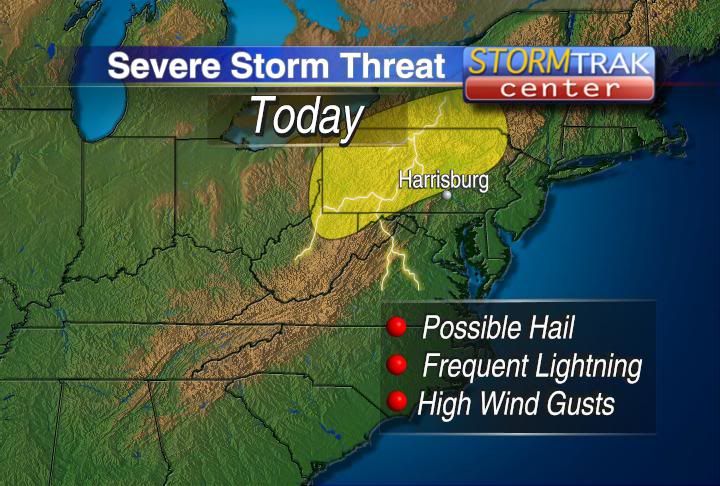 The main threats today would be hail and lots of lightning. High winds cannot be ruled out either. The chance is not great today to see a storm, but with the slight risk looming so close, it is a good idea to keep your guard up later. I think after a dry day tomorrow, the best chance all week to see some action will be Thursday late day. A strong cold front will bear down on the state during that timeframe and could be the best trigger for some severe weather this week. PrecisionCast picks up on this feature as seen below: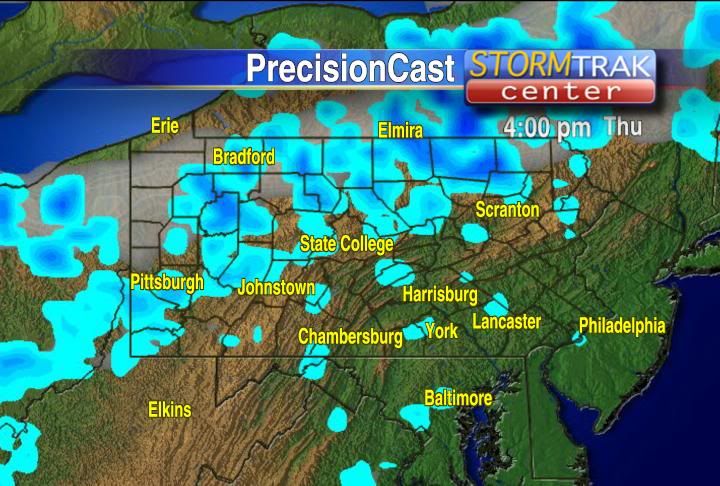 Two lessons from today's blog entry:
1. Prepare for the heat and humidity to return and continue through at least Friday.
2. The weather remains unsettled for much of the week and perhaps through the weekend too. The best chance for storms looks to be late Thursday with tomorrow staying relatively dry.
For more weather information, tune into the abc27 Weather Channel and keep it here on abc27.com!