June 22, 2011
Summer is now officially here and it certainly feels like it this week with more heat and humidity in the picture. This spring we have been used to unsettled and wet weather, so it should come as no surprise that the heat and humidity over the next few days will fuel more showers and thunderstorms. Some thunderstorms could be severe and we should have our guards up heading into this afternoon and evening. Here's why: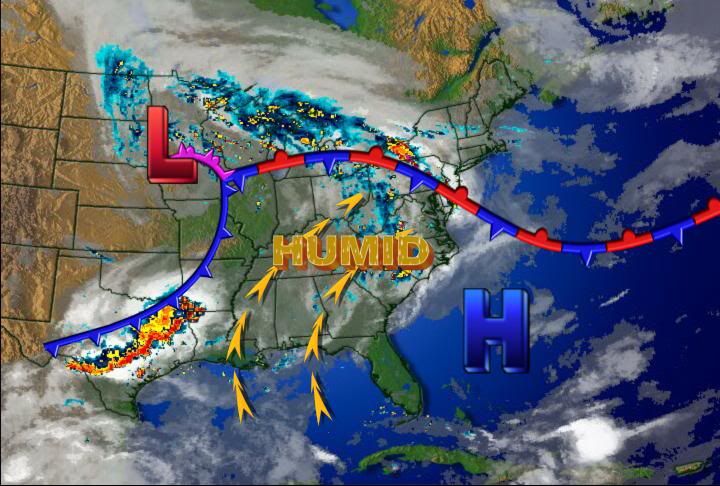 A large stationary front meandering over the Commonwealth the last few days will lift northward today as a warm front. This will usher in more heat and humidity and thunderstorms will form as a result. The main low is still churning over the upper plains and will eventually move eastward starting tomorrow. The airmass overhead is once again ripe and the ingredients will be there to fire some potentially nasty storms later today.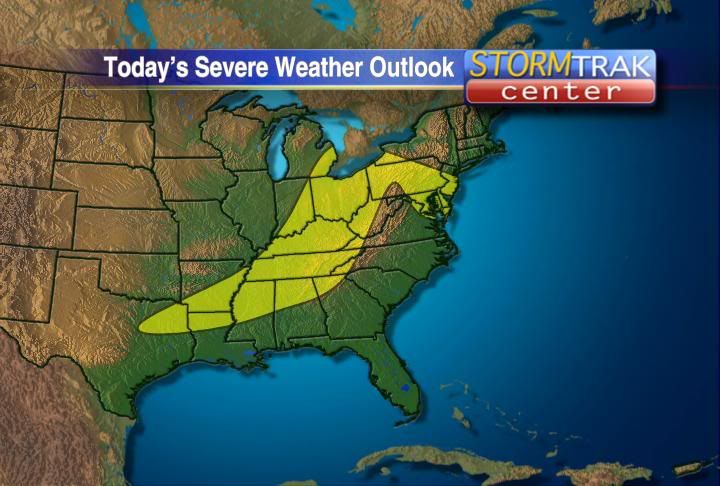 The Storm Prediction Center has issued a slight risk for severe weather across south central Pennsylvania. We are not alone, however, as parts of the Ohio, Tennessee, and Mississippi Valleys are also dealing with potentially violent weather. Showers and thunderstorms could become numerous later today with the main threats being heavy rain, possible hail, and high wind gusts.
PrecisionCast under does the shower and thunderstorm activity this afternoon, in my opinion. I am expecting widely scattered thunderstorms to develop, perhaps in line segments across the region. While this model does hint at the possibility, I believe most of the region stands a good chance to see some rainfall and perhaps a gusty storm. There is some indication, however, that areas east of Harrisburg stand the best chance to see some active weather today.
This map shows the CAPE values for later this afternoon. Remember that CAPE stands for Convective Available Potential Energy. The higher the CAPE, the better chance to see thunderstorm development, generally speaking. Areas across eastern Pennsylvania have some moderate to high CAPE values forecasted for this afternoon. Between 2000-3000 J/kg are forecasted in a swath east of Harrisburg. Storms have a pretty good chance of forming or intensifying in these areas.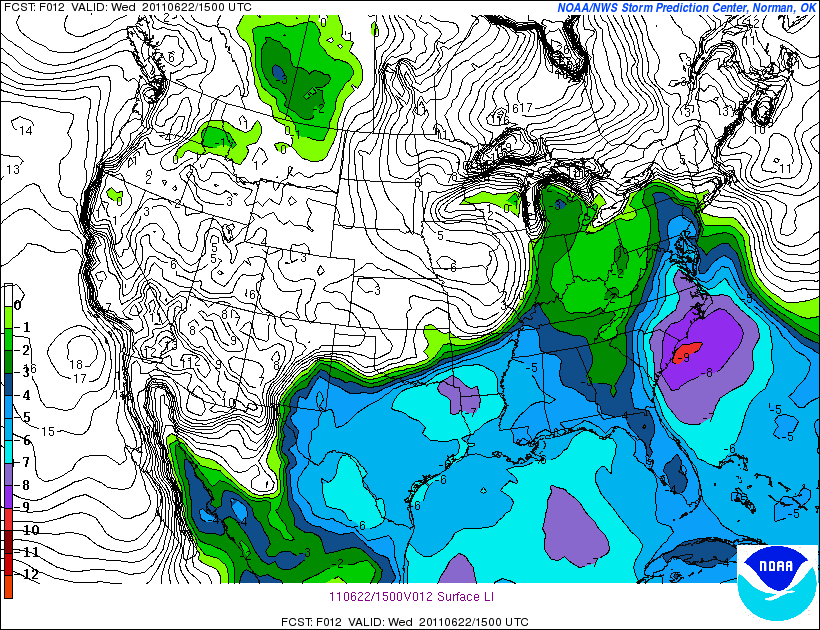 Finally, this chart shows the forecasted lifted index values for this afternoon. The higher the negative number, the better chance for severe thunderstorms. If that negative number is high, the environment is pretty ripe. For reference, we had LI's in the -10 to -12 range back in May when we had those really nasty thunderstorms and tornadoes before Memorial Day. These numbers aren't in that range, but there are some -4s and -5s across eastern Pennsylvania. LI's in this range do indicate a fairly good environment for thunderstorm development, i.e. the instability is there for some good storms to fire up later today.
Keep your guard up if you have plans outside this afternoon or evening. Some storms could definitely turn severe and you will want to get inside immediately should that happen. We will also keep you informed if anything develops today. In the meantime, stay out of the humidity and keep cool!