July 18, 2011
It's been a little while since my last post for two very important reasons. The first being I have been extremely busy with in-house projects right here in the weather. The other, and perhaps more obvious reason, is that there simply hasn't been much to talk about in July. Sure, we've had some hot days, but it's summer...it's supposed to be hot. We haven't had much rain, but I wouldn't sound any major alarm bells just yet about that either. All in all, it's been a rather mundane month. Until now. The heat bubble cometh so to speak as temperatures will soar into the 90s all week and peak this Friday with perhaps our hottest day of the year. For now, the extended forecast doesn't show much relief either. Even though it's summer, when it stays this hot for this long, it's worth writing about.
The above map shows the week ahead and the set-up leading to all the hot weather. As a large ridge of high pressure dominates from the south, the heat will expand north and east. This high will eventually set-up shop over the Atlantic as a "Bermuda High" later this week and that could spell our hottest weather yet this year. It could be worse, however. The central part of the country will see prolonged temperatures in the triple digits through the next several days. Our temperatures should peak in the upper 90s by Friday afternoon.
Today's high temperature map sums up the building heat nicely with only a few cities out of the 90s. Denver and Rapid City, two locations known for their cold and snow, will get near 100F this afternoon and won't be chilling off anytime soon. Is this extreme weather? Should we panic and run for the hills? Don't be ridiculous! This is just a summer-time pattern with abnormally high temperatures that looks to stick around for several days. This can happen once in a while and it's not some great phenomenon that we need to worry about. Sit by the pool and drink plenty of water...it will be winter in no time!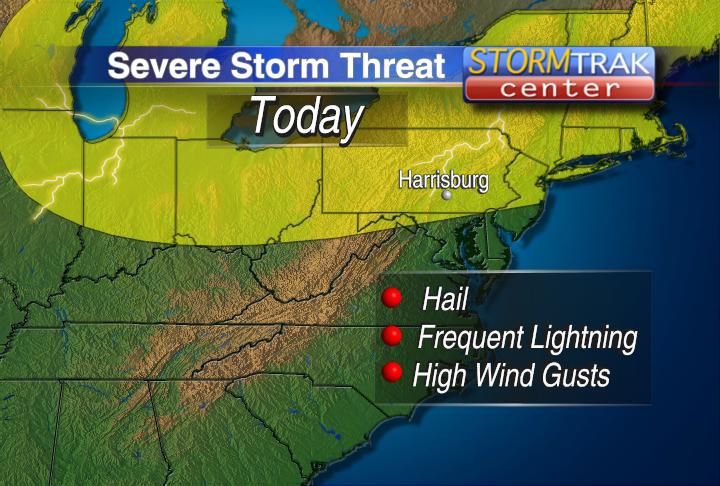 On a quick, slightly unrelated side note, today and tonight could be our best shot at rainfall in the next seven days too. Despite the hot and mainly dry weather we have been having, a frontal system looks to push through overnight and deliver some potentially strong thunderstorms to the Midstate. Plan on keeping your guard up late this afternoon and through the overnight period into Tuesday morning. The SPC has issued a "slight risk" for our area due to the potential for lightning, hail, and high winds. While we could do without the severe weather, some rainfall would be nice as we are now a little over an inch below average for the month of July.
Finally, looking ahead to the end of the month next week doesn't off much hope either. This pattern will continue with above normal temperatures across the east and extremely high temperatures in the some of the Mid-Atlantic states. We should absolutely plan on using the A/C for the rest of the month. It doesn't appear Mother Nature has any plans for sunny, refreshing days ahead with dewpoints in the 50s...bummer! Well, a guy can dream right?