February 15, 2012
Welcome back to the blog everyone! It's been a while since my last post. We have been going through several major upgrades here in the abc27 StormTrack Center and my attention has been needed elsewhere. Over the past few months, the weather team has upgraded to state-of-the-art HD graphics to bring you a better product over our airwaves. In addition, we have made upgrades to our website at abc27.com/weather and we have launched our very own Facebook page at facebook.com/abc27weather. Each of our meteorologists is also on Twitter too -- I'm @BrettThack, Eric can be found @Eric_Fink, Ryan's is simple too -- @RyanCoyle, and finally Dan can be found @DopplerDan. Follow us and connect with the abc27 StormTrack Center team like never before. We are also in the process of adding more local content to our weather channel at 27.3. This should be re-launched by the end of February and it is being re-branded as abc27 StormTrack Center 24/7. These projects have certainly kept me busy, but I'm happy to have found some time to write a blog about the current weather and the upcoming weekend.
We have been in a La Nina pattern this winter and hence, we have not seen much snow and it has certainly been mild. Any talk of snow or a "big storm" makes people perk up. Despite the fact that it's been a mild winter, there is still time to squeak out a snow storm or two. This weekend could be such an opportunity. However, this is a proceed with caution event, because chances of getting a big event are still small as lack of snow usually begets lack of snow.
The model image you see below indicates at least some hope for snow lovers. This shows the GFS model for Saturday night.
This scenario would certainly bring precipitation to the Midstate. Considering the timing would be overnight, there is a good chance this would be in the form of snow. Time to get excited snow lovers? Not just yet.
Scenario 2 is below and this indicates a southern and eastern track sparing us precipitation and just bringing a few clouds our direction late Saturday.
Notice how that huge slug of moisture stays mainly south of Pennsylvania. We will be under what's called a "split flow pattern" this weekend where two jetstreams control the weather across the nation. Weather systems in the southern half of the country stay there and we get our flow from this north when this pattern takes shape (usually). Therefore, this scenario seems more likely...the storm stays under the influence of the southern flow and stays far enough south and east to spare us a major storm. This is several days away so the models will hopefully come into some sort of agreement within a day or two. For now, I'm not optimistic for a big storm.
The next two days will be mild with partly sunny skies today and a little afternoon rainfall tomorrow. Our thinking is for around a quarter inch of rain tomorrow and probably even less in most areas. The GFS is in line with this thinking through tomorrow:
Finally, I'll leave you with the upper air data for the weekend. There is a kink in the flow that would indicate some cold air wrapping around the backside of this developing storm.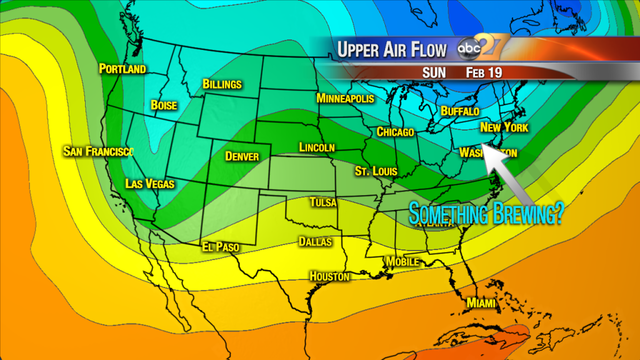 Again, I'm not saying that getting a decent snow is impossible...but I'm not holding my breath either. Something is brewing for the weekend...the question just remains whether we are in the pot or not...stay tuned! And thanks for stopping by the blog after all this time...
BJT