February 16, 2012
Even though we are getting some freezing drizzle early this morning which will change to plain rain for most of the day ahead -- let's face it -- everyone wants to talk about the storm potential for the weekend. For today's blog post, I plan to break down all the models as things stand this morning and give my perspective on this potential event.
The first model to discuss is the GFS. This is the model that has been harping on this potential event for the past two days -- more so than most other models. It still delivers a punch of precipitation to our region late Saturday and most of Sunday.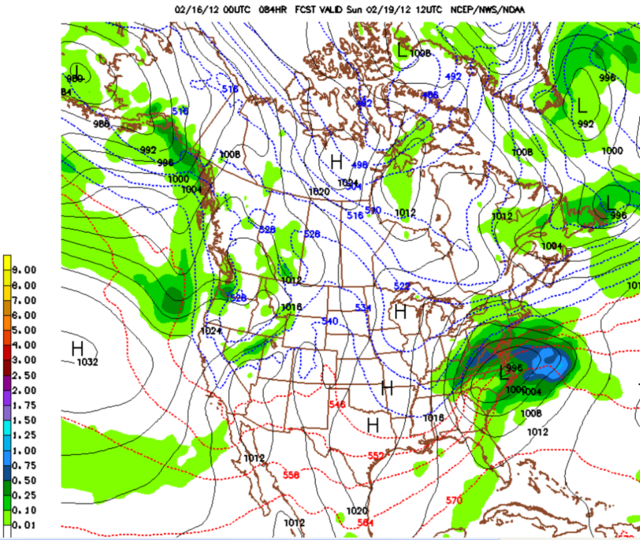 Notice the low stays south -- but still spreads enough precipitation northward that our region would be affected. If the position of the low would be in this area, cold air would wrap around the backside of the storm and we could get some significant snow and/or some icing. This is just one model solution, however. Let's move onto the others.
The next model is called the NAM and it shows the storm taking a more southern track.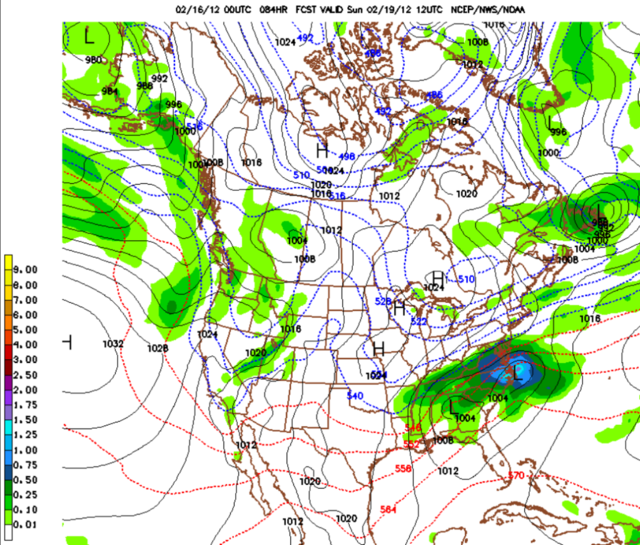 With this scenario, our region would be spared the worst of the storm and we would probably only see a few clouds. Having not had many storms this year to work with, it's hard to say at this point which model will handle this one best. Both scenarios are still in play in my mind at this time.
A more middle of the road scenario is the European model. In this run, the low moves far enough north to affect the Midstate, but it is also a little farther eastward perhaps sparing us of any real heavy precipitation.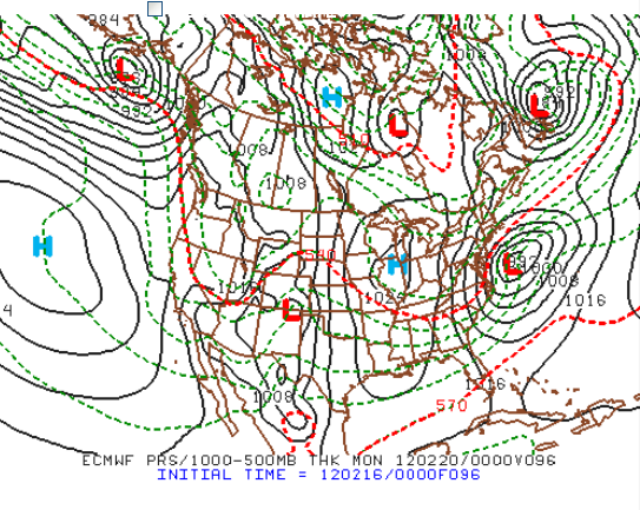 This image would certainly support the cause to see some precipitation here over the weekend. As you can see, forecasting a storm like this one three days out is difficult. We have just looked at three different models with three slightly different solutions. Forecasting is the most fun when Mother Nature offers us a challenge of this magnitude.
Something else to consider is whether or not enough cold air will be locked in place for this to be an all snow event or whether it could be an icing event instead. If this storm happens, I think it would be mostly snow because of an important forecasting point on Saturday.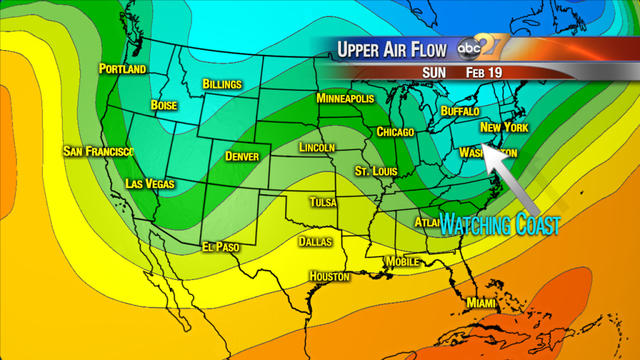 A weak front will push through late Saturday from Canada. This will supply a shot of cold air right before the storm would hit on Sunday. Notice that dip in the upper air flow early Sunday. Like I say in the graphic above...we are watching and waiting. If the storm moves into the sweet spot for us, I do believe sufficient cold air would be available to produce mostly snow. That dip in the flow above is critical from a forecasting standpoint...
Yet another model to consider is our in-house model here at abc27. It's called the RPM model and we refer to it on air as PrecisionCast. This doesn't go out quite far enough today to see the exact track...but it does allow us to see the different scenarios that could happen.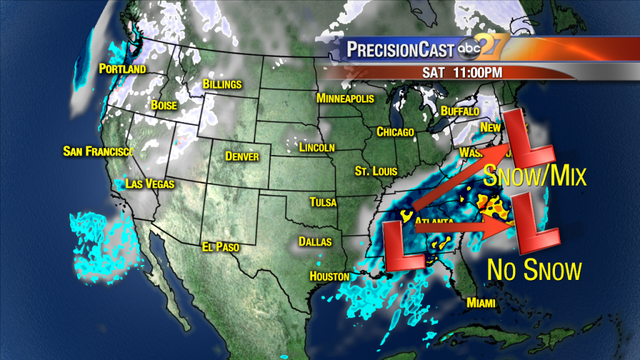 We will be dealing with "split flow" over the weekend which means two different jetstreams will try and influence this storm. If the storm phases with the southern jet...we get nothing more than a few clouds and the "no snow" scenario plays out above. If the northern jet gets a hold of this storm and pulls it up the coast, then we get the snow/mix scenario. As I described above, I would lean more toward snow at this point, but there are a ton of uncertainties as you can see.
There are a couple things going for this system though. One would be climatology -- this time of year is often conducive for bigger snow storms and we have gotten many storms in the past during the later part of February. The second thing to consider is another forecasting point.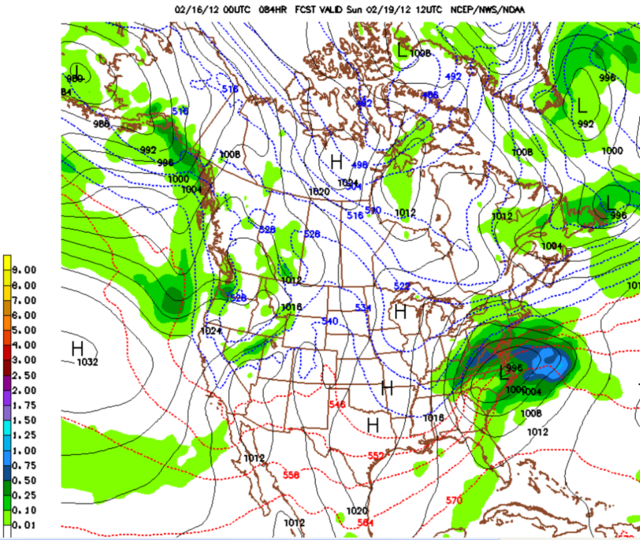 This is the same GFS image from above. This time, don't focus on the storm, but rather the high pressure system sitting over Wisconsin. Often for coastal storms, we like to see a big ridge of high pressure sitting over southeastern Canada. This helps feed colder air down along the mountains and produces a good snow-making environment. While this high isn't quite in that sweet spot, it's close, and again supports my colder air theory that if it does precipitate, it will probably be mainly snow. The last thing to consider is that while the models are different as of this writing -- they are coming closer together. The NAM brings the storm farther north than it did and the European is also coming into more agreement with the GFS than it was yesterday. I'm not ruling out a complete miss just yet, but the weekend could be shaping up to give us a fairly decent winter storm. If it does, we will be on top of it for you.
The last thing to point out before I sign off is that I do not consider myself a snow-monger. I don't care for snow and don't like to get people all worked up when something could be coming. I try to present a fair view based on the information I have available to me at the time of my posts. We still don't know what's going to happen this weekend. We want to alert you that something could be coming Saturday night and Sunday morning but it's not a sure thing at this time. If you like snow, then now is the time to start hoping because the chances for an event are increasing. We will, of course, keep you posted! I'm signing off for a long weekend, but Eric, Dan, and Ryan will keep you company tomorrow and through the upcoming storm if there is one. Thanks for stopping by and for sharing my posts with others. Have a great President's Day weekend!
BJT