August 6, 2012
Several rounds of thunderstorms this past weekend dealt the Midstate some heavy rain, lots of lightning, and some high wind gusts. Between heavy downpours Saturday and Sunday, the Midstate should no longer have to worry about lawns drying up or drought concerns for farmers. Hopefully Mother Nature can give us a good balance between some nice, sunny days to close out summer and a little rain along the way too.
The storm reports highlighted below are from Sunday. Many of the reports deal with wind damage across the southern part of our area, but there is that one (now famous) lightning report too: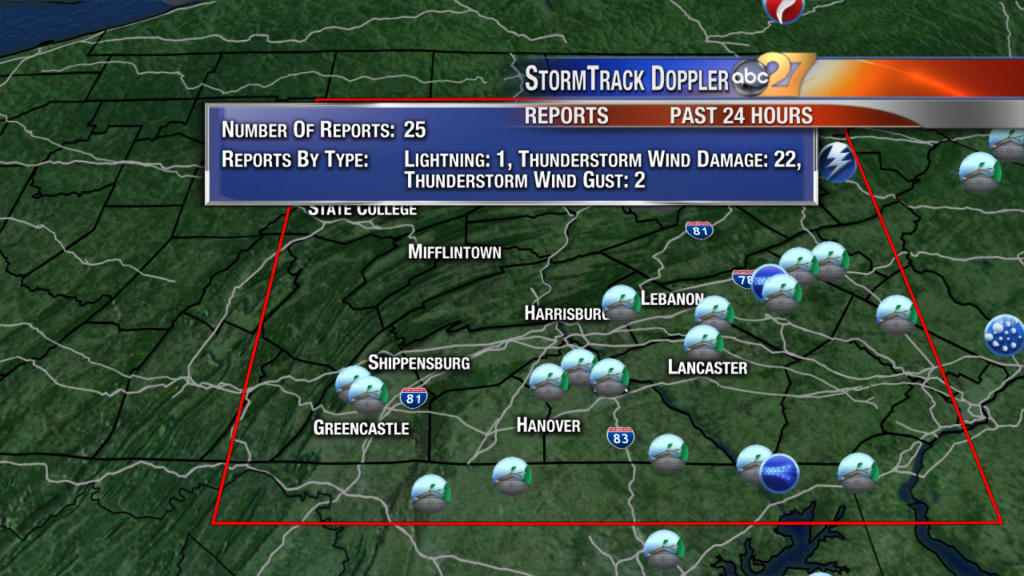 All in all, this was not what I would call a widespread event, but there were several reports of wind damage in Franklin, York, Lancaster, and Lebanon counties. A few trees fell on roofs, one fell on a motorcyclist, and of course it was a severe weekend at Long Pond. The Pennsylvania 400 not only got rained out, but severe thunderstorms left behind several lightning strikes that killed one and injured several other people.
While the NWS slogan "When thunder roars, go indoors" is a little hokey...it should be heeded. Lightning can strike any time and anywhere and this weekend at Pocono is just one example of how thunderstorms often catch folks off guard when they shouldn't. There were plenty of warnings before the storms rolled through on Sunday and we were talking about the potential for severe weather as early as Wednesday. Hopefully everyone is okay and I encourage anyone who can to take these warnings seriously. Perhaps some people at the race couldn't get to an area of safety - but if you can, make sure you get inside as soon as you hear thunder.
Of course, you can always get your watches and warnings from abc27, abc27.com, facebook.com/abc27weather, twitter.com/abc27weather, and StormTrack Center 24/7. There are more ways than ever before to find out critical weather information and we have you covered! Thank goodness this week looks much calmer and slightly cooler! Have a great week!