August 27, 2012
I blogged last week about Isaac's potential to affect our region late this week. Right now, Isaac is a tropical storm pounding Florida's west coast with heavy rain and high winds. The latest projected track from the National Hurricane Center has Isaac making landfall near New Orleans late Tuesday night/early Wednesday morning. While it was scheduled to make landfall as a Category 2 storm, the NHC now believes it will only be a Category 1. While that isn't much comfort for the folks who live in and around New Orleans, it is at least some good news as Isaac is set to make landfall on the 7 year anniversary of Hurricane Katrina. Here is the latest forecast: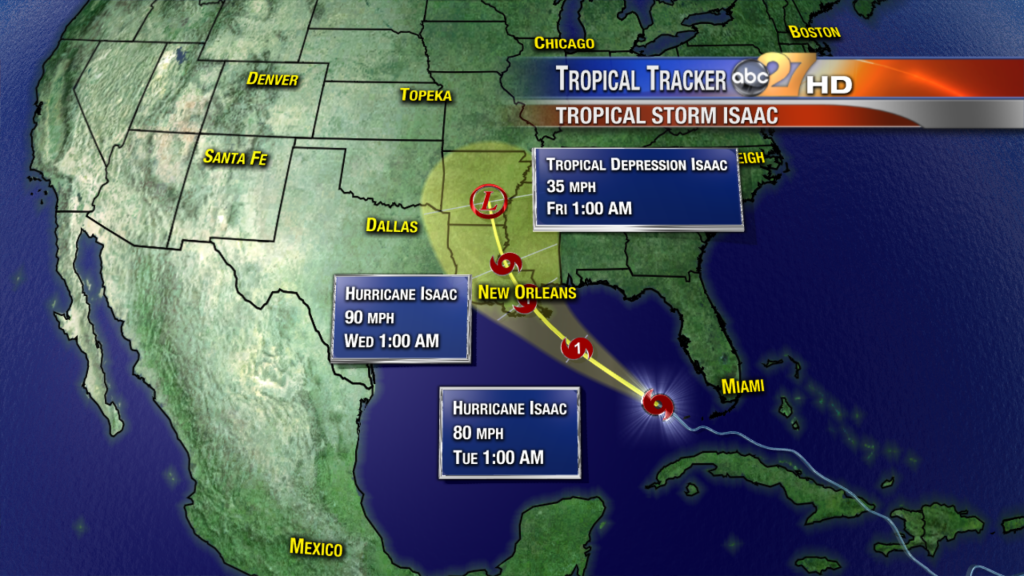 By Friday, Isaac is still located in the southern part of the U.S. indicating that the storm will slow down and certainly not affect our region before the weekend. By the end of this week, it will only be remnants as the storm will weaken greatly as it hits land and continues to meander northward. The one problem is that there is still a ton of uncertainty associated with this system. Will it be a direct hit over New Orleans or will it track slightly more westward? Will it move due north or track slightly north and east as it weakens? These are difficult questions and even the computer guidance is all over the place. Check out the latest model runs (or spaghetti plots) for Isaac through the end of the week: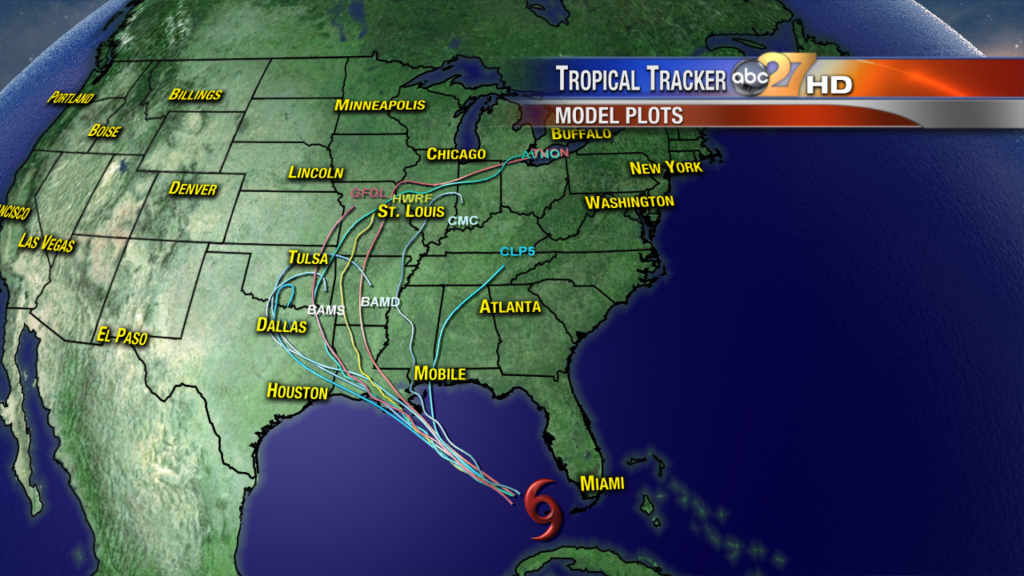 Some of the model runs take the storm as far west as Dallas while others still have landfall toward Mobile, Alabama. From there, the storm could travel due north toward Missouri, or it could take a slight eastward turn too and head toward the Ohio Valley. The other possibility is that it moves toward Tulsa, Oklahoma and dies out there by the end of the week. It's a tough call no doubt and will require countless updates throughout the week. Will it affect us? That's the big question. While the track looks to stall a bit from what we were thinking last week, Isaac's remnants are still projected to have some affect on Pennsylvania by next weekend.
By Friday evening, Isaac's remnants are forecast to be dumping heavy rainfall on central Missouri. The start of the holiday weekend for Pennsylvania looks sunny, dry, and hot through at least Saturday. The leftover rainfall from Isaac is then projected to turn northeast and move into PA by Sunday morning and continue for most of Monday.
Southern PA gets the brunt of the rainfall as projected by the GFS for Labor Day. Again, this is only one model and doesn't take into account any changes in Isaac's path over the next few days. There are many factors that go into to forecasting the path of a major tropical system and some of those factors have yet to be determined or realized. Be patient with us and plan accordingly. Will Isaac affect our Labor Day plans? Truthfully -- we don't know at this point. However, the potential exists that it could move in and we want to alert you to that possibility. I will post more throughout the week and we promise to keep you informed!