October 25, 2012
Anytime a major weather event could possibly impact our region, I like to come to this space, my blog, and give folks a more in-depth discussion about what could happen. This potential event stemming from Hurricane Sandy early next week is just such a scenario. Sometimes the hype and hyperbole surrounding big weather events is tough to listen to and understand -- so hopefully I can weed out the confusing parts and help you follow along with what we are watching and what we know and don't know (which is just as important) as of today. Let's get started!
This is the current surface map. A few things to point out. Let's begin with that stationary front draped across Pennsylvania. This will allow easterly flow to develop and create cloudy skies with patchy drizzle for the next two days across the region. West of the mountains, it may actually be much nicer with some sunshine. There are two main players in the forecast going into the weekend and early next week. The first is the main front above sitting across the central U.S. today. This front will move into Pennsylvania late Saturday. The weekend also looks cloudy with a few light rain showers through Sunday. This front is an arctic front because temperatures behind it are cold. More on that in just a bit. However, the other major player in the forecast is, of course, Hurricane Sandy. This is now a Category 2 storm and is churning just off this view of the surface map. How Sandy will interact with this polar front is the million dollar question heading into the weekend.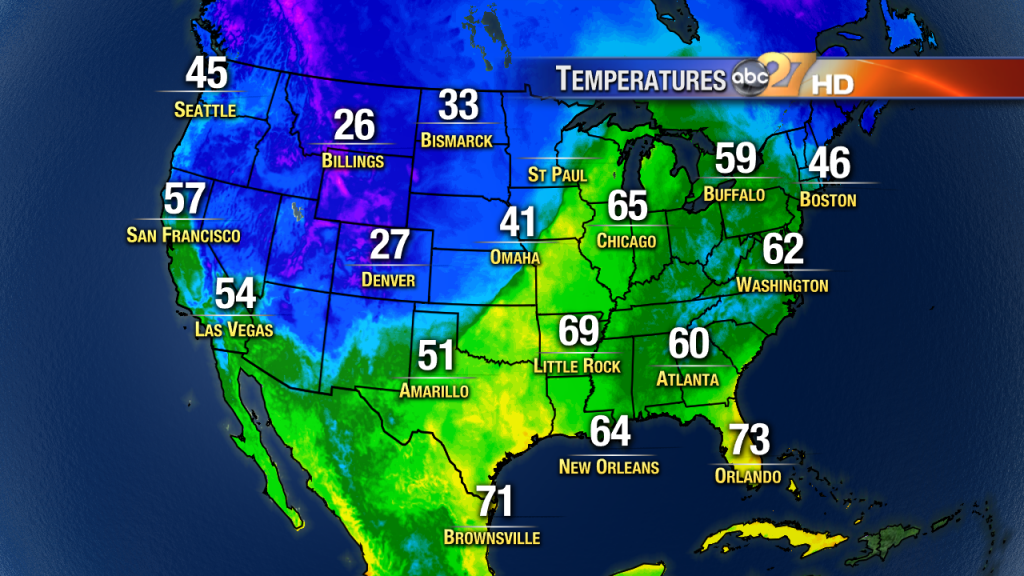 Current temperatures across the U.S. indicate just the potency of this front. It's 65 in Chicago, 41 in Omaha, and 27 in Denver! That's a huge temperature difference and we are in store for a major change heading into next week. Everyone wants to know whether this storm will produce snow for our region. It's a little too early to tell -- but my gut feeling says this will be a heavy rain and wind event for our region. Let's look at why.
This is the upper air pattern for Sunday. Notice two things: the polar front moving in and bringing with it much colder air -- and also an area of low pressure (Sandy) moving up the coast. Guess what's in between? We are! Will the two systems merge head on over the Delmarva and wallop central PA? Will the front usher Sandy away from the east coast and then carry it into New England early next week where the storm could still affect us by pushing southward? We are still unclear of how these two storms will impact our area -- but it is becoming more and more certain that we will see some type of impact from this system nonetheless.
PrecisionCast shows the two system getting closer by late Saturday. The front is still working its way into Pennsylvania, while the outer bands of Sandy start to slam into the Carolinas. Don't be too deceived by this image, however. Even if those outer bands come that close, it's still possible the center part of the storm moves back out to sea and our rough weather gets delayed until the storm hits New England sometime Monday. If it slams into the Delmarva region -- plan for rough weather to begin late Sunday/earlier Monday. Obviously, these two system joining forces with a bullseye on our region has us watching this closely.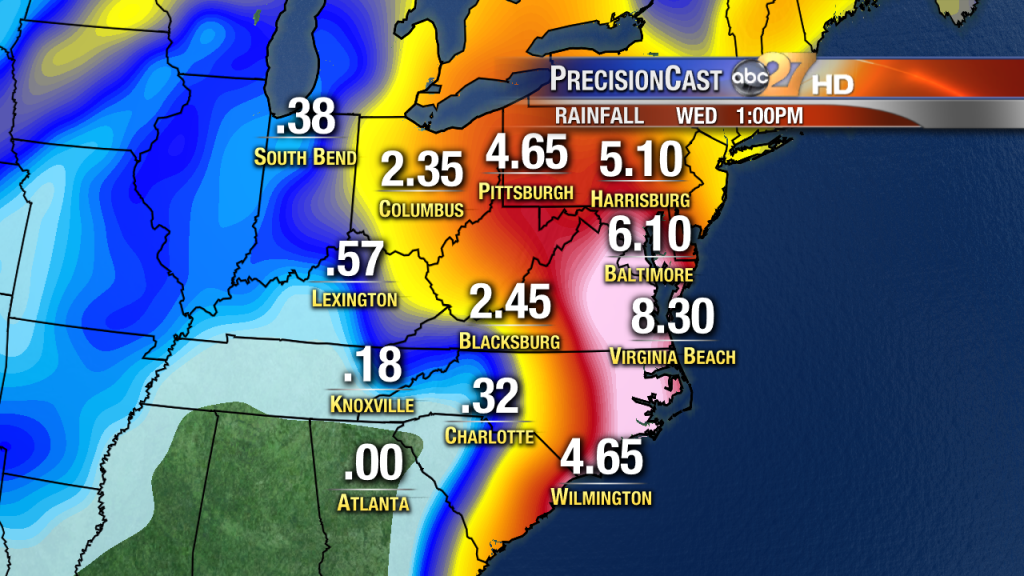 Finally, this model is the European. It shows potential rainfall totals through next Wednesday. This model does track the storm right over the Delmarva. Again -- this is not our forecast -- just the potential for what could happen. This has the potential to bring heavy rain and wind to the area. How much rain? This model thinks about 5-6 inches. It's simply too early to tell if this will come true -- but there is a solid chance for flooding issues and power outages early next week throughout the Mid Atlantic. Keep one thing in mind. If this model wins out -- this would be about 5 inches of rain from late Sunday through Wednesday. While this could bring flooding issues no doubt -- people will ask if this will be a repeat of Lee. The remnants of Lee stalled over the region for a week and at one point brought 8 inches of rain in about 12 hours. It was an incredible circumstance. Anything is possible with big storms of this magnitude, but Lee will be hard to duplicate. As for our snow chances -- western PA and the Laurel Highlands probably stand the best chance to see a major snowstorm from Sandy. Right now, rain and wind for the Susquehanna Valley is our best guess.
There are more ways than ever before to stay connected with the StormTrack Center team. Always check our website at abc27.com/weather. Follow @abc27weather on Twitter. Log onto Facebook and visit our abc27 Weather page. Don't forget that we have the area's only 24/7 local weather channel on 27.3 and various cable providers. It's StormTrack Center 24/7 and you can also stream it live right here on our website. Stay tuned!