November 6, 2012
On this Election Day, it appears the computer models have voted and the results are in -- this storm looks to stay far enough east to spare the Midstate much of its wrath. We will still be affected indirectly, however. For those of you looking for a snowstorm, you'll just have to wait a little while longer.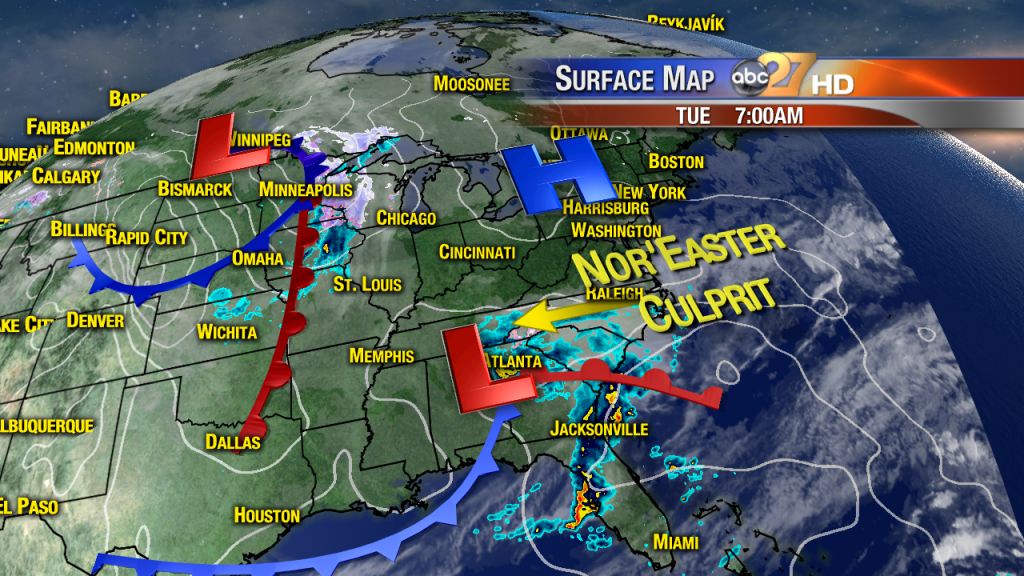 The storm has actually formed and is moving across the Southeast Coast of the U.S. as of this writing. Unlike yesterday when the storm was still taking shape, the computer guidance now has something to work with when determining that final track. The storm will strengthen as it moves up the Mid-Atlantic seaboard and it will pick up plenty of moisture from the Gulf of Mexico. However, our region now looks to be spared most of that moisture as the storm takes more of an easterly track.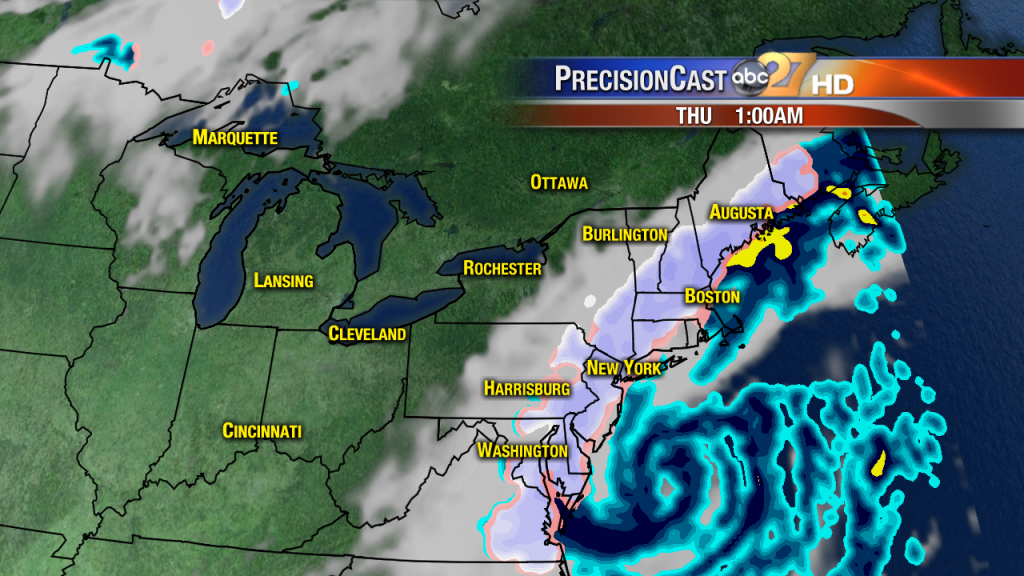 PrecisionCast now keeps the center of the storm a bit farther east -- but that's all it takes to keep us from the worst of it. There will be plenty of wind, rain, and snow in coastal areas from Delmarva up through New Jersey and even into Boston and Maine of course. Notice how most of Pennsylvania is in the no precipitation zone except for far eastern counties. Some of our eastern counties could see a few light rain showers or wet snowflakes later Wednesday into Thursday, but that should be about it.
Don't worry -- you can get out of the fetal position now! Although the brunt of the storm will miss us, we will still be affected indirectly. Expect clouds to increase tonight ahead of the system and it will get cold again. Tomorrow will bring cloudy skies, cold temperatures, and breezy conditions that will pick up as we get later into the day. The storm will continue its track up the east coast through Thursday. For the Midstate, Thursday will start off cloudy, but some sunshine should peek out later in the day as the quick moving storm zooms up into New England. One thing of concern though will again be the high winds. Expect sustained winds on Thursday from the NW between 15-25 mph. This won't compare to Sandy -- but you'll notice it -- and I would tie things down outside again if you have the opportunity.
PrecisionCast shows rainfall amounts through Thursday and as you can see they are sparse. This is probably too optimistic. However, due to the track making a big difference even over the course of just a few miles, it wouldn't surprise me if some southern and eastern counties picked up a little rain from this storm. It won't be much though. The same can be said about snowfall.
The newest model runs show quite a difference from this time yesterday. If any snow makes it into the area, it should be in eastern counties and it probably won't accumulate. Wet flakes will mix with light rain showers at times -- but again -- that's really about all it should amount to going forward. Snow lovers will again have to wait.
It's the winds that will once again be the biggest threat. Expect a breezy day tomorrow (Wednesday) with winds from the North around 10-20 mph. The winds will pick up tomorrow night and will howl going into Thursday. Expect NW winds sustained between 15-25 mph at times on Thursday. Tie outdoor things down now in order to avoid chasing them down the road. These winds won't be as bad as Sandy...but will still be impressive.
All in all -- 24 hours after my last post and we've been able to nail things down a bit better. What a difference a day makes. Stay with us, count on us, and we'll stay on top of it for you. Get out and vote today and then await the arrival of the storm off the coast tomorrow. Enjoy!