November 7, 2012
If you have been watching abc27 Weather for a while, you probably know we always talk about how difficult Nor'easters are to forecast. One slight change in the track can really play with snow totals and precipitation type in some cases. The track to this storm has moved a little inland overnight and that means some parts of the viewing area could receive some light accumulations of wet snow. However, there are two screaming messages to take away this morning:
1.) Prepare for some light, wet snow accumulations -- especially east of Harrisburg.
2.) This will not be a major event for our area -- the brunt of the storm will still stay east of the Midstate.
That being said, don't let any wet snowflakes catch you off guard later today. The National Weather Service has issued a Winter Weather Advisory for some light wet snow in our eastern counties. Here's the map: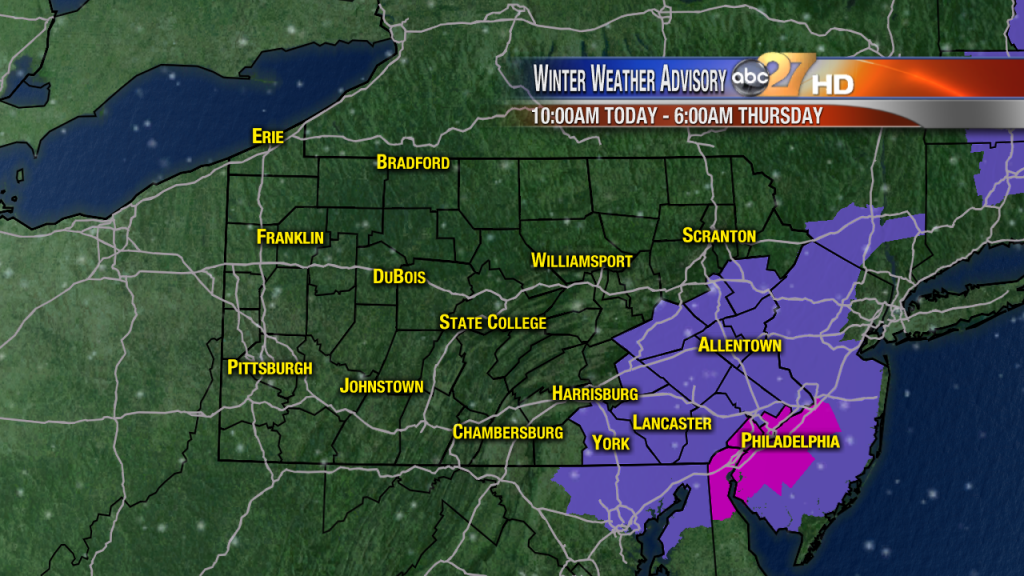 Areas near Philadelphia and southern New Jersey are under a Winter Storm Warning for more snow accumulation in those areas. The storm will track just west enough to cover our eastern counties with a light, slushy accumulation. Expect the wet snow to start sometime later this morning or early afternoon. While there still could be some cold raindrops mixing in at times, if any precipitation falls over your backyard, it should be in the form of wet snow.
This model run does indicate those eastern areas are primed for some light, wet snowfall. Keep in mind that if this track shifts again, numbers could go up or down slightly. As this point though, it seems as if it will be a glancing blow to the Midstate. Harrisburg could even see some periods of wet snow, but it probably will not accumulate as much as it could in those eastern sections.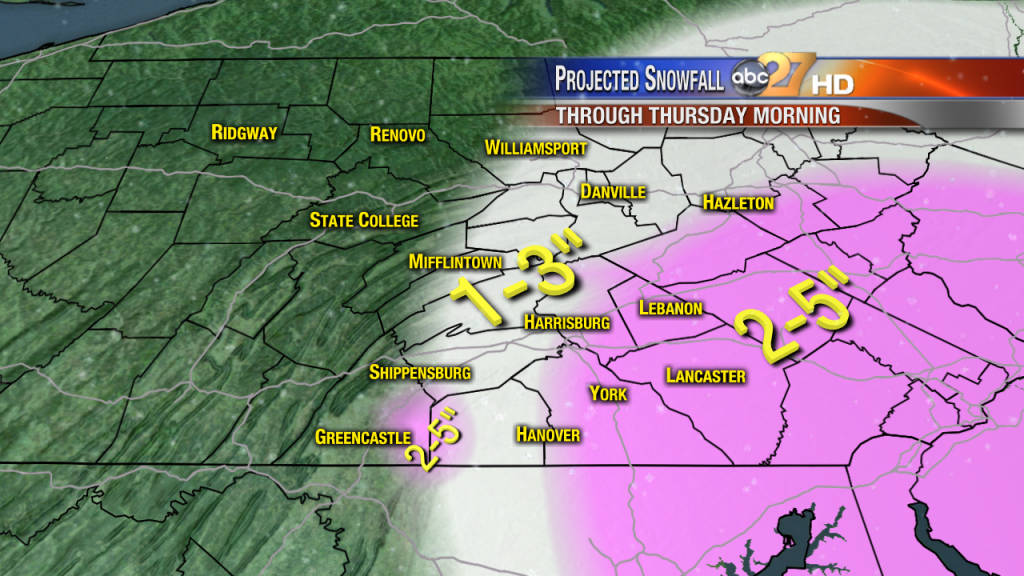 Here's my forecast. Areas in the pink will see the most accumulations, but I would bank on the lower end of that range. Higher elevations like South Mountain and Northern Dauphin County could also end up in that pink range. Areas west of Harrisburg will receive little to no accumulation. It's a tough, tricky forecast, but plan for a little bit of wet snow. Areas in New Jersey and New York look to get the worst of this storm yet again.
The timeline above really breaks down the details for you. The winds will start to pick up later today as wet snow begins to fall. Wet snow will continue, perhaps steady at times, overnight...especially in those eastern areas. The winds will really pick up overnight and continue through the day tomorrow out of the NW at 15-25 mph. The precipitation should shut off early in the day tomorrow as the storm pushes quickly away and up into New England.
This graphic shows wind speeds tomorrow afternoon. Even though the storm will be moving on by that point, it will still be windy behind it! Winds between 15-25 mph from the NW will continue throughout tomorrow and could gust over 30 mph! This is something that could end up being the worst part of the storm again rather than any light snowfall accumulation.
Our PrecisionCast model keeps the storm really far east as of this morning. If this solution plays out, even those eastern counties will be spared. Other information, though, suggests we should plan for some of that light, slushy snowfall. Love it or hate it -- another storm is coming and it's tricky to nail down. Stay with us all day as things change and we update the forecast for you. Once again to highlight the "screaming message" here
1.) Plan for some light, wet snow accumulations through tomorrow morning -- especially east of Harrisburg.
2.) The brunt of this storm will stay east of the Midstate. Wind gusts and any wet snow could once again cause some power outages -- but these will probably be isolated this time around.
Stay tuned!