March 26, 2013
It looks like Mother Nature will deliver a nice Easter weekend -- but then another shot of cold air in our Easter baskets for early next week.
We have been dealing with this persistent long-wave trough over the Northeast for several weeks now -- in fact, most of March. This type of pattern is usually what we look for in January or February when we tend to have snowy winters. We had more winter events in March than we did most of the season. This includes, of course, yesterday's sizable Spring snow in portions of the viewing area.
The upper air pattern favors cooler than normal temperatures through Thursday as northwest flow will persist behind yesterday's storm. Cool air in the Easter basket sticks around until about Friday -- when temperatures could finally crack 50 degrees. You won't believe how great 50 will feel by that point! You can see the dip in the jetstream with the above image. The cool air extends as far south as Atlanta and Mobile. Most of the east is dealing with remarkably cold temperatures for this time of the year.
By the weekend, a small moderating trend shows up because the jetstream starts to lift ahead of another storm system. The cool air will take a while to retreat. Notice it's still lurking over portions of New England this weekend. For us, highs will still be a couple degrees below average -- but low 50s for Easter weekend isn't too shabby given what we've been dealing with the rest of March. You'll also notice another basket of cool air lurking over Canada though. A front will push through the region Sunday night and Monday morning bringing some rain showers. This nudge in temperatures means we won't have to worry about winter precipitation this time around. However, once that front pushes through -- we turn the calendars to April -- but back to cool air!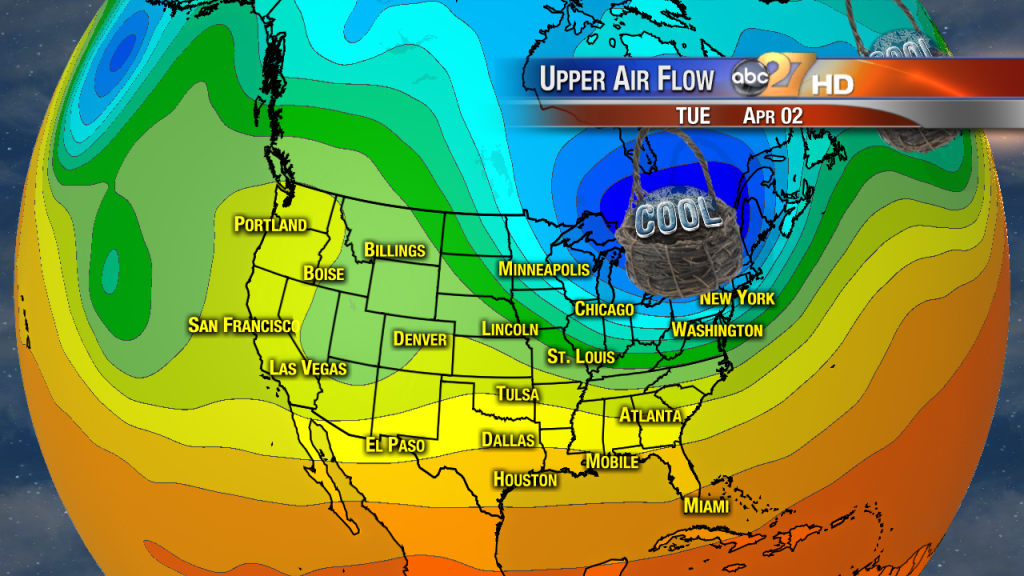 An anomalous pool of cool air (if not cold) will once again set-up shop over the Northeast early next week and linger for the first week of April. Trends indicate the first two weeks of April will likely stay below normal with a true warm-up possible after that time. Let's wait and see. This blocking pattern keeping the cool air in place has been so persistent that it's to believe it will ever warm-up. Enjoy the nice weekend we have coming -- and I promise it WILL warm eventually -- it has too! We don't want 50 degrees on July 4th, do we?
-Thackara