June 6, 2013
The region has been rather dry recently and for the year we are over 3.50" below normal in the precipitation department. A soaking rain event like the one to come over the next two days could be very beneficial -- as long as it doesn't create flooding problems. A frontal system moving in today will carve out a broad trough over the eastern U.S. That trough will help pull Tropical Storm Andrea up the east coast and deliver heavy rain to coastal areas and potentially inland as well. The Atlantic Hurricane season officially began on June 1 and it didn't take very long to get our first named storm.
Tropical Storm Andrea currently is packing quite a punch over Florida with heavy rain, strong and severe thunderstorms, and winds over 50 mph. The storm is moving NE at a decent clip and will move up the eastern seaboard during the day Friday. While not a very powerful storm, Andrea will still have quite an impact for coastal areas and even inland regions depending on her exact track.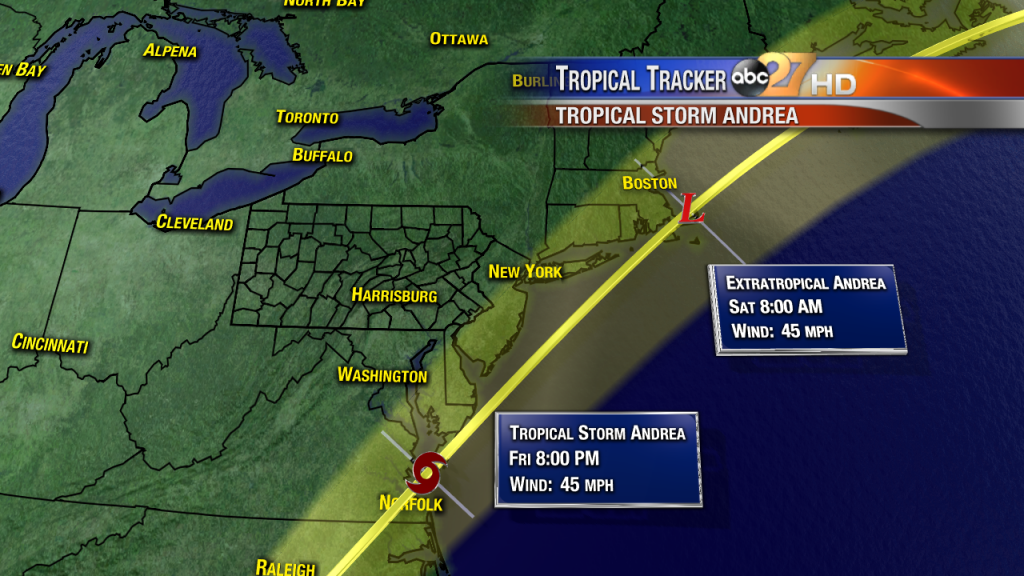 By Friday night, the storm should be closing in on the Delmarva Peninsula. Early Saturday, the storm should already be affecting New England. For Central PA, the heaviest rain will fall during the day Friday creating quite a soggy mess. With no major flooding expected due to the recent dry spell, the storm should be mostly beneficial. However, isolated heavy rain bands are always a threat with a tropical moisture feed and could therefore cause small streams and creeks to rise. This is something that will need to be monitored during the day tomorrow.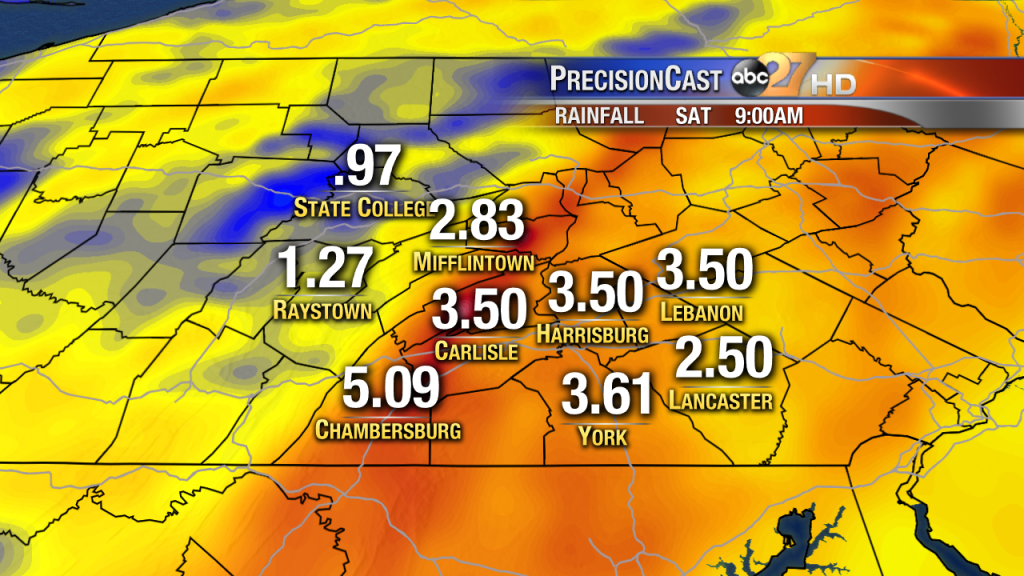 PrecisionCast is spitting out numbers that are on the high side compared with other models. As mentioned above, most places should not see flooding issues, but those localized heavy rain bands would be the problem. While this model paints a very wet picture of 2-4" across the viewing area, my belief is that it will be more like 1-3" with most locations on the lower end of those ranges. The ground will soak up a lot of the water and the lawns will love it! Nonetheless, we will need to keep a close watch on this exact track. A little move inland and this model would end up being more accurate and could lead to trouble.
For planning purposes, the heaviest rain looks to come during the day Friday and more specifically Friday afternoon and early evening as Tropical Storm Andrea works her way toward New England. New Jersey will once again see the worst of this storm, while Central PA and other inland areas will not see nearly as much liquid. I wouldn't plan on doing anything outside on Friday.
The WPC (Weather Prediction Center) has released the above forecast for moisture over the next three days. Clearly, areas right along the coast will be greatly impacted by Andrea's moisture. This map paints what I believe to be a more reasonable estimate of precipitation totals than PrecisionCast. Generally, 1-2" will fall over the next two-three days with some areas, mainly in our eastern counties, getting locally more -- perhaps up to 3 or 3.50". Typical zones that flood very easily will of course have troubles, but most areas will be okay.
For those interested, Beyond The Forecast is back and very timely. We go "Inside Tropical Cyclones" next Wednesday night at 8:00PM on abc27. We talk to experts about what environment is best for these types of storms to form and also take a look ahead at what this season could bring. Interestingly enough, one expert told me to expect an active season where east coast storms would be particularly favorable -- and here we go already with Andrea. We have worked hard on the program and urge you to tune in if you are a weather junkie like us! See you next Wednesday night and always keep it here on abc27.com and tune in to abc27 for the latest with Tropical Storm Andrea.