11/25/13
The first coastal storm of the "winter" season is taking shape this morning in the Gulf of Mexico and it will have an impact on our region. Yes, it isn't winter yet -- but that doesn't mean some folks won't see some white stuff with this storm system. For most of Central PA though -- it appears a soaking rain is on the docket rather than a major Pre-Thanksgiving snowstorm. Let's take a look at why.
As the storm works its way up the coast, it will draw in warmer air from the Gulf thanks to southerly flow. Typically to see big snows here, a blocking high pressure system would need to be sitting somewhere near Greenland and help steer the low near the coast and lock in cold air. In this case, the cold air will be pushed farther west and Central PA will see mainly rain thanks to warm air invading rather quickly by tomorrow afternoon. Cold temperatures early in the day could yield a period of light snow, sleet, and some freezing rain -- but there shouldn't be much more than slushy accumulations in the highest elevations. Be alert for tricky travel spots for the first half of Tuesday, but plain rainfall should win out rather quickly.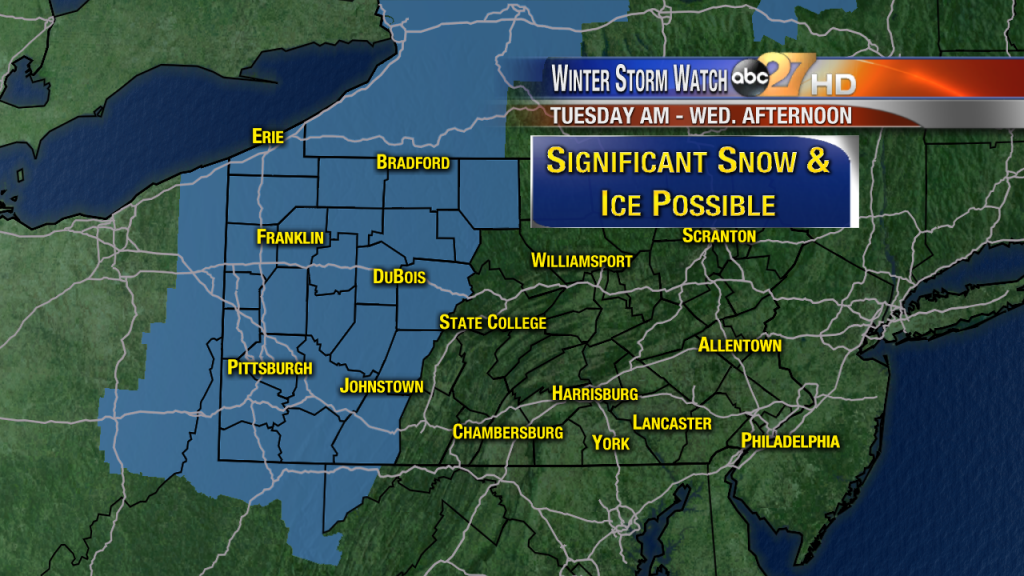 Winter Storm Watches are posted for western PA where colder air will be available. They could see significant icing and snowfall, especially over the mountains. Some spots could receive up to 6 inches of snow combined with a layer of sleet and freezing rain. These areas will be the hardest hit in terms of wintry precipitation -- so heads up if you are heading in that direction tomorrow or early Wednesday.
One of the things this storm does have going for it would be the phasing -- that's a fancy meteorology term that means the northern stream and southern stream jets are in line and perfectly matched up. A northern front will eventually combine with the Gulf storm to help pull in plenty of moisture from the south. Sometimes these storms don't phase properly and get pulled out to sea. Many of them do, in fact and this is why we rarely get excited about these types of storms when they appear in the models a week ahead of time. This system is not phased currently -- but it will line-up eventually by tomorrow.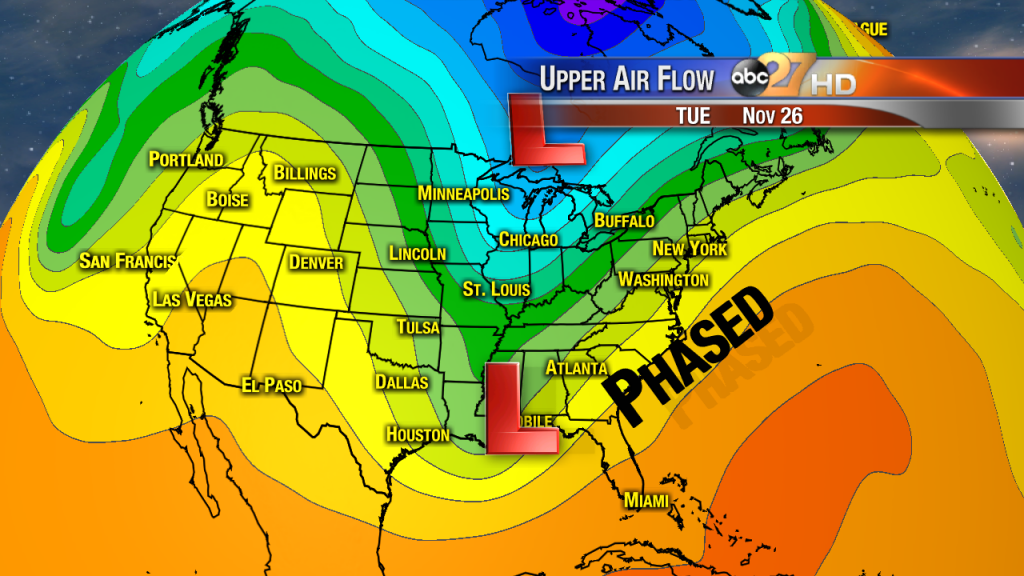 Notice how the lows are stacked. As this storm pushes north and east, a rather elongated precipitation shield will move up the east coast with it and provide a soaking rainfall to coastal areas thanks to that warm air intrusion. Colder air will appear on the western side of the low and that's why those areas in western PA are highlighted above. Our region shouldn't see the high amounts of rainfall that coastal areas will receive, but it will still be a very good soaker as the moisture feed from the Gulf is pretty impressive thanks to the phasing of the systems.
Many areas will pick up between 1 and 2 inches of rainfall from this storm with some eastern spots getting close to 3 inches. The brunt of the rain will fall from late tomorrow afternoon through about 12:00am Wednesday.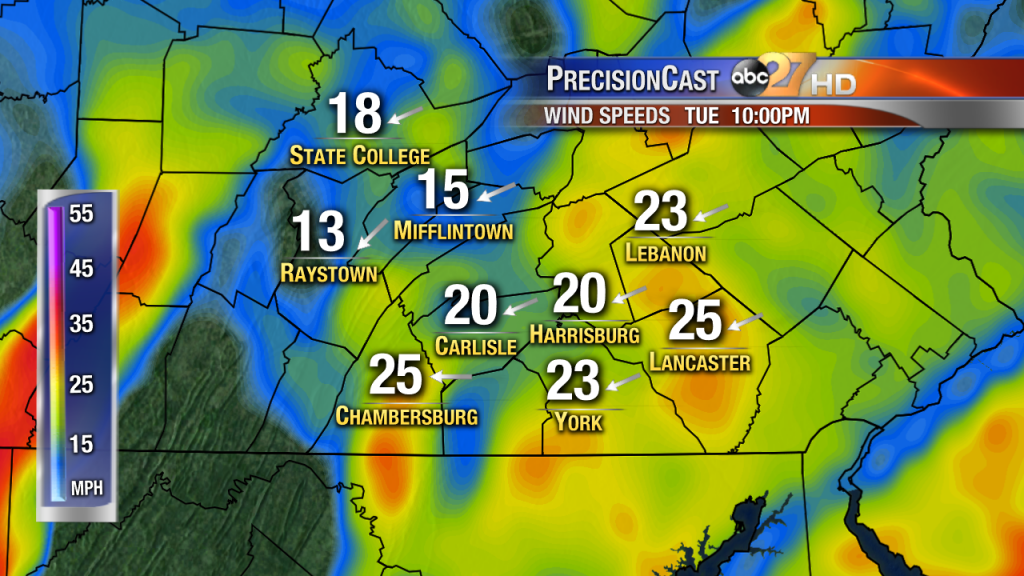 Winds will also start to increase during the day tomorrow with fairly impressive speeds by Tuesday night. Expect sustained winds overnight tomorrow to be between 15-25 mph. Winds will stay gusty through Wednesday and Thanksgiving as the storm pulls away and moves northward.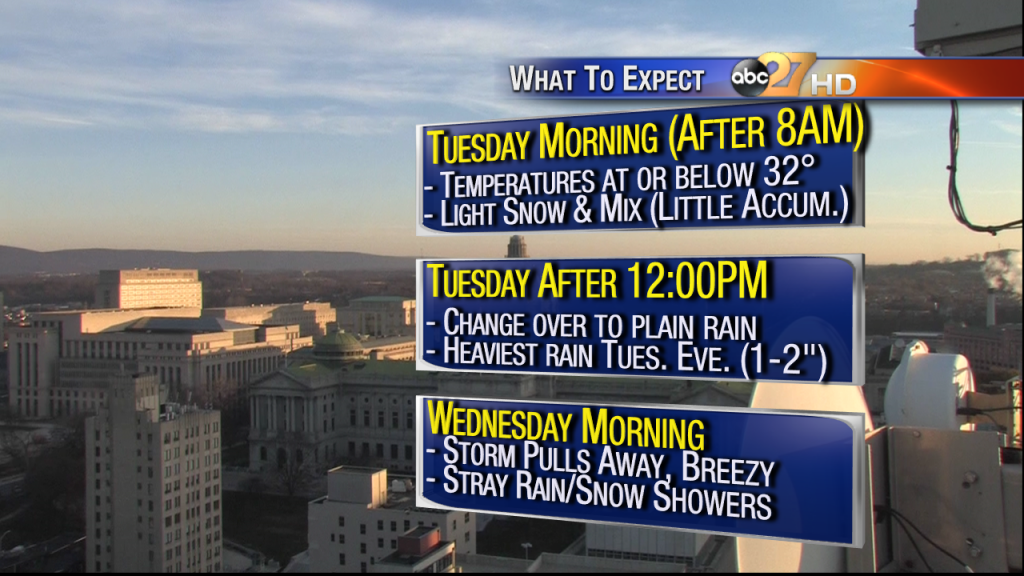 The storm timeline is above and features all the specifics. Watch out for a period of wintry weather at the onset of this storm before the rain sets in. There will be heavy rain at times heading into Tuesday evening before conditions start to improve after Midnight Wednesday. By Wednesday morning, the worst should be over with only stray rain and snow showers. As mentioned before, the winds will stay breezy through Thanksgiving.
Thanks for checking in with my blog. The whole weather team will watch this closely over the coming days as many of you will be heading out on the roadways to meet up with family and friends. Stay with us -- we'll keep you informed.
Brett