Saving space
Traditional bookshelves not only take up valuable floor space, but they can have a particularly bulky effect when space is limited. Floating bookshelves, on the other hand, create the illusion of extra space and make a room feel more open. Floating bookshelves come in a variety of styles, from modern, minimalist designs to vintage-inspired industrial options. We assembled a collection of the best floating bookshelves to consider for your living room or home office.
Shop this article: Zipcode Design Wickes 3-Piece Floating Shelf, Amanda Homefurnishing Floating Shelves and Wallniture Minori Floating Shelves
What materials are floating bookshelves made of?
Wood bookshelves are made from various wood species; kiln-dried hardwoods are the most durable option and are typically pricey. Engineered wood is usually more affordable and still relatively sturdy.
Metal bookshelves are generally made from aluminum or steel. Aluminum bookshelves are lighter and more affordable than steel options, but not as durable.
Plastic bookshelves are the most budget-friendly option, but likely won't last as long as wood or metal. These bookshelves may also have a cheap look to them.
How much weight can a floating bookshelf hold?
When installed correctly, a floating shelf can support approximately 50 pounds per wall stud. The precise weight capacity varies based on the quality and design of the shelf and the bracket used to attach it, as well as the shelf's dimensions.
How do you mount floating bookshelves?
Using a stud finder, locate the studs in your wall. Mark the two stud spots where you plan to hang each end of the shelf. At least one of the screws in the mounting brackets must be secured to a stud. If there are no studs where you want to mount the shelves, you'll have to install anchors to support them.
Once you determine the shelf's placement, use a drill or screwdriver to secure the bracket to the wall. Use a leveler to ensure the shelf is level; if it's not, make adjustments before adding the last screws.
If you're mounting multiple shelves, measure off the installed wall bracket. The average book is 6 to 9 inches tall, so 12 inches of vertical space between each shelf is usually enough. If you plan on displaying taller items with the books, extend the distance between the shelves.
Install internal brackets for additional shelves with a drill or screwdriver.
Slide the shelf casings into each of the brackets. Secure the casings in place with screws; many floating shelves come with pre-drilled holes for this.
Best floating bookshelves
Top modern bookshelves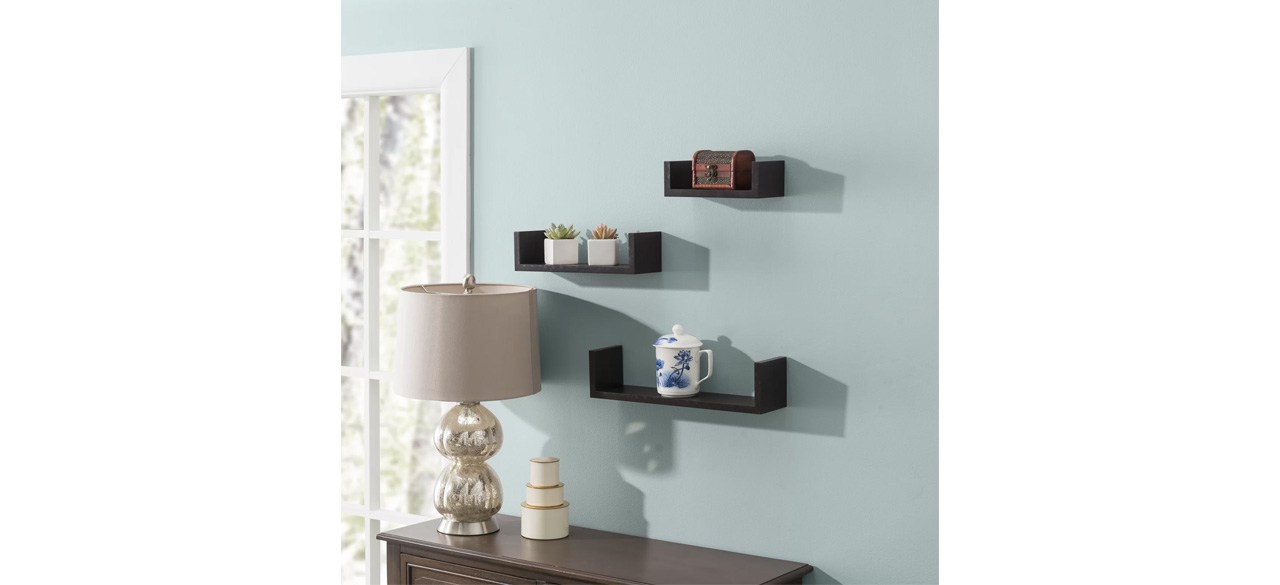 Zipcode Design Wickes 3-Piece Floating Shelf
These wall-mounted shelves are a must-have if you want something affordable, minimalistic and modern. Each set includes three manufactured wood shelves in different sizes, available in dark brown, black, gray and white.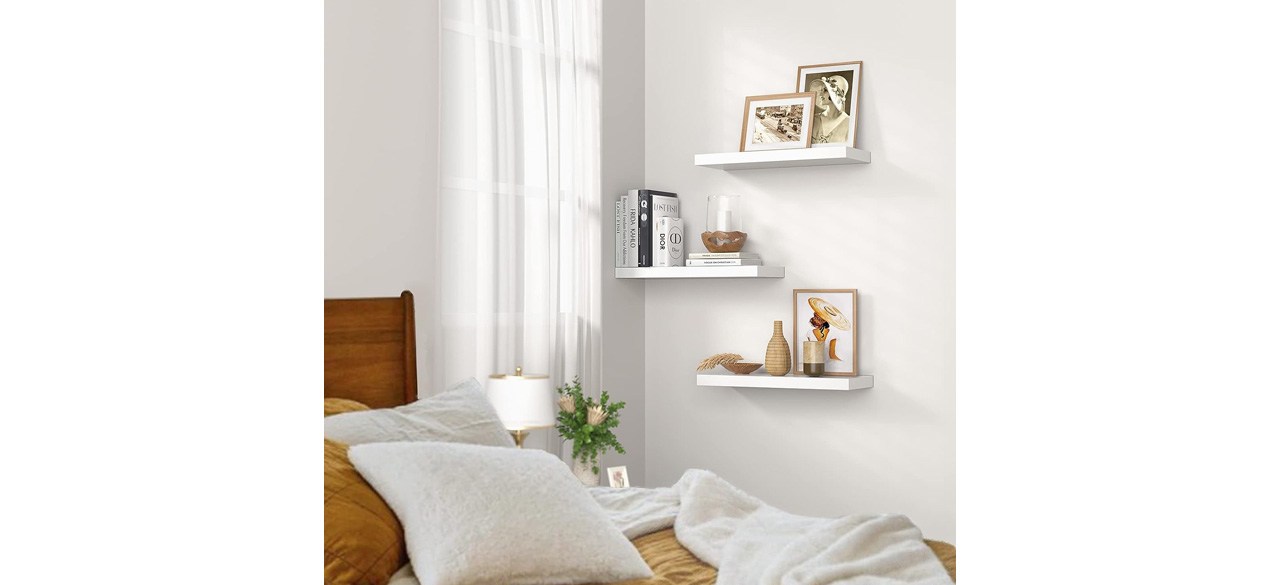 Amanda Homefurnishing Floating Shelves
With a simple design and nine color choices, these floating shelves will complement a variety of décor styles. They're made of engineered wood and come in sets of three or six. With open shelving like this, you'll want to use bookends or stack books on the ends to prop up the others.
Top rustic bookshelves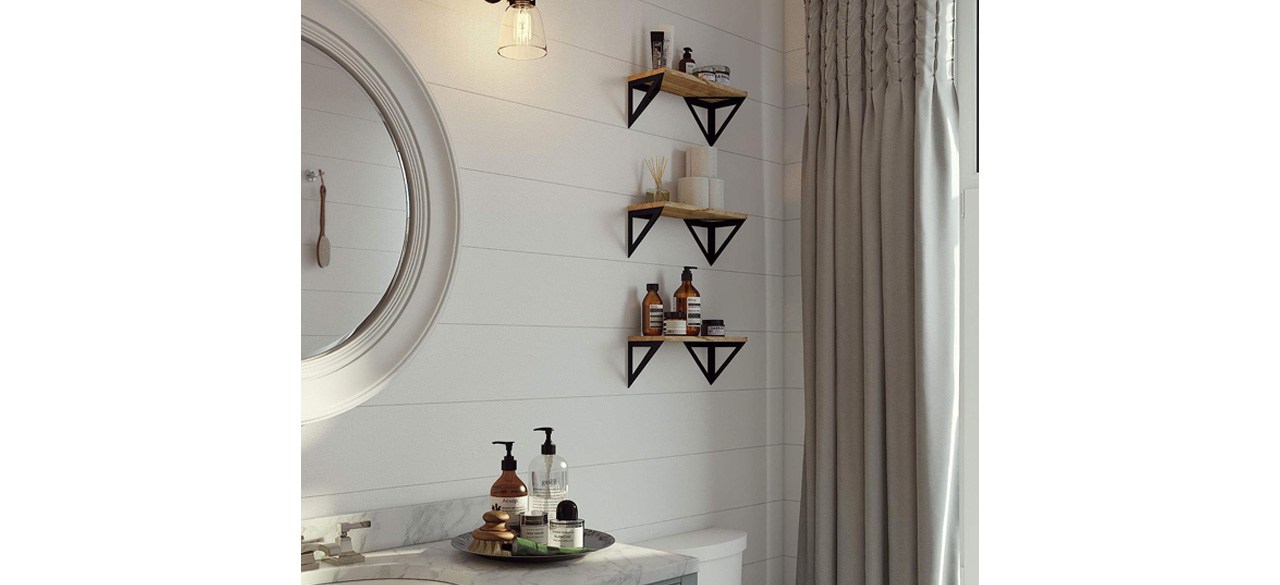 Wallniture Minori Floating Shelves
This set of three wall shelves will give your space a rustic touch. Crafted from solid wood and metal, they come in five finishes to suit different spaces.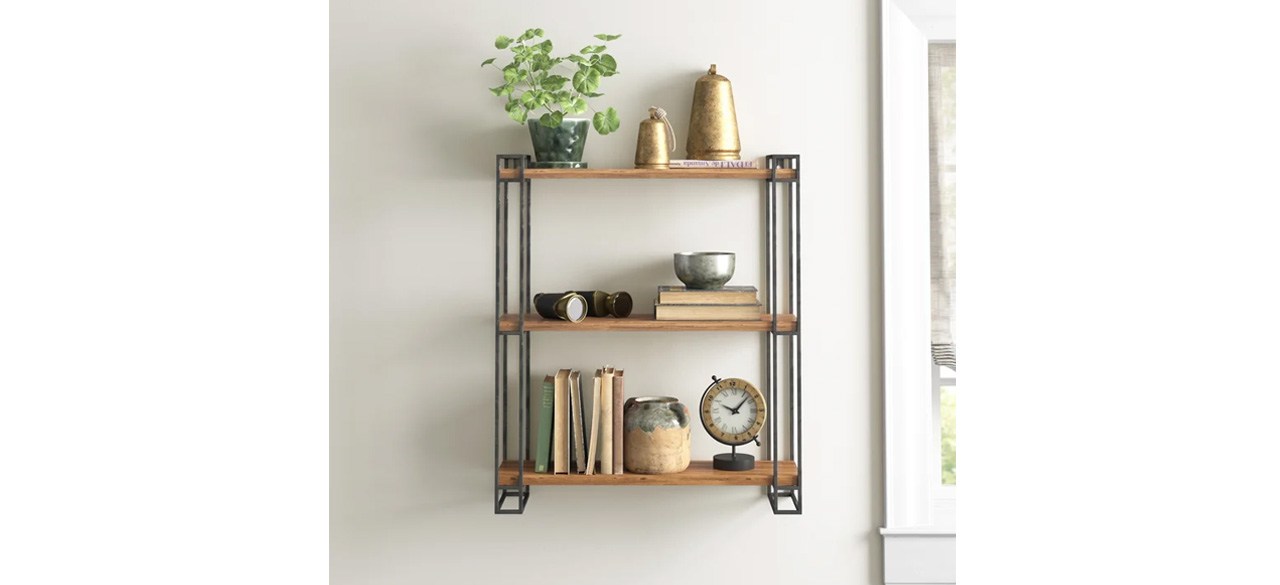 Birch Lane Burchill 3-Piece Floating Shelf
This three-tier floating shelf features solid wood and metal, working seamlessly with rustic or farmhouse décor. It comes in two color schemes; brown and black or white and black.
Top industrial bookshelves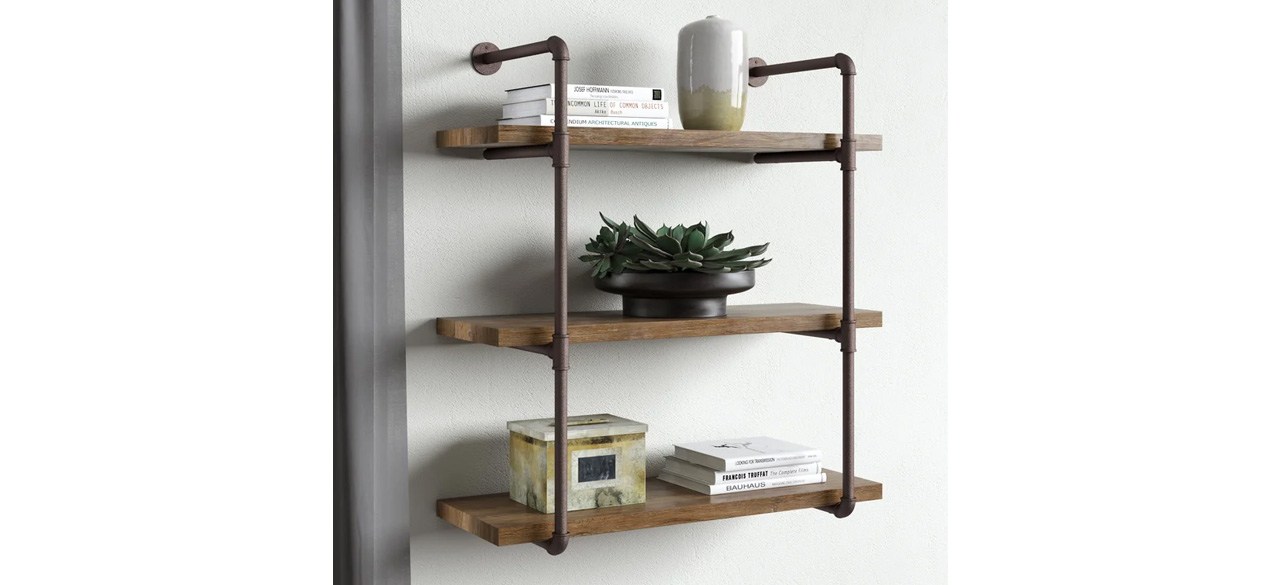 Williston Forge Bonnay 3-Piece Tiered Shelf
This wall shelf brings together rustic and industrial styles for a unique aesthetic. It's built with manufactured wood and metal supports resembling pipes.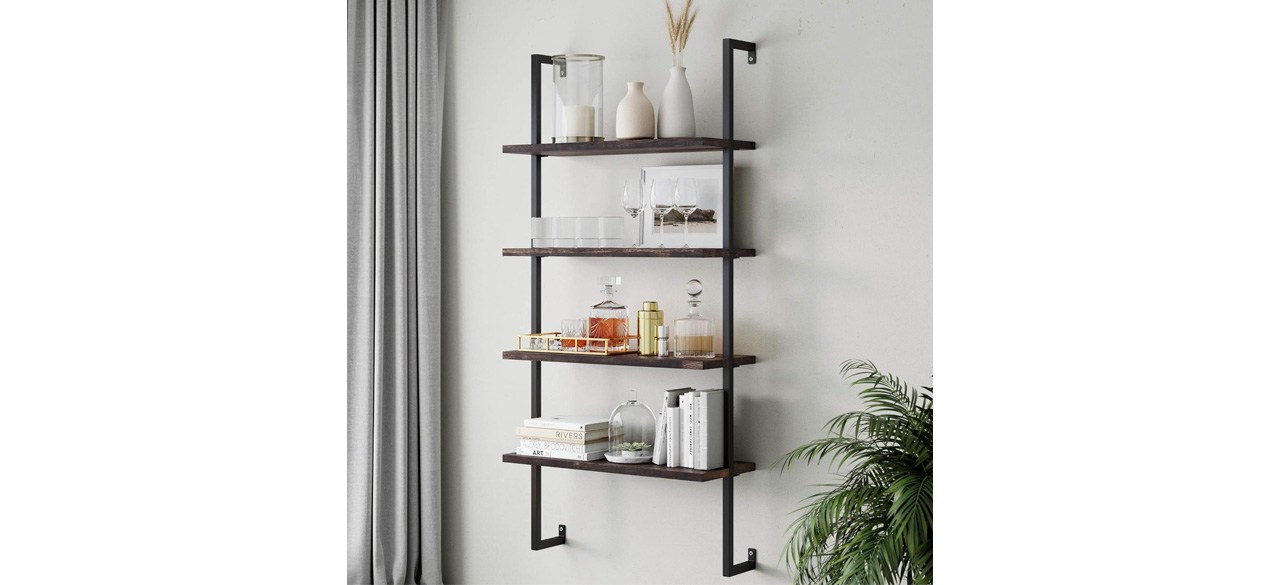 Nathan James Theo 4-Shelf Bookcase
This floating bookshelf intersects modern and industrial, featuring engineered wood and a metal pipe frame. The brand offers 10 designs to choose from ranging from this four-tier model to modular shelving.
Top luxury bookshelves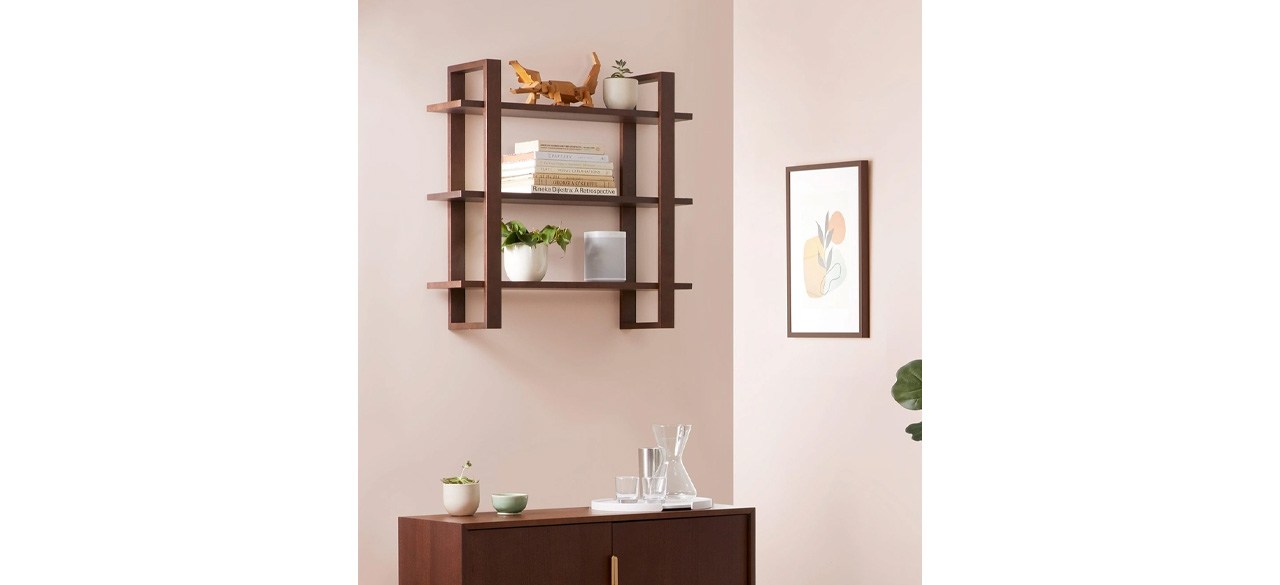 These luxury bookshelves are made from sustainably forested ash. The design is adaptable, letting you add units and create custom shelving.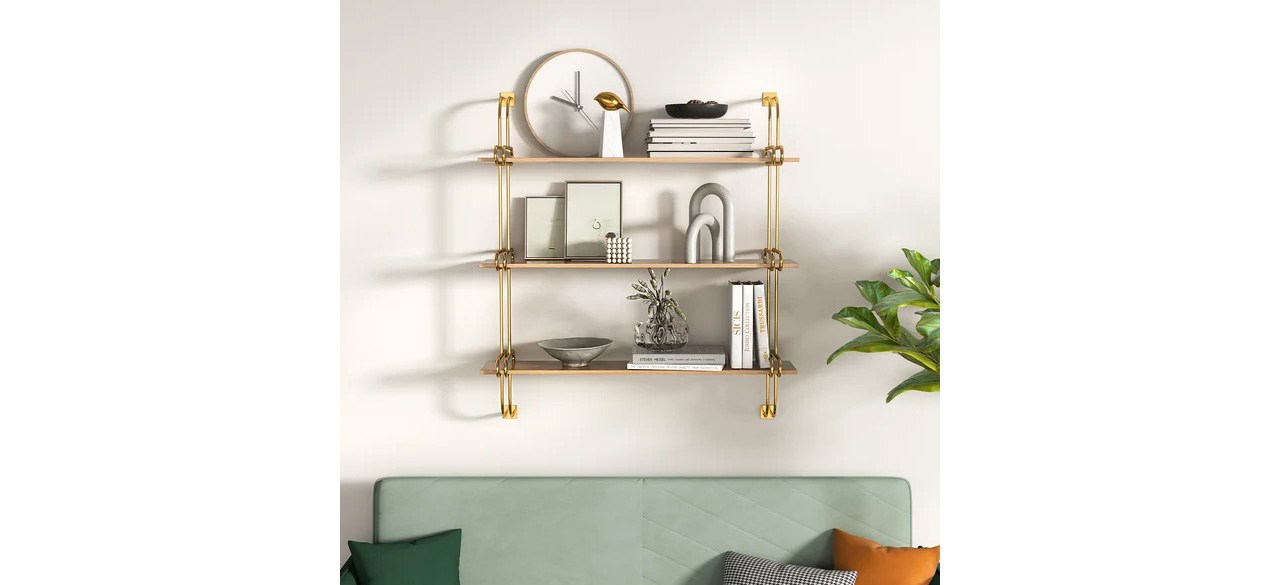 Homary 3-Tier Luxury Floating Shelves
These glam floating shelves have beautiful gold accents and a natural wood finish. The three-tier piece is made from engineered wood and metal with three size options.
Top corner bookshelves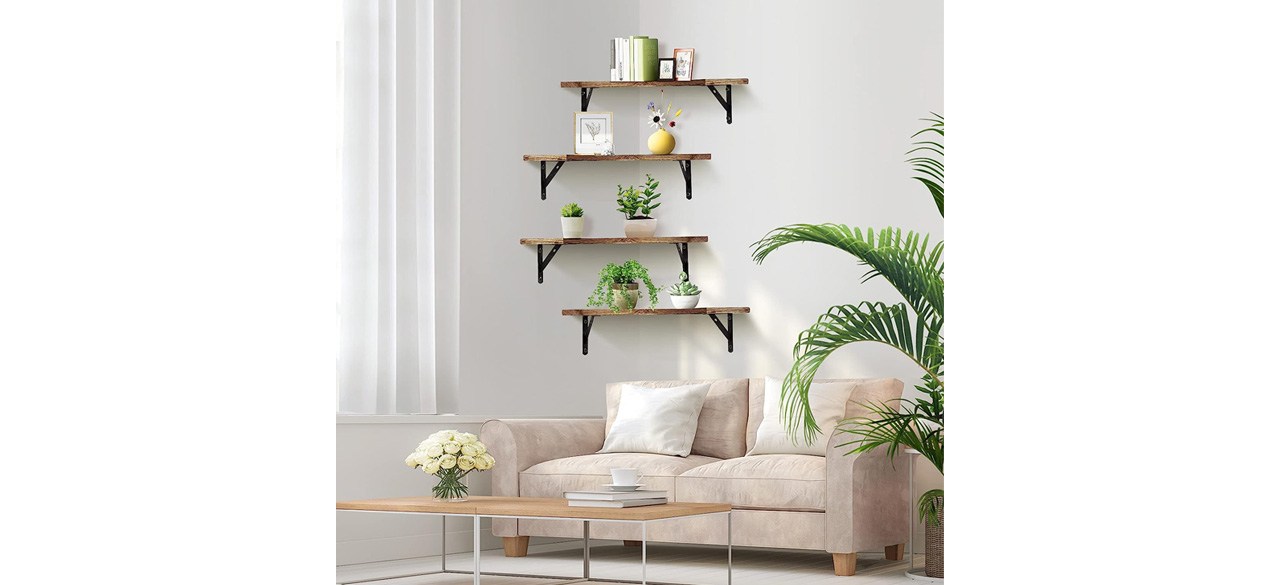 Eachpai Corner Floating Shelves
These L-shaped shelves come in a set of four and offer plenty of storage space. Crafted from quality paulownia wood and metal, they come in eight finishes.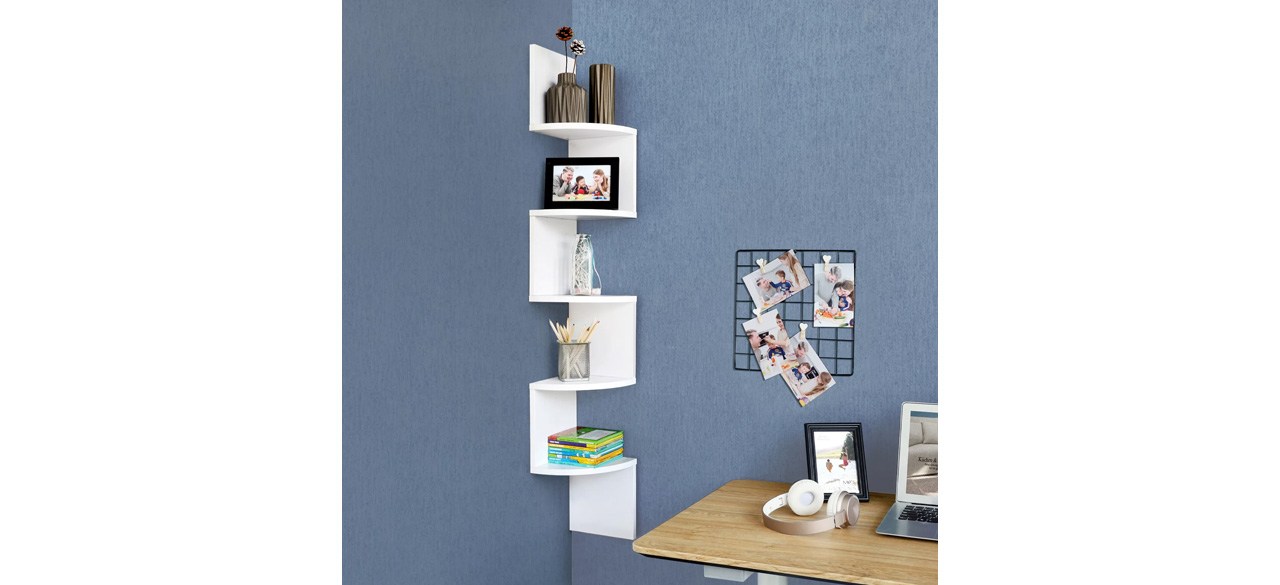 17 Stories Lundquist Corner Bookcase
This modern floating bookcase takes advantage of corner space. It's made of thick particleboard with five tiers, available in white or brown.
Top accent bookshelves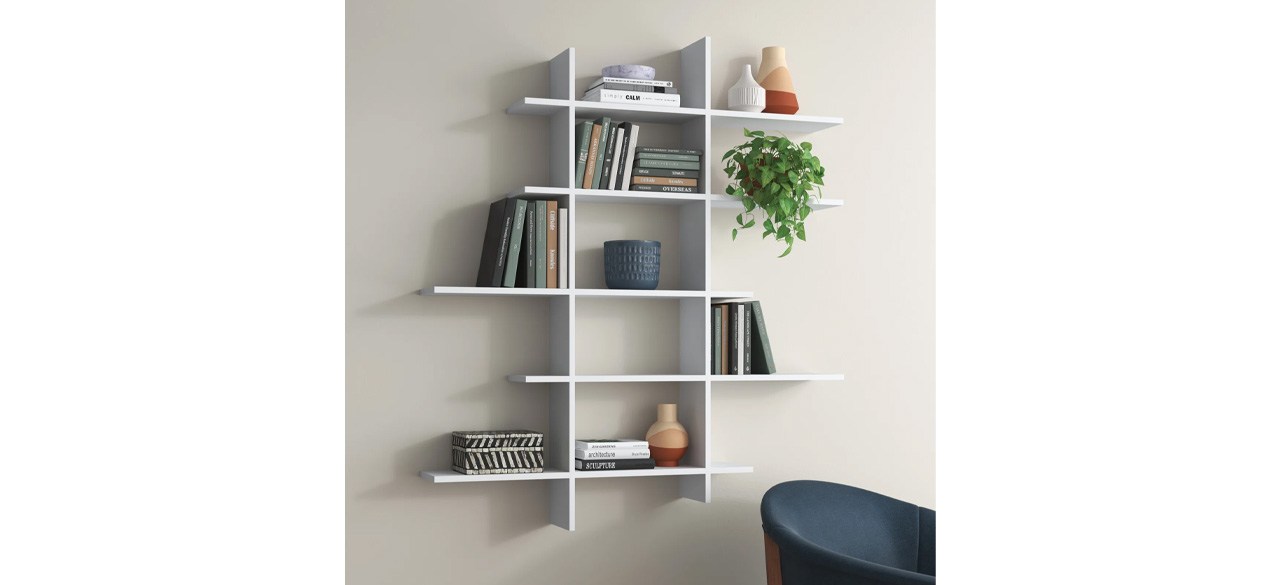 Mercury Row Scriven 5-Piece Accent Shelf
This stunning accent shelf has an eye-catching asymmetrical design. It's perfect for displaying knickknacks and ornaments along with your books. Made from manufactured wood, it comes in white, black or brown.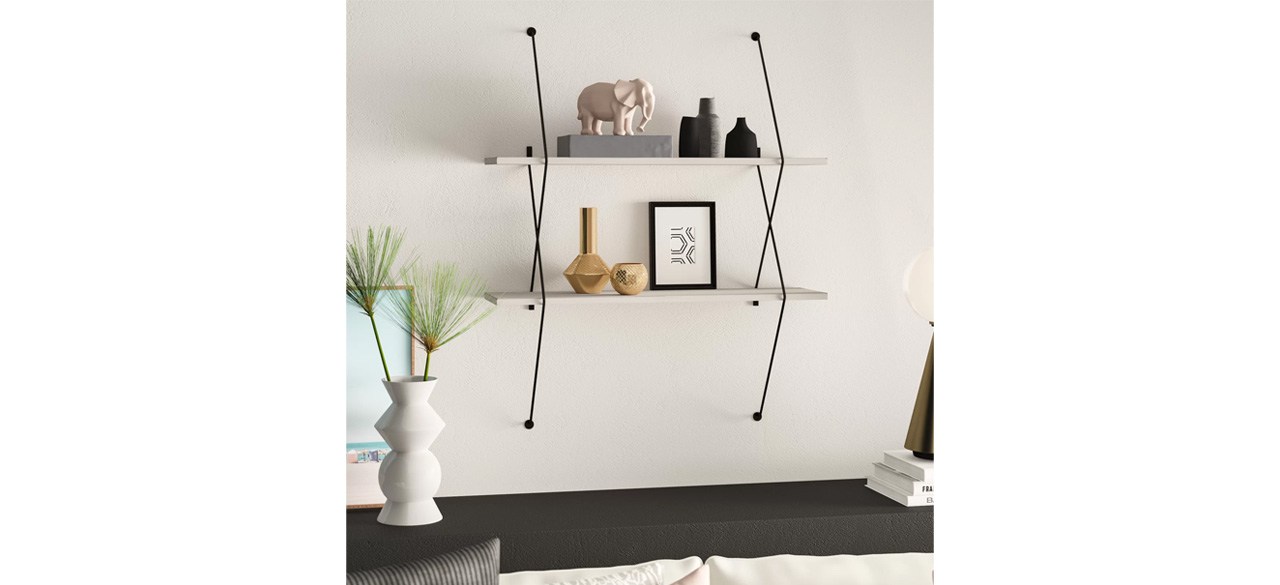 Mercury Row Staats 2-Piece Tiered Shelf
This modern two-tier wall shelf acts as an artful accent on the wall, featuring black wire connectors with an attractive crisscrossing design. It's made from manufactured wood and metal, available in gray and black or all white.
Top concealed bookshelves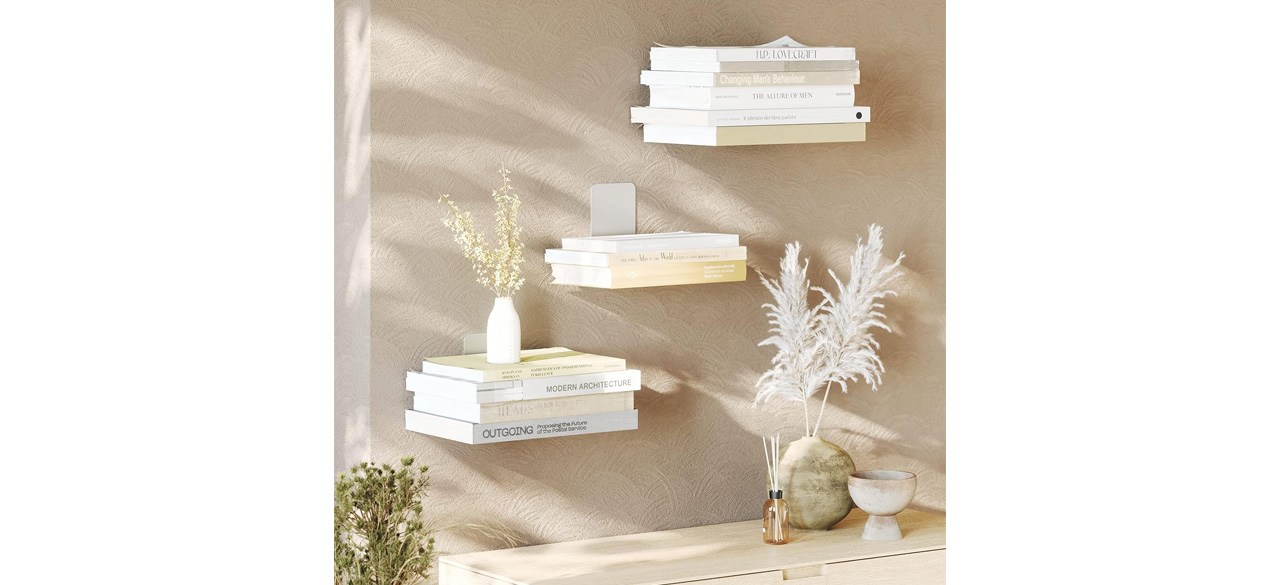 Umbra Conceal Floating Bookshelf
These concealed metal shelves make books appear like they're floating on the wall, creating an interesting visual. They come in small and large sizes as a single shelf or set of three, available with a white or silver finish.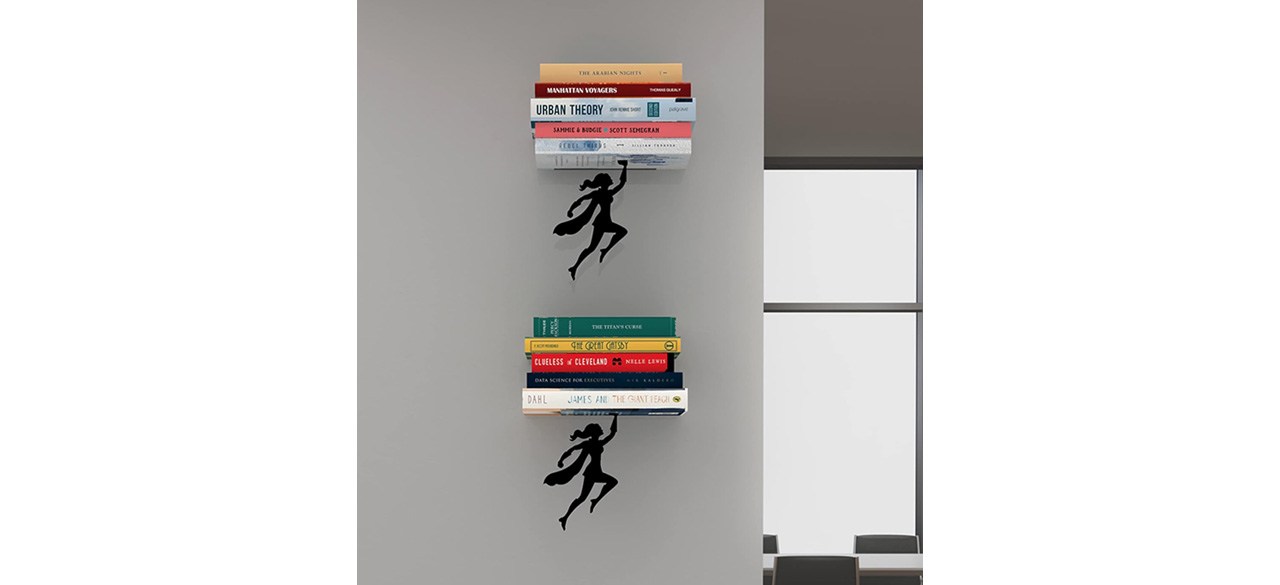 Artori Design Floating Bookshelf
These creative invisible bookcases are made for superhero lovers. The metal shelves are cleverly designed to look like they're being held up by Superman or Superwoman. You can get them as singular shelves, two of the same superhero or both heroes.
Top kids bookshelves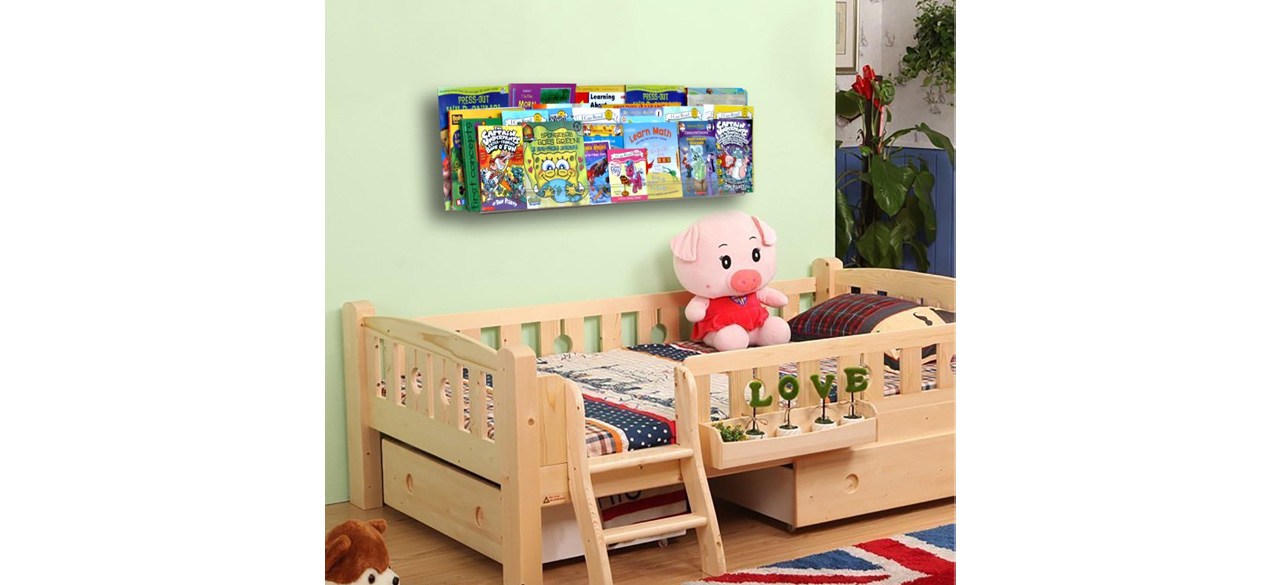 Niubee Acrylic Invisible Floating Bookshelves
This set of acrylic shelves is designed for organizing and displaying children's books. Both sleek and modern, they come in three sizes as a singular shelf, set of two or four.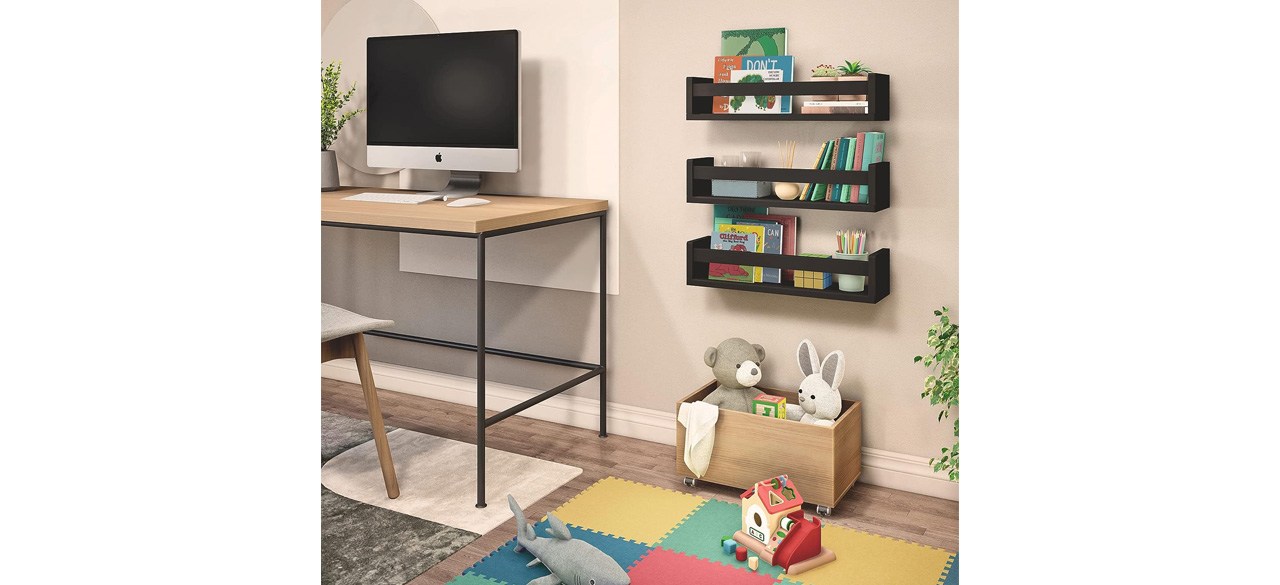 Nature Supplies Nursery Book Shelves
These children's bookshelves are another great option with a bulkier profile. They're made of solid wood and come in packs of three or four, with five finishes to choose from.
Worth checking out
Want to shop the best products at the best prices? Check out Daily Deals from BestReviews.
Sign up here to receive the BestReviews weekly newsletter for useful advice on new products and noteworthy deals.
Amy Evans writes for BestReviews. BestReviews has helped millions of consumers simplify their purchasing decisions, saving them time and money.
Copyright 2023 BestReviews, a Nexstar company. All rights reserved.