In the end, it's the two No. 1 seeds facing off in the Big Game.
The Andy Reid Bowl, if you will. The Kelce Brothers Bowl, as I'm sure you'll be reminded of plenty between now and Feb. 12 when the Chiefs and Eagles take the field at State Farm Stadium.
Patrick Mahomes is going for his second ring, while Jalen Hurts vies for his first in the first Super Bowl matchup that will feature two Black starting quarterbacks. Mahomes, 27, and Hurts, 24, also combine to form the youngest quarterback duo to play on the game's biggest stage.
Now, let's get better acquainted with the teams representing the AFC and NFC in Super Bowl LVII.
Oh yeah, and there's some retirement news from a certain someone you'll want to hear about. He's known by many as the GOAT.
In today's Winners Club you'll find:
Eagles and Chiefs Set to Duel in the Desert for Super Bowl LVII
Philadelphia is a narrow favorite over Kansas City in the Big Game. There was a flurry of movement back and forth when the line first came out Sunday evening before it settled down with the Eagles giving 2.5 points to the Chiefs.
As of Wednesday, Philly is down to a 1.5-point favorite at SI Sportsbook and the total is set at 49.5 with juice on the over.
The Chiefs are back in the Super Bowl for the third time in four years after they defeated the Bengals, 23-20, in a rematch of last year's AFC championship game, which Cincinnati won. Kansas City beat San Francisco, 31-20, in 2020 and lost to Tampa Bay, 31-9, in 2021.
The Eagles rolled against the 49ers, 31–7, in the NFC championship game to make it back to this stage for the first time since 2018. With backup quarterback Nick Foles under center, they beat the Patriots, 41-33, in a thriller perhaps best known for the "Philly Special."
Both teams enter the matchup after going 14–3 in the regular season to earn first-round byes. Philadelphia blew out the Giants, 38-7, in the divisional round before it beat San Francisco, which was down to its fourth-string quarterback at one point and then even he got injured. Kansas City was tested in the divisional round against Jacksonville in a 27-20 victory and again in a tight win versus Cincinnati.
Keep up with SI Betting for coverage, predictions and more leading up to the Feb. 12 showdown. Right now, you can take a glimpse at some prop markets for the showdown in Glendale, Ariz., including the MVP odds.
Passing Props | Rushing Props | MVP Odds
Visit SI Sportsbook for more prop markets and check out Conor Orr's 13 highly specific predictions for Super Bowl LVII.
Tom Brady: "I'm retiring. For good."
Yes, we've heard this before. On this very day one year ago, in fact. But Tom Brady, winner of seven Super Bowls across his 23-year, Hall-of-Fame career, says it's for real this time.
"I'm retiring. For good. I know the process was a pretty big deal last time, so when I woke up this morning I figured I'd just press record and let you guys know first," Brady said. "I won't be long winded. You only get one super emotional retirement essay, and I used mine up last year. So, I really thank you guys so much, to single one of you for supporting me. My family, my friends, teammates, my competitors. I could go on forever, there's too many. Thank you guys for allowing me to live my absolute dream. I wouldn't change a thing. Love you all."
His career accomplishments are staggering. He holds the records for most career completions (7,753), touchdowns (649), passing yards (89,214) and quarterback wins (251). And in a down year in 2022, he broke his own league record for completions (490) and set a new record for attempts (733) in a single season.
He was also, in the words of Michael Fabiano, the fantasy football GOAT. Fabiano recounted Brady's amazing career from a fantasy football lens last year after he bowed out in a story that has been updated to reflect Brady's updated 2022 numbers.
Even at the age of 45 and after a down season in which the Buccaneers snuck into the playoffs with a losing record, Brady's pending free agency was a huge story around the NFL.
Where would he land? And how would that affect the quarterback market elsewhere in the league?
Orr broke down the 2023 quarterback carousel, from Aaron Rodgers to Lamar Jackson and how Brady's announcement—if this is indeed it—fits into the picture.
Even with no games scheduled for this weekend, it's been a newsy week—and it's only Wednesday.
Two head coach positions were filled in quick succession Tuesday afternoon: Former Saints coach Sean Payton is returning to the NFL to lead the Broncos and former 49ers defensive coordinator Demeco Ryans is taking the Texans' top job.
In order to finalize the Payton deal, Denver will send New Orleans a 2023 first-round pick and a second-round pick in 2024 and will get back a 2024 third-round pick.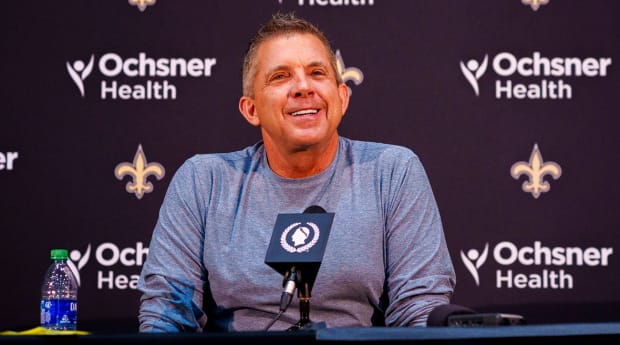 Albert Breer wrote that Houston tapping Ryans is representative of a growing trend around the league:
"His hire, done by the franchise for which he played six years and became a first-team all-Pro, does fit into an emerging trend that's now riding shotgun to the well-worn pattern of finding young offensive minds in NFL circles. Finding an ex-player, and in particular a recent ex-player, to run your team has its merits, and the track record of these hires over the last few years is pretty solid."
And Orr wrote that Payton's new digs in Denver aren't all that different from the situation he left in New Orleans:
"He ended up in Denver, which will end up looking an awful lot like the Saints' situation he left. [Russell] Wilson, going into his age-35 season, is not a long-term answer at the position. If Payton has assurances he can move on from Wilson, doing so will create a different, but not dissimilarly disadvantageous, salary cap situation given that Wilson just signed a lucrative long-term deal full of guaranteed money."
Two head coaching vacancies remain in Indianapolis and Arizona.
In Other News
Chargers Hire Former Cowboys OC Kellen Moore: Just days after Dallas parted ways with Moore, who had been with the team since 2019, Los Angeles hired him to fill that same position on its coaching staff, which was vacant after Joe Lombardi was fired following the playoff loss to the Jaguars.
76ers, Bucks Move up in New NBA Power Rankings: Philadelphia claimed the No. 2 spot behind Boston, and Milwaukee moved back into the top five after productive weeks for both teams. See where the other 27 teams stand with the trade deadline approaching.
Every NFL Team's Salary Cap Space for 2023: The salary cap for next season will be set at $224.8 million, an increase of more than $16 million. See how much space each team has under its current cap, starting with the Bears who have more than $90 million.
Best Bets for Nets-Celtics Matchup on Wednesday: Boston looks for its 10th win in a row against Brooklyn at home with Kevin Durant out. The Celtics are sizable favorites at home; see how many points they're giving and whether you should lay them or not.
Purdue is First Unanimous No. 1 Team This Season: The Boilermakers (21-1) are the undisputed top team in the nation in the latest AP Top 25 poll and are 10-point favorites Wednesday against Penn State. Find out how the rest of the rankings look with the season winding down.
---
Thanks for reading Winners Club! I'll talk to you again Friday. Until then.