Hahahahahahaha. [Deep breath.] Hahahahahaha. Sorry, we will get to the analysis soon, but it is simply still hilarious that Nets' All-Star guard Kyrie Irving has requested a trade, per multiple reports. Irving, 30, is currently in the final year of the four-year deal he signed with Brooklyn in 2019. He reportedly told the team that if he is not traded he will leave as a free agent this summer. Irving has had an up-and-mostly-down tenure with Brooklyn, starting with an injury-riddled first season, part-time status last year due to his anti-vaccination beliefs, and then a suspension earlier this season after sharing a link to an antisemitic film on Twitter. Here are three thoughts on Irving's request. (And yes, we'll tell you how he can get to the Lakers.)
1. Jacque Vaughn Deserves Better
Jacque Vaughn took over the Nets under truly difficult circumstances. Brooklyn wanted to hire Ime Udoka. The team was playing awful defense and looked like a disaster. Irving was in the middle of his antisemitism controversy. And yet under Vaughn's stewardship, the team has gone 29–14 after a 2–6 start. Even after a knee injury to Kevin Durant on Jan. 8, the Nets have gone a respectable 4–6, which is especially commendable after the team fell apart without KD last season. Vaughn and the rest of the organization finally seemed to be quelling all the drama and actually focused on basketball. Nic Claxton has emerged as a DPOY candidate. Role players are making contributions up and down the rotation. And the team is in fourth place in the highly competitive Eastern Conference. It's ridiculous that Vaughn is now being forced to deal with Irving's penchant for self-sabotage, because the Nets seemingly had finally settled into being the team most expected them to be with the Durant-Irving duo.
2. The Nets Absolutely Need to Trade Irving
Fortunately, this season is still salvageable for Brooklyn. Irving unequivocally needs to be moved, and with Durant playing at an MVP level, this team could still be a contender. Irving should be moved for multiple reasons at this point. From a front office perspective, losing him as a free agent this summer would be a disaster. The Nets won't have cap space if Irving walks, which means finding a replacement via trade is their best bet. And obviously, Brooklyn cannot trust Irving in any way. Even if they decide they want to make a title run with him in the summer and let him walk after, who is to say Irving won't just leave the team again if he's not traded? Brooklyn can't sit on its hands and hope the situation gets better, as it did when Durant requested a trade over the summer. This situation is entirely different, and the Nets need to act because this team is still capable of competing.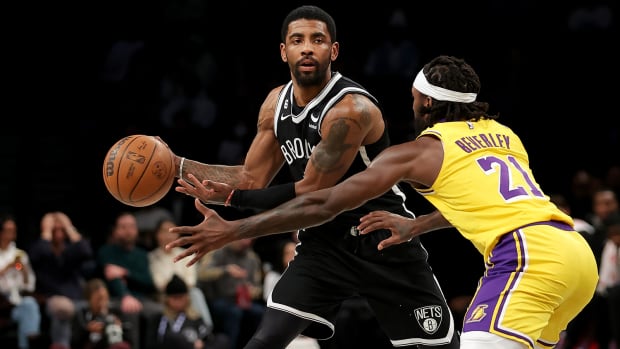 3. Here's Your Lakers Fake Trade
Los Angeles is probably the most clear suitor for Irving. He has a relationship with LeBron James. The Lakers have been linked to him before. And if any team is desperate enough to be willing to take on the risk of Kyrie in a contract year, it's the Lakers, who have been clinging to their future first-round picks in the hopes of swinging for a star. Here's the framework of a move that could work:
Lakers receive: Kyrie Irving
Nets receive: Zach Lavine, Coby White
Bulls receive: Russell Westbrook, Lakers 2027 unprotected first, Lakers 2029 unprotected first
Maybe there's some conversation about the protections on the Lakers picks. Or maybe they only need to part with one of them. And it's possible the Nets balk at the years left on Lavine's deal, though Joe Tsai has been willing to spend. But the Bulls have been at the forefront of trade rumors, and if they do decide to reconfigure their current build, acquiring Westbrook gives them a huge expiring deal, and those future picks are very enticing. The Nets can remain competitive with LaVine, who while not as skilled a shotmaker as Irving, is a more than competent offensive replacement.
Other teams who I would expect to be involved: Miami, who may or may not be looking for an upgrade over Kyle Lowry, who could be sent back to Brooklyn. (And the Heat may want an expiring deal with a massive tax bill looming.) Dallas, which could cobble something together around Dorian Finney-Smith and Christian Wood. There could always be some mystery team involved, though I don't know how many organizations would want to deal with the whims of Irving. At the very least, it should be an interesting week as the trade deadline approaches.