NOV 20 MILTON WILLIAMS OUT Philadelphia Eagles defensive tackle Milton Williams took an incidental hit to the helmet from teammate and Eagles linebacker Nicholas Morrow in the third quarter of Monday night's meeting with the Kansas City Chiefs. 
He appeared shaken up afterwards, and the Eagles announced at the start of the fourth quarter that Williams is being evaluated for a concussion. The team announced shortly after that Williams is now out for the rest of the game.
Williams exited the game with five total tackles and one tackle for loss.
NOV 8 'YOU CAN'T BREATHE!' We know what the "Tush Push" does to Eagles opponents; it's 4,000 pounds of muscle shoving them backward for another Philly first down or touchdown.
And beyond those "grunts,'' we know what is does for the NFL glamor guy, the quarterback; Jalen Hurts gets the stats.
But what about the guy who is sort of caught in the middle of the muddle?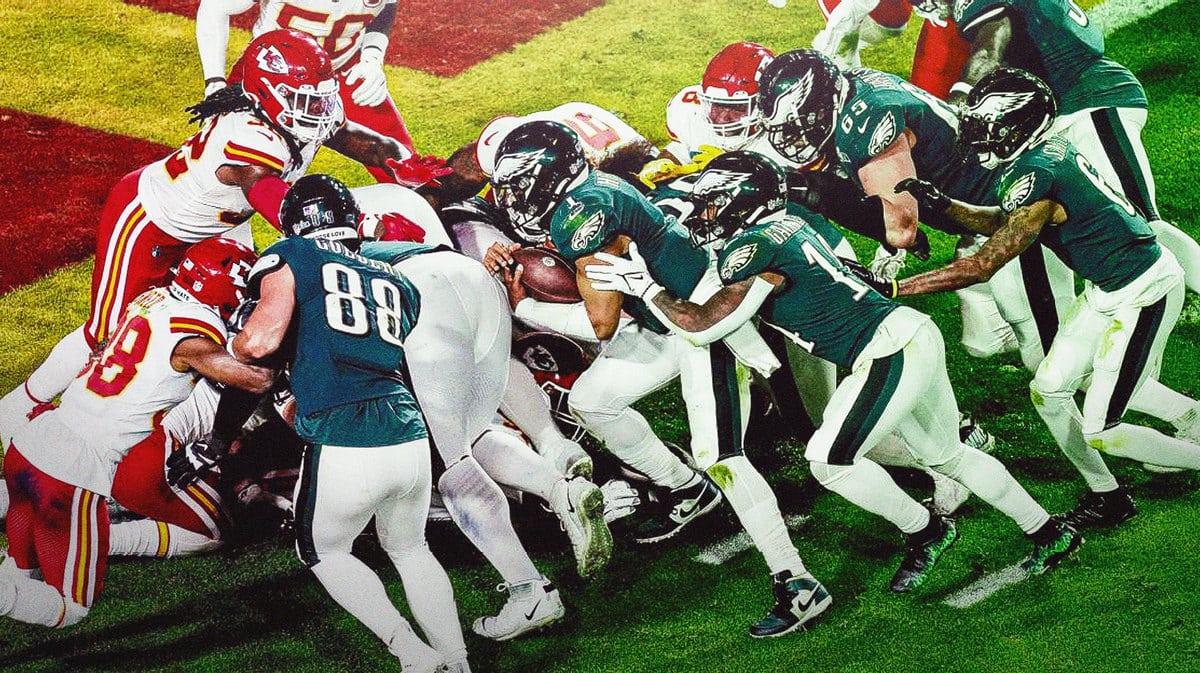 Said 170-pound receiver DeVonta Smith on the "This Is Football Podcast," describing his thoughts and involvement on the "Tush Push'': "You can't breathe. Everybody's on top of you, you can't breathe. No matter how hard you try to breathe, it doesn't work."
Eagles star Devonta Smith sees the carnage of the tush push up close and has a policy: "I'm going to push a little bit but I'm not trying to get up in that pile. Bad things happen in that pile." Here's why. An absolutely riveting episode of This Is Football drops today. pic.twitter.com/nhToMaT0wF

— Kevin Clark (@bykevinclark) November 8, 2023
And therefore? "I'm going to push a little bit,'' Smith added, "but I'm not going to get up in that pile.''
NOV 5 JALEN HURTS INJURY SCARE Philadelphia Eagles quarterback Jalen Hurts had an injury scare at the end of the first half of Sunday's meeting with the Dallas Cowboys at Lincoln Financial Field.
Hurts, who has been dealing with a bone bruise in his knee, took a hard hit to his lower body while standing in the pocket as the Eagles were driving with under a minute. He was in visible pain on the ground before limping off slowly.
Luckily for Philly, he returned to the field to begin the third quarter. Still, there's no doubt that all Eagles fans were holding their breath.
#JalenHurts limps off … wants to stay in … pic.twitter.com/wCKPngYQug

— fishsports ✭ (@fishsports) November 5, 2023
Cameras caught him heading to the locker room right before halftime. He finished the first half 10 of 13 passing for 120 yards and one rushing touchdown.
NOV. 2  JERRY JONES NERVOUS ABOUT SUNDAY SHOWDOWN IN PHILLY - Though his team is confident after consecutive wins over the Chargers and Rams, Cowboys  owner Jerry Jones said this week he realizes the difficulty his team faces Sunday against the Eagles in Philly.
"This is serious (bleep) that we're dealing with up here Sunday, man," Jones said during his weekly radio appearance on 105.3 The Fan. "We've got to really have our game face on. We're playing the No. 1 team in the NFL in my view. We played San Francisco when they were No. 1, and got it handed to us."
The Eagles beat the Cowboys - with Cooper Rush playing quarterback - 26-17 at Lincoln Financial Field in October of last season on their way to the NFC East title and, eventually, the Super Bowl.
OCT. 26 JERRY JONES ADMITS EAGLES' SUPERIORITY - Despite his team's 4-2 record and believing it is in the "upper echelon" of the NFL, Cowboys owner Jerry Jones admitted this week that Dallas currently "doesn't belong on the same field" with elite teams including the Eagles.
The Cowboys' humbling 42-10 beatdown in San Francisco Oct. 8 has apparently given Jones some perspective on his team's standing in the NFL power grid.
"We're in the upper echelon," he said. "But to say we're right there with San Francisco or right there with the Eagles with how they've played ... I'm not going to go that far."
The Eagles host the Cowboys Nov. 5 at Lincoln Financial Field.
---
OCT 25 EAGLES WEDNESDAY INJURY REPORT The Philadelphia Eagles released their Wednesday injury report ahead of Sunday's road game against the Washington Commanders. Philly fans will be happy to see that it's much shorter than it's been in recent weeks, but most importantly, that quarterback Jalen Hurts isn't listed.
Hurts, who sported a knee brace in the second half of Sunday's 31-17 win over the Miami Dolphins, said after that the game that he'd be "fine." That is now officially the case, as Hurts won't carry an injury designation headed into the NFC East meeting with Washington.
The Eagles are looking a lot healthier, as only three names are on the list this time around.
CB Bradley Roby (shoulder) - DNP

DT Milton Williams (heel) - LIMITED
S Reed Blankenship (ribs) - FULL
OCT 19 INTERNATIONAL FLAGS You'll see some changes to some NFL helmets around the league for Weeks 7 and 8. Hundreds of players will add flag decals to their helmets representing the countries of their heritage.
The league has announced more than 330 players have committed to participate, representing 72 nations, with Nigeria being the most-represented foreign country, with 80 players committing to wear the Nigerian flag.
OCT 15 JALEN HURTS HIGHLIGHT Philadelphia Eagles quarterback Jalen Hurts is going viral for a highlight play he made during the first quarter of Sunday's game against the New York Jets at MetLife Stadium.
After avoiding a sack in the pocket, Hurts scrambled right and was chased down by Jets defensive back Michael Carter. But instead of throwing it away or being tripped up, Hurts hardly let Carter's presence bother him, stiff-arming him with ease while making an accurate throw to A.J. Brown for a 10-yard completion on 3rd and 8.
Multiple big sports-themed accounts on X and many more reposted Hurts' highlight. Take a look:
Jalen Hurts casually delivering a ten-yard dime while stiff-arming a defender. pic.twitter.com/yW5kgQgAFV

— Kendall Beck (@KBeckEagles) October 15, 2023
INSANE 🎯@JalenHurts x @1kalwaysopen_#PHIvsNYJ | #FlyEaglesFly pic.twitter.com/OewRHAVEbI

— Philadelphia Eagles (@Eagles) October 15, 2023

OCT 14 SAUCE OUT VS PHILLY New York Jets star second-year star cornerback Sauce Gardner has officially been ruled out for Sunday's game against the Philadelphia Eagles at MetLife Stadium due to a concussion.
Gardner was listed on the end-of-week injury report as questionable against the Eagles, but it's clear the Jets didn't want to make him a game-time decision and instead ruled him out Saturday.
Gardner took to X to display his confusion with being ruled out.
"I feel perfectly fine. That's the crazy part about it," he wrote.
I feel perfectly fine. That's the crazy part about it

— SAUCE GARDNER (@iamSauceGardner) October 14, 2023
The 2022 Defensive Rookie of the Year will now miss the first game of his career. This season, he's posted 20 total tackles, one forced fumble and three passes defended.

OCT 1 EAGLES VS COMMANDERS INACTIVES The Philadelphia Eagles and Washington Commanders have both revealed their inactives for Sunday's meeting at Lincoln Financial Field.
Here's who's out for the Eagles:
- WR Quez Watkins

- QB Tanner McKee
- S Sydney Brown
- RB Rashaad Penny
- S Justin Evans

- OL Tyler Steen
- DT Moro Ojomo
Here's who's out for the Commanders:
SEPT 28 EAGLES THURSDAY INJURY REPORT The Philadelphia Eagles have revealed their Thursday injury report ahead of Sunday's meeting with the Washington Commanders at Lincoln Financial Field.
Eagles receiver DeVonta Smith sat out due to illness. Here's the complete report:
S Sydney Brown (hamstring) - DNP
S Justin Evans (neck) - DNP
WR DeVonta Smith (illness) - DNP
DT Fletcher Cox (knee) - Limited
G Cam Jurgens (groin) - Limited
WR Quez Watkins (hamstring) - Limited
WR Britain Covey (hamstring) - FULL
LB Zach Cunningham (ribs) - FULL
G Landon Dickerson (knee) - FULL
RB Boston Scott (concussion) - FULL
SEPT 24 NFC EAST 0-3 SO FAR IN WEEK 3 The Philadelphia Eagles will go into Monday Night Football with a chance to claim first place in the NFC East.
The Washington Commanders and Dallas Cowboys both lost their games on Sunday and are now 2-1 while the New York Giants' lost to the San Francisco Giants on Thursday.
The Eagles play the Tampa Bay Buccaneers on Monday at 7:15 p.m.
SEPT 19 TREY SERMON FINDS NEW HOME Former Philadelphia Eagles running back Trey Sermon has signed with the Indianapolis Colts practice squad, per an announcement from the team on Tuesday.
Sermon now becomes another former Eagle to join the Colts, as he'll potentially be called up to an offense that already features former Philly offensive coordinator Shane Steichen and former Eagles quarterback Gardner Minshew.
Sermon was cut by the Eagles during roster cutdowns last month. In 11 careers regular-season games, he's posted 43 carries for 186 yards and one touchdown.
SEPT 17 NFC EAST SWEEPS WEEK 2 The Philadelphia Eagles are enjoying their Sunday off after a hard-fought win on Thursday night at home against the Minnesota Vikings.
However, the Eagles failed to build a lead in the NFC East as the Dallas Cowboys, New York Giants and Washington Commanders were all victorious on Sunday.
The Cowboys easily took care of the New York Jets in a 30-10 win.
The Giants came back after trailing by 21 points to beat the Arizona Cardinals in a 31-28 victory.
The Commanders also came back from a big deficit, trailing by 18, to beat the Denver Broncos.
The Eagles are at Tampa Bay to face the undefeated Buccaneers next week on Monday Night Football, but then they will start their NFC East schedule in Week 4 when they host the Commanders.
SEPT 12 RAMBO CUT The Philadelphia Eagles announced on Twitter Tuesday that they have waived second-year receiver Charleston Rambo from the injured reserve list.
We've waived WR Charleston Rambo from Injured Reserve. pic.twitter.com/W4ITC0NhK2

— Philadelphia Eagles (@Eagles) September 12, 2023
Rambo, the former Oklahoma and Miami product, went undrafted in the 2022 NFL Draft before signing with the Carolina Panthers and spending last season on their practice squad. 
From there, Rambo was drafted into the XFL by Orlando Guardians, where he played nine games this past spring, totaling 403 yards and three touchdowns on 31 receptions before he signed with the Eagles in May.
SEPT 11 DEAN HURT The Eagles got their 25-20 win at the Patriots in Week 1, but an injury sustained by Eagles linebacker Nakobe Dean figures to be a problem. Our Ed Kracz reported that Dean left the locker room wearing a boot and that Nakobe, said mentioned that the trainers didn't want him walking on the foot.
And now the bad news: NFL Network reports Dean is likely to "miss multiple'' weeks with the injury ... but that "he should be back with plenty of time this season.'' No surgery is apparently required ... but this is nevertheless a blow to the Philly defense.
SEPT 9 EAGLES MAKE CALL-UPS The Philadelphia Eagles have called up punter Arryn Siposs and receiver/returner Britain Covey from the practice squad on Saturday ahead of Sunday's opener against the New England Patriots at Gillette Stadium, per reports from Aaron Wilson of KPRC2.
The Eagles cut both players while finalizing the 53-man roster, but have yet to sign a punter to replace Siposs. Philadelphia could add a punter at a later date, but will be going with Siposs to begin the season against the Patriots.
The Eagles and Pats kickoff from Gillette at 4:25 p.m. ET on Sunday.
SEPT 4 FOUR MOVES Proving that there is really no such thing as a "final roster," the Eagles on Monday announced a quartet of practice-squad moves. 
On the way in? Philly is signing linebacker Nicholas Morrow and offensive lineman Tyre Phillips. 
And on the way out? The Eagles are releasing cornerback Tiawan Mullen and linebacker Kyron Johnson
AUG 25 EAGLES' RIVAL COWBOYS TRADE FOR QB HELP - In a shocking move on Friday evening, the Dallas Cowboys have traded for San Francisco 49ers quarterback Trey Lance, as first reported by ESPN's Adam Schefter. In exchange for the former first-round pick, the Cowboys will give up a 2024 fourth-round pick. .
Lance, the No. 3 overall pick in the 2021 NFL Draft, started in just four games for the Niners in his two seasons in the Bay Area, where he completed 54.9 percent of his passes for 797 yards with five touchdowns and three interceptions in the eight games he played in.
After missing all but two games last season due to an ankle injury, Lance fell behind Brock Purdy and Sam Darnold on the depth chart in San Francisco prior to being traded to the Cowboys, where he'll presumably have the opportunity to serve as a backup to Dak Prescott.
AUG 24 EAGLES' RIVAL GIANTS MAKE TRADE - The New York Giants have traded a seventh-round pick to the Arizona Cardinals in exchange for former first-round linebacker/safety Isaiah Simmons, per reports Thursday from ESPN's Adam Schefter.
Simmons, who was set to make a transition to the secondary this season in Arizona, was selected with the No. 8 overall pick by the Cardinals in 2020 out of Clemson.
In 50 career games, he's posted 258 total tackles, 7.5 sacks, seven forced fumbles, two fumble recoveries, four interceptions, 16 passes defended, and one touchdown.
AUG 18 ONE MORE RIDE FOR PETERS?
According to ESPN's Adam Schefter, veteran offensive tackle Jason Peters is hopeful to play in 2023.
A nine-time Pro Bowler, Peters was named to the Hall of Fame's All-2010s team and has likely already secured his place in Canton. Now 41 years old, it's a bit remarkable that that the 18-year veteran is looking to suit up for another season.
Peters spent the first five years of his career with the Buffalo Bills, but will be most remembered for his 11 years as the pillar of the Philadelphia Eagles offensive line. He was an All-Pro with the Eagles in both 2011 and 2013. After spending 2021 with the Chicago Bears, Peters appeared in 10 games for the Cowboys in 2022, starting one.
AUG 17 REDDICK UNDERGOING SURGERY As reported on Wednesday by Eagles Today, the Philadelphia Eagles will be without their star edge rusher Haason Reddick due to a thumb injury. 
But despite there never being a doubt about his odds of making it back for the start of the regular season, a new report from NFL.com's Ian Rapoport confirms that Reddick will undergo surgery in order to make it back in time for the Eagles' regular-season opener against the New England Patriots on Sunday, Sept. 10.
#Eagles star LB Haason Reddick is having surgery to address a thumb injury suffered in Monday's practice, sources say. This is all so that he is ready for the start of the season. pic.twitter.com/axCaiBJ783

— Ian Rapoport (@RapSheet) August 17, 2023
While the Eagles would love to have their 28-year-old pass-rusher healthy and participating in the lead-up to facing the Patriots, his injury will give the coaching staff extra time to work with rookie first-round pick Nolan Smith. 
Smith, the No. 30 overall pick in this year's NFL Draft out of the University of Georgia, has drawn comparisons to Reddick because of their speed and power off the edge combined with both being considered undersized pass-rushers. 
AUG 16 REDDICK OUT? The Eagles are going to be without Haason Reddick for a time after he suffered a thumb injury. Via our John McMullen on Tuesday: "Philadelphia is adding star edge rusher Reddick to their injury list with a thumb issue. The All-Pro edge rusher is going to miss significant time for the rest of the summer as the Eagles play it cautious, but the team does not expect Reddick to miss any regular season action. 
Reddick, including the playoffs last year, totaled 19.5 sacks. ... and he will now be saved for the games that matter, with Nolan Smith - "Baby Haason'' likely to get more reps in his spot.
AUG 12 RICKS PRESEASON PICK-SIX The Philadelphia Eagles needed a spark in the second half of Saturday's preseason opener against the Baltimore Ravens at M&T Bank Stadium after failing to put up any points since the second quarter.
Luckily, undrafted rookie cornerback Eli Ricks came out of nowhere to provide that momentum. He picked off Ravens quarterback Anthony Brown and returned it back 31 yards to cut Baltimore's lead to 20-19 in the fourth quarter.
Eli Ricks Pick-6! @Eagles

📺: #PHIvsBAL on @NFLNetwork
📱: Stream on NFL+ https://t.co/bBFpXewtKp pic.twitter.com/refIXSyIj3

— NFL (@NFL) August 13, 2023
AUG 8 EAGLES RELEASE ROOKIE OL: The Eagles made a roster move Monday, releasing rookie free-agent offensive lineman Trevor Reid. A standout at Louisville, Reid turned heads at the NFL Scouting Combine with a broad jump and vertical leap that were No. 1 among offensive linemen. That athleticism, however, didn't transfer to the practice field. Reid's camp contract was $110,000 guaranteed.
AUG 4 SILLS CLEARED A jury acquitted Philadelphia Eagles offensive guard Josh Sills of raping and kidnapping a former high school classmate in 2019.
Jurors started deliberating shortly after noon on Friday and returned the verdict nearly three hours later at 2:45 p.m.
"I have done nothing wrong," Sills said in court after thanking the jury for its decision.
The not-guilty verdict came after Sills' attorney terms the accuser "the girl who cries wolf."
Sills was indicted on both first-degree felony charges on Feb. 1, 2023 - right before the Eagles headed to Arizona to play the Kansas City Chiefs in the Super Bowl.
The Eagles announced Friday that Sills has been removed from the NFL's Commissioner's Exempt List and will return to the active roster.
JULY 24 GARDNER-JOHNSON DOWN Veteran defensive back C.J. Gardner-Johnson, the former Eagles standout, went down with a right leg injury during Monday's training camp with his new team the Detroit Lions and was carted off the field.
Reporters on the scene labeled him "visibly upset,'' and noted that Lions team captains, including QB Jared Goff, spent time with C.J. in an effort to comfort him.
Gardner-Johnson recently made some controversial and NSFW remarks about Philadelphia fans being his "least favorite thing'' about his Eagles experience, calling "the people ... obnoxious.''
JULY 20 SNYDER OUT The Eagles have enjoyed some prosperity thanks to the leadership of Dan Snyder. But now, finally, the Washington Commanders have been sold.
The Commanders' sale to Josh Harris - owner of the Sixers - is for an NFL-record $6.05 billion. It was unanimously approved by the other NFL owners.
The move comes after years of vitriol and controversy from Snyder, who was then pressured to sell the team after scandals in recent years. … and who is ordered by the NFL to pay a $60 million fine for those misdeeds.
JULY 3 JORDAN MAILATA SINGS AT HIS OWN WEDDING - Jordan Mailata has already proven he's a real keeper, as the Philadelphia Eagles offensive tackle and former seventh-round pick signed a life-changing four-year, $64 million deal in 2021 that was seemingly a stroke of good luck for someone that is still relatively new to the game of football.
His life changed in even more ways over the weekend, as his newly-wed wife might be just as lucky.
Mailata just got married on Saturday, and showed that he's more than just a elite protector of quarterback Jalen Hurts, who was in attendance. Mailata stole the show with an impressive singing performance of Stevie Wonder's "Isn't She Lovely" as his bride took the dance floor for what we presume was the dad-daughter dance.
Take a look:
𝗪𝗮𝘁𝗰𝗵: #Eagles 6'8, 365 pound LT Jordan Mailata sang "Isn't She Lovely" to his wife at his own wedding 👏❤️

Multiple #Eagles teammates were in attendance including star QB Jalen Hurts.

More here:https://t.co/pikaerSJIQ

(h/t @PHLEaglesNation) pic.twitter.com/78rmYUKJRN

— Dov Kleiman (@NFL_DovKleiman) July 3, 2023
This isn't the first time he's showed off the musical lungs, as Mailata has previously competed on FOX's The Masked Singer last year.
Mailata is now a certified keeper for more reasons than one. Who on the Eagles would dare to challenge him to a singing competition?

JUNE 28 EAGLES TRAINING CAMP DATES: The Philadelphia Eagles will be one of seven teams to have both veterans and rookies report for training camp on the same day, as the league announced that Philly will begin its training camp festivities on Tuesday, July 25. 
The Eagles will hold camp at the NovaCare Complex and will have an open practice for fans to attend on Sunday, Aug. 6 at Lincoln Financial Field. 
JUNE 23 FORMER EAGLE CARSON WENTZ TAKES DOWN A BEAR
Former Philadelphia Eagles quarterback Carson Wentz has some free time on his hands this offseason since he remains a free agent. He's making the most of it by exploring nature and the hunting scene, but is facing some fan criticism as a result.
Wentz posted a photo of himself posing next to a black bear that he killed with a bow and arrow during a trip to the Alaskan wilderness, which sparked some passionate comments.
"Bucket list!'' Wentz wrote on social media. "Got the opportunity to spot and stalk black bear in one of our new favorite places on earth - Alaska! Incredible trip and an incredible animal!''
Despite the legality of his actions, some fans - as chronicled by our partners at TheSpun - are upset to see that Wentz had killed the animal.
NFL QB Carson Wentz posted about killing a Black Bear and his comments immediately got filled with criticism and disapproval.

More here:https://t.co/v7jjHZoj9O pic.twitter.com/cn7tMbLTCg

— Dov Kleiman (@NFL_DovKleiman) June 23, 2023
"Bringing death on defenseless animal living it's life," one commenter said on Instagram.
"Incredible animal so you kill it?? Makes sense," another commenter said.
"Wow not just a terrible QB but also a horrible human," one commenter said. "Hunting is not a sport, just because you failed in football doesn't mean go kill a bear."
Wentz, the No. 2 overall pick by the Eagles in 2016, continues to try and "hunt" down his next opportunity in the NFL.
***
Want the latest in breaking news and insider information on the Philadelphia Eagles? Click Here.
Want even more Philadelphia Eagles news? Check out the SI.com team page here